Custom Scenarios
Custom Matches & Scenarios

DVD titles shown
please go to our wayopay online shop for current Download matches in the Custom Scenario category.

PJ Pics takes responsibility for title choices
and we're afraid he's really dragged this one out of the skip ...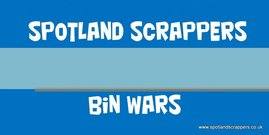 Bin Wars two gangs led by Ady & Sammy come to blows in Spotland Mill.
Ady tries to calm things down and encourages both crews to take their differences into the ring.
Recent recruit Ray Junior (sorry, Rey) is joined by debutant Z-Man
Please note No Lift Operatives were harmed during the making of this Video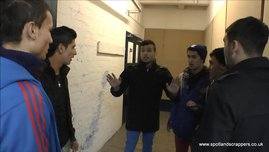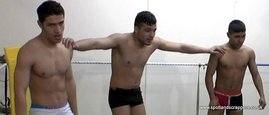 Ady / Sam / Z-Man v Sammy / Ray / David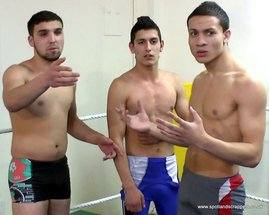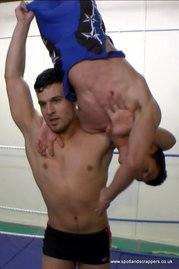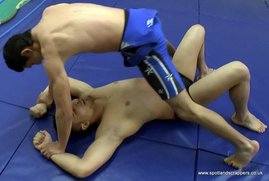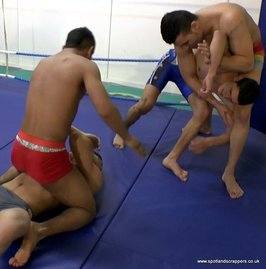 fast-paced mayhem action in and out of the ring
Bin Wars on our first video filmed in HD!
++++++++++++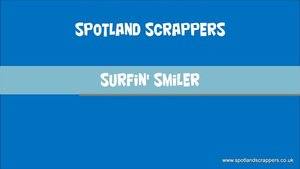 Surfin' Smiler
Young Ady v Sam Smiler
Ady shows off some of his favourite moves on Sam
- surfboards, boston crab, camel clutch, bearhug, lift & carry -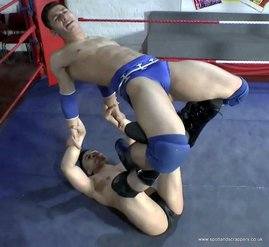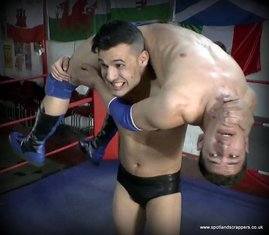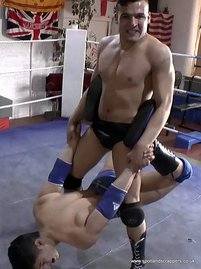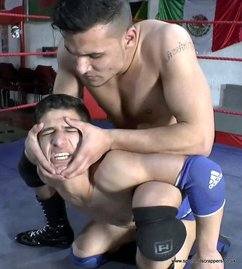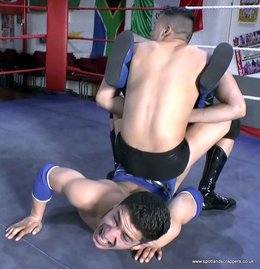 Custom Matches Sponsored by Huw
on DVD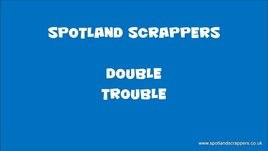 Double Trouble
Sam Smiler, Ray Junior (Trainee) & Young Ady (Team Captain)
in a fun pro style training scenario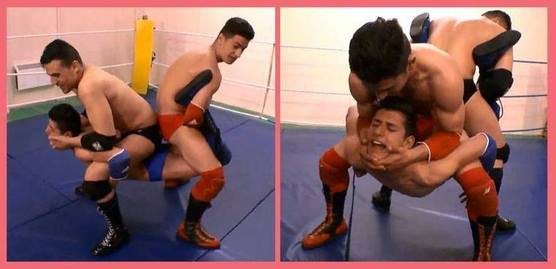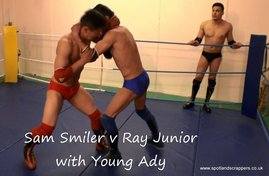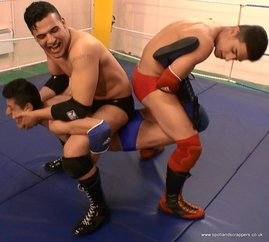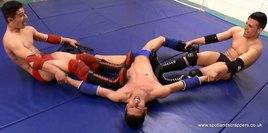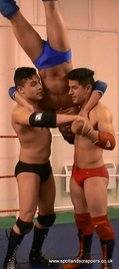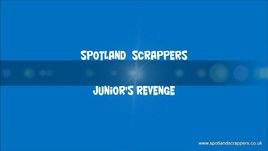 Following his experience in Double Trouble
Ray Junior plots with Sammy Scrapper to get his own back on Sam Smiler
in Junior's Revenge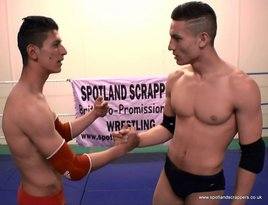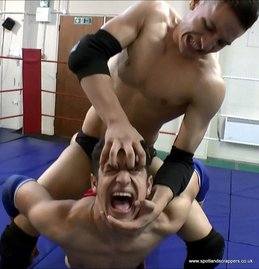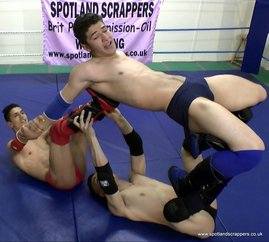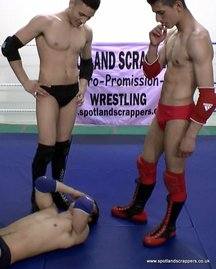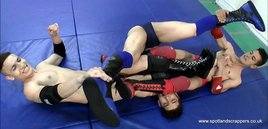 ++++++++++++
We Welcome Special Guest
*** SteelMuscleGod ***
for a filmshoot at The London Matroom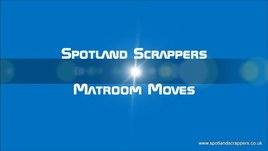 Matroom Moves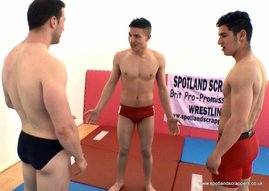 with SMG - Sammy Scrapper - Sam Smiler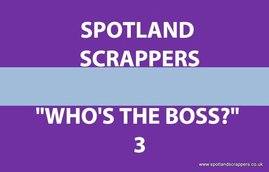 Who's The Boss? 3
features
SteelMuscleGod v Sammy Scrapper
in the third of this series
which Sammy has made his own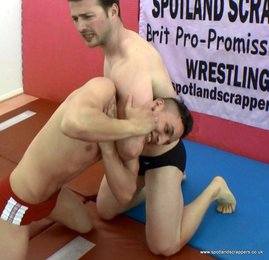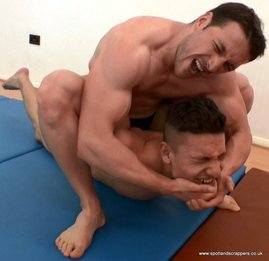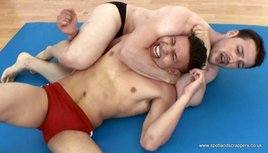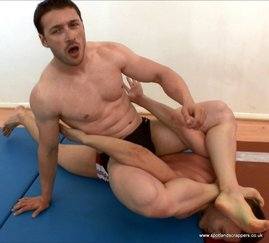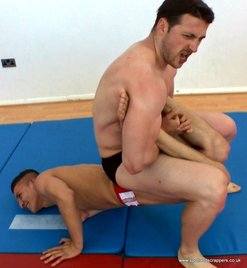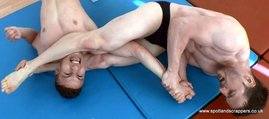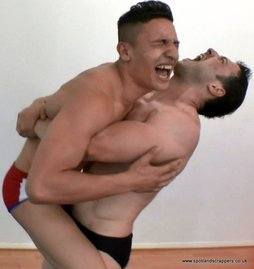 ++++++++++++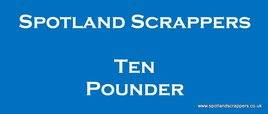 Ten Pounder
Fans of the two Sam's will be pleased to see them wrestling for a tenner
in a promission match with the best of ten scores winning the money!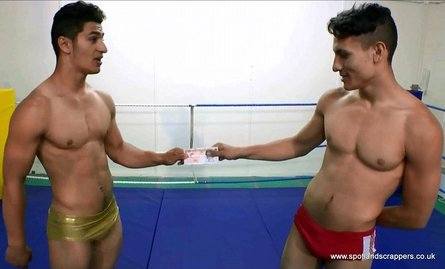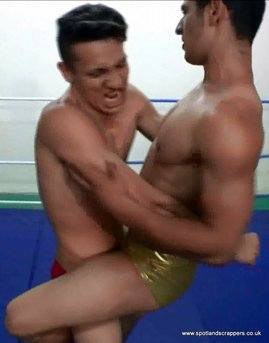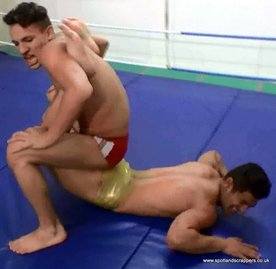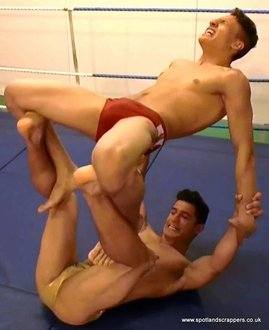 Ten Pounder Match Sponsor
Inchmaan
filmed as part of a Spotland Experience session
++++++++++++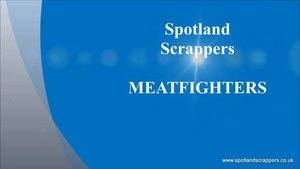 Meat Fighters
a fun promission encounter
with
Sammy Scrapper & Ray Junior v The Masked Meat Fighters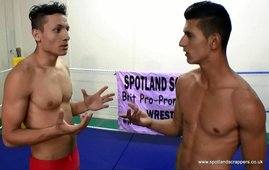 Sammy tells Ray about the match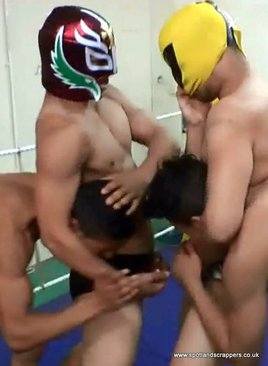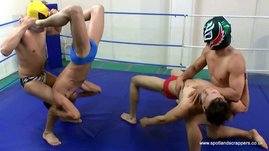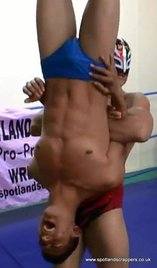 ++++++++++++
it's backbreaking work for Young Ady
in Back Numbers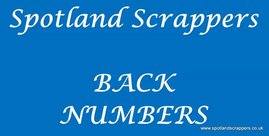 featuring Young Ady
demonstrating backbreaker moves
on Sam Smiler, Sammy Scrapper & Ray Junior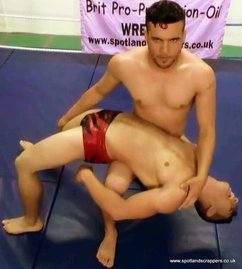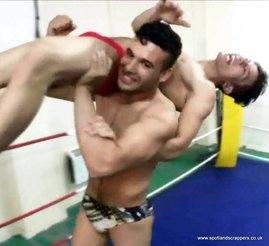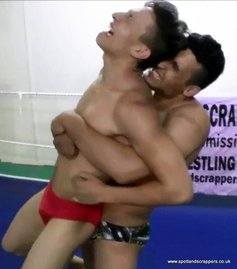 ++++++++++++

Ray Junior is in the middle of a training session with Sam Smiler, led by Young Ady,
when things don't go according to plan and Sam Smiler ends up facing
the mysterious Gym Breaks aided & abetted by David Cuplu.
"It's your turn next!"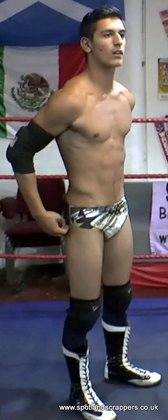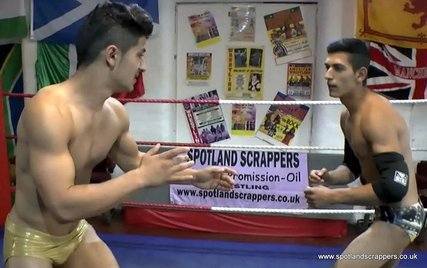 Sam Smiler & Ray Junior
The guys demonstrate Brit Pro moves coupled with their usual brand of fun
in Masquerade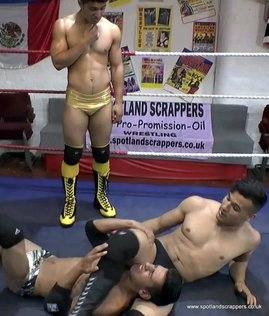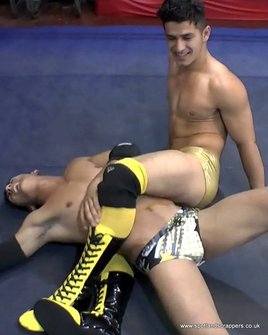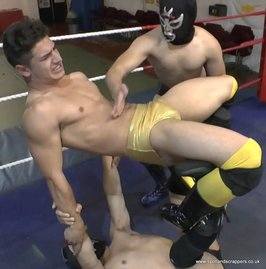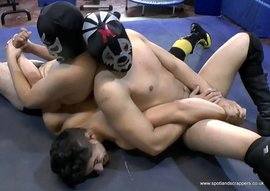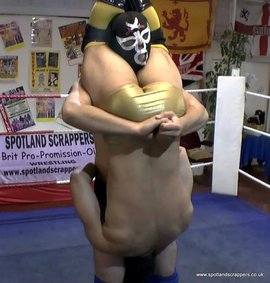 Custom Match scenario
Sponsored by Huw Shoebury
++++++++++++
energetic tag team mayhem follows in Chicken 'n Chips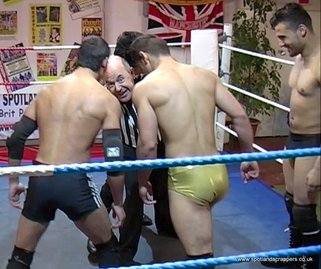 Referee Nigel Crabtree struggles for control at the start
with Sam Smiler & Young Ady scoffing at Chicken 'n Chips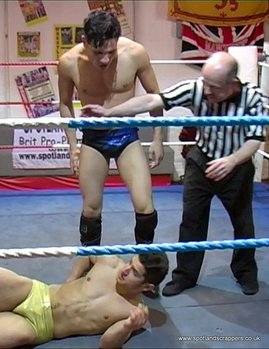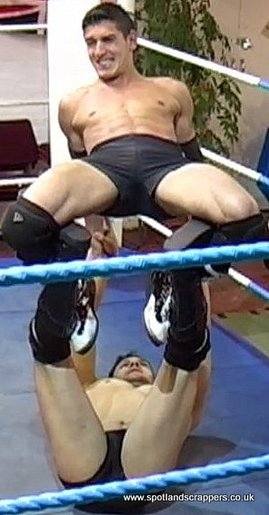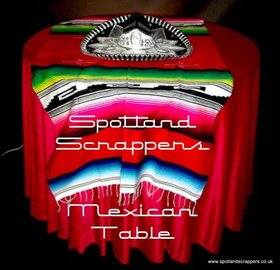 Mexican Table Custom Match with Sam Smiler & Ray Junior v Young Ady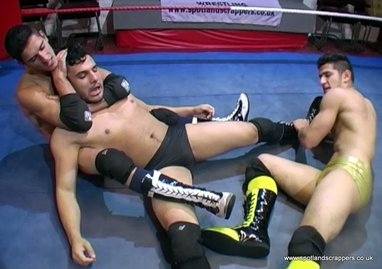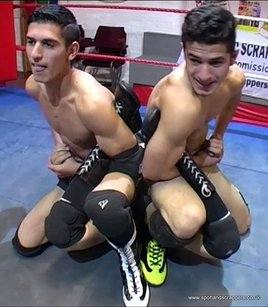 Where's Ady?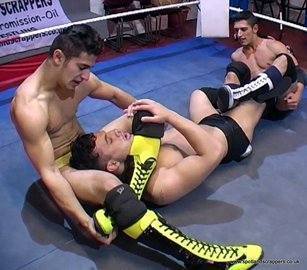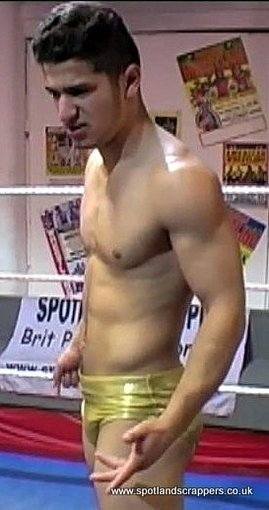 "Who Cares?"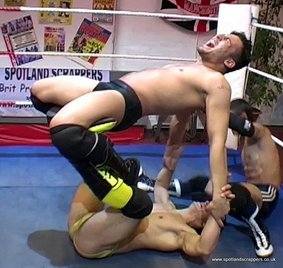 one persons mexican table is another's surfboard ... so could this be a suspended mexican?
++++++++++++
Ray Junior & Sammy Scrapper take a tidy argument into the matroom for A Clean Fight ...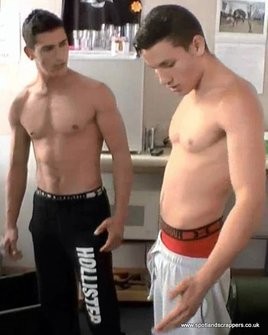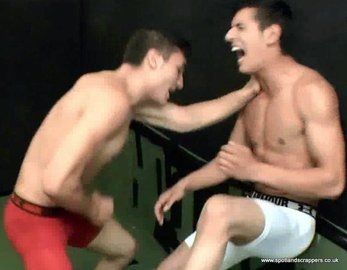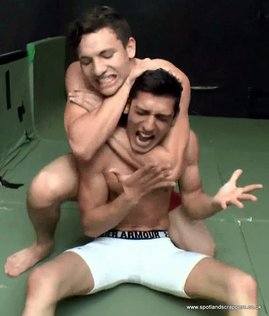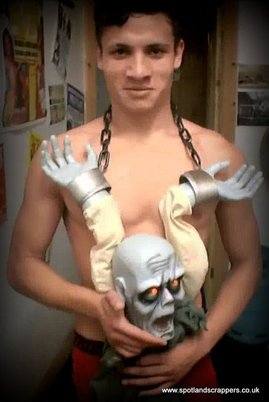 and with Halloween in mind Sammy introduces his new friend Psycho Shaky
for those of you who prefer to get a surprise in the post ...
Strange Customs DVD compilation
Ten Pounder / Masquerade / A Clean Fight / Splash Factor
over an hour of action in ring, matroom and water with Team Spotland!

++++++++++++
Special Guest at the Spotland Scrappers Christmas Party

Cameron Mathews
in an International Tag Handicap Match
v El Diablos
Mexican Bandits or Chicken Fighters?
with Referee Nigel Crabtree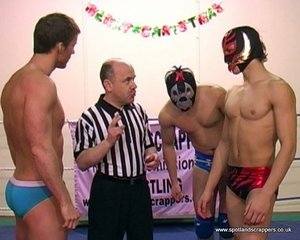 Available on DVD
++++++++++++
Boxing Day at Spotland
beginning with a look at our first boxing highlights video
Punching Bryan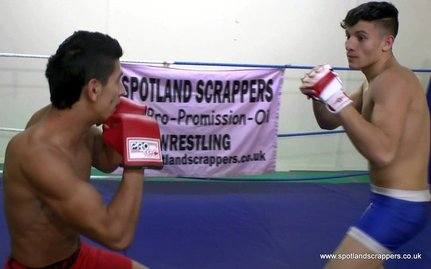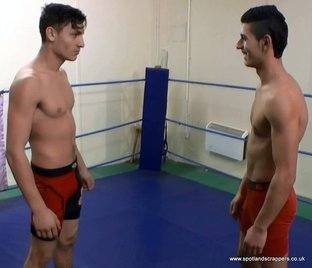 then Sammy Scrapper & Ray Junior have a wrestling match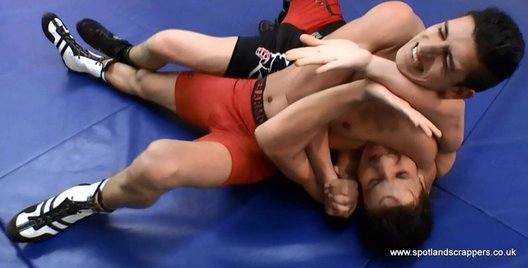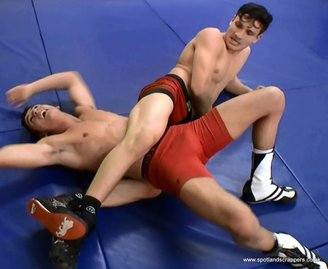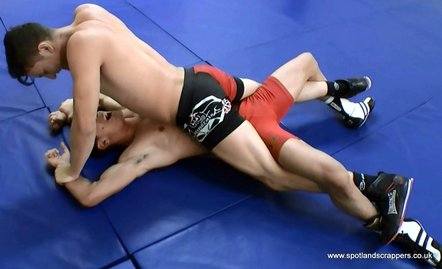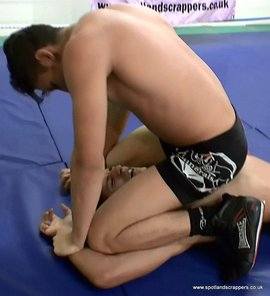 and the loser challenges the other guy to put the gloves on ...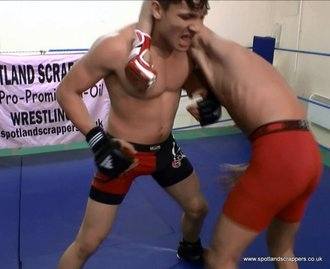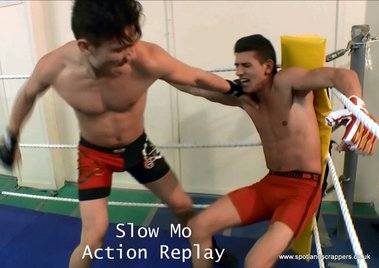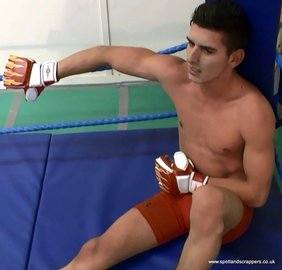 ++++++++++++
Custom Match Sponsored by Ste
Sleeping Partners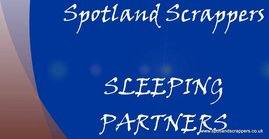 Sam Smiler & Ray Junior v Young Ady
sleepers, fig. 4's, camel clutches, surfboards etc
in another of our popular 2v1 match-ups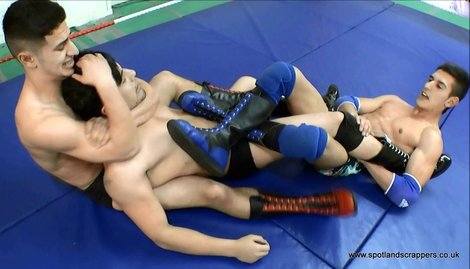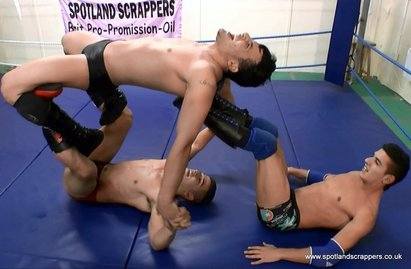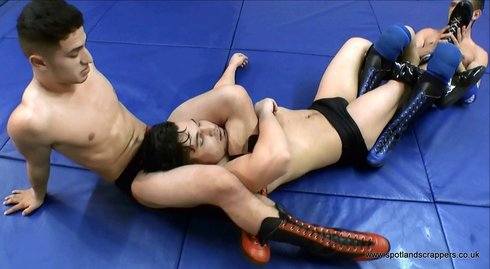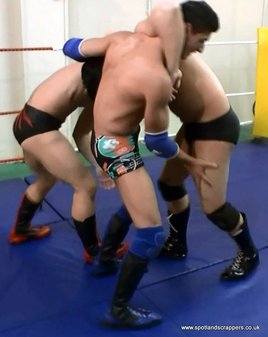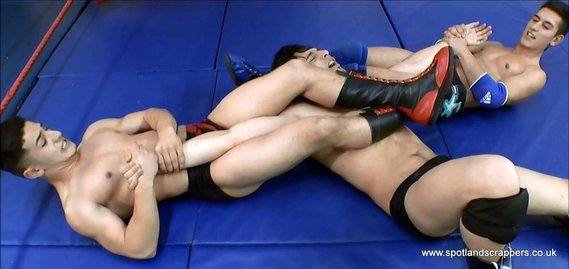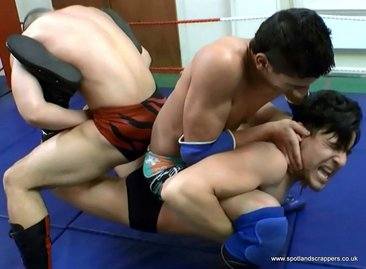 available on Paint Partners DVD
The guys aren't full-time wrestlers
and we drop in to see them working as painters & decorators
refurbishing an industrial unit at a mystery location
in Paint Job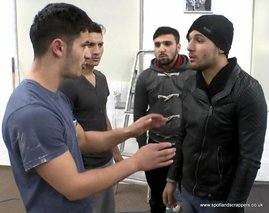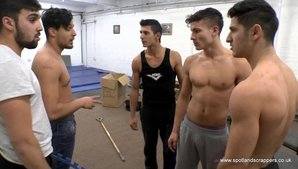 Industrial Strife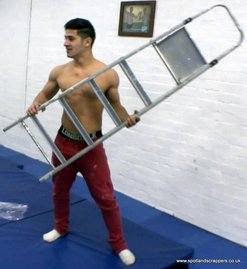 Sam Smiler wants a ladder match!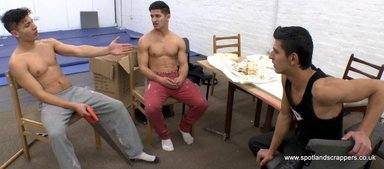 "... very impressed with the way the lads worked the multiple fight sequences ..."

"... a great fun scenario." "What a team to let loose on a building site!"
++++++++++++
The Loft Studio is a target for an Attic Attack
featuring
Young Ady v David Cuplu
in two matches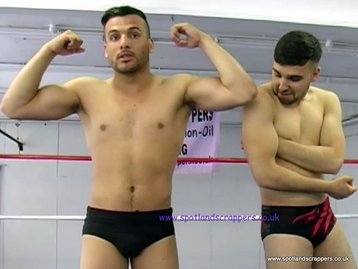 The guys pose at the start of what turns into a "Squash Match"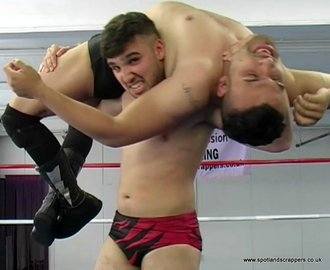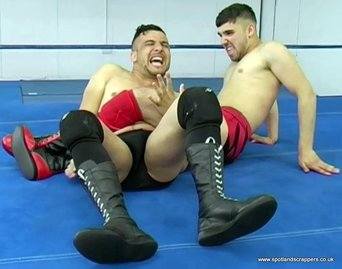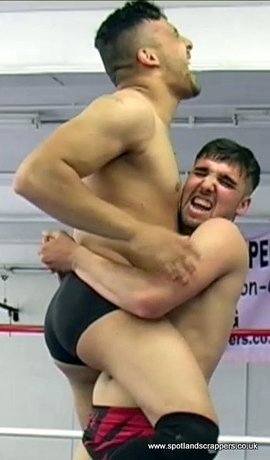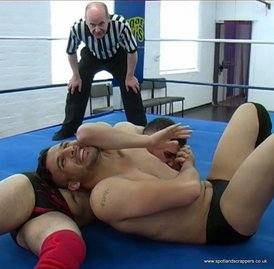 Their second encounter is a "Falls Count Anywhere" match
which takes them (and us) to all corners of The Loft space ...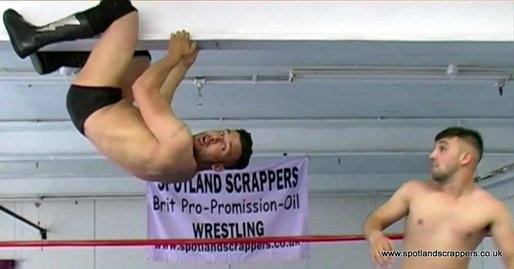 one place where a fall might be a knockout ...

Preview on our YouTube Channel at:
http://youtu.be/mthAG5-eQ-U?list=UUIbvr0ZFw90aiBAnQ0j6xDA

"Nice touch making use of the whole warehouse."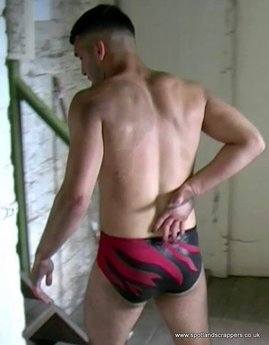 David Cuplu's back ...

++++++++++++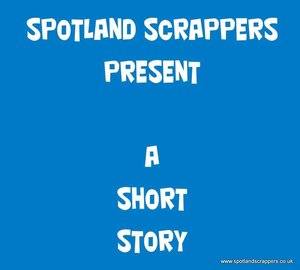 A Short Story
an amusing "lift & carry" scenario
with
Sammy Scrapper & Sam Smiler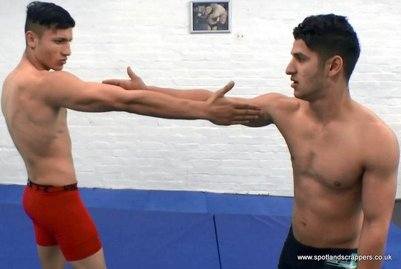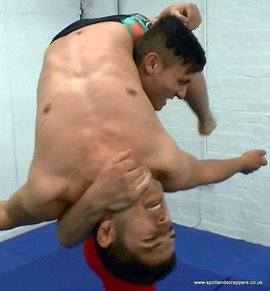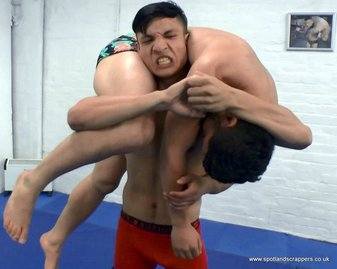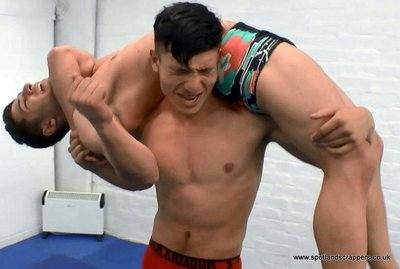 Match Sponsor
Patrick
++++++++++++
Spotland Scrappers
Hallow Tween Party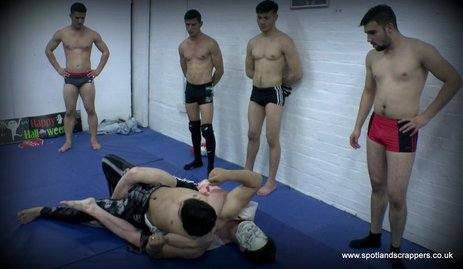 Team Spotland in fun promission & tag team action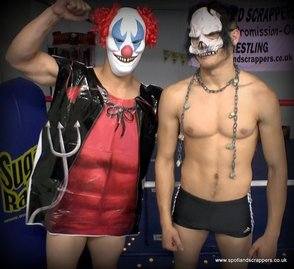 Team Bad Looking
v
Scare Crew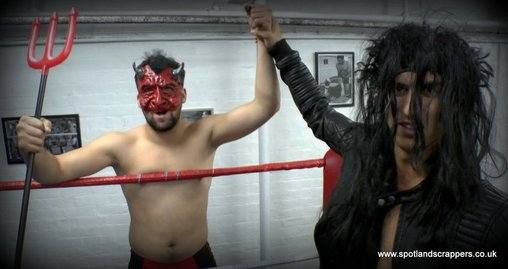 Darkness Falls
YouTube Preview at:
http://youtu.be/WIlqrllS2ns

++++++++++++
Team Spotland Get Knotted!
Rope Match Fun
with
Sam Smiler, Sammy Scrapper, David Cuplu & Ray Junior
in Rope Work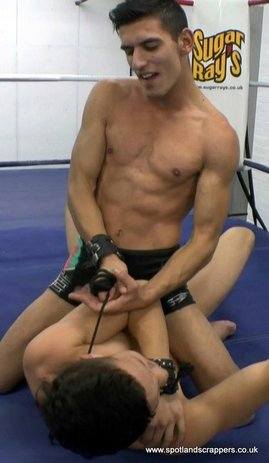 Ray Junior v Sammy Scrapper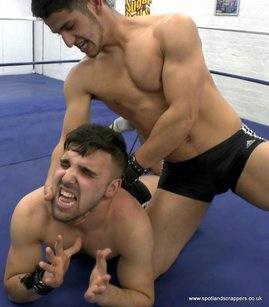 Sam Smiler v David Cuplu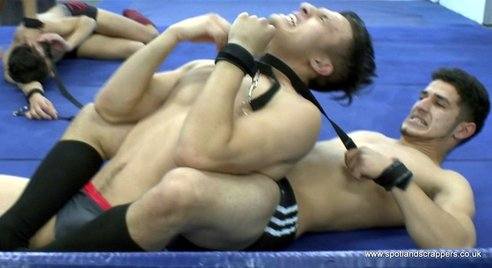 Sam Smiler & Sammy Scrapper
Preview on our Spotland Shorts channel at:
http://dai.ly/x2bns83
unfortunately Young Ady was tied-up elsewhere
but he's promised to challenge the winner ...
++++++++++++
The Generation Game
Smiler breaks off with his girlfriend
and has to face the music from her angry Dad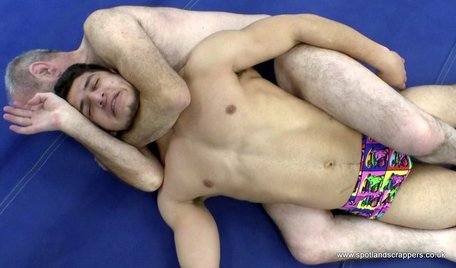 Poppa Bear v Sam Smiler
in Dad 'n Lad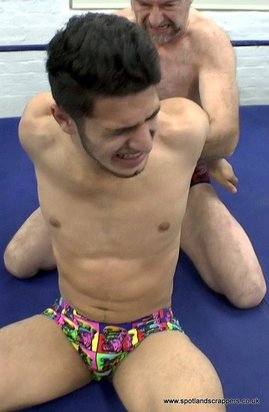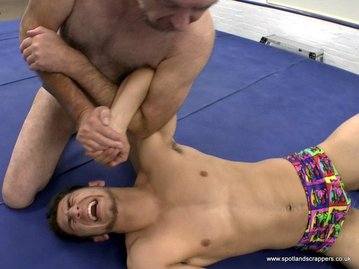 Custom Match Sponsored by Silver Productions
Also available on Rope Lads compilation DVD
from our website shop:
Rope Work
Dad 'n Lad
& Pizzazz Sunday

++++++++++++
Rope Flag Match
Sammy Scrapper v Ray Junior
in
Peace Pirates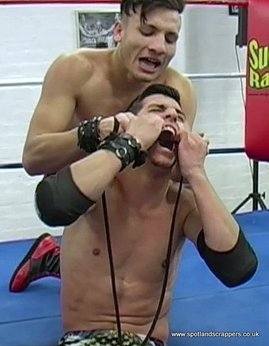 "Peace Pirates a nice little production.
The smiles and enthusiasm from the mischevious Sammy & Ray in their entrances showed it all.
The lads put on a good skillful bout using the rope to get into position.
So the Spotland Pirates get 10 out of 10 and the audience warmed to it too.
Well done on Bout 4 of 4 from LATL4!"
Plus
Sam Smiler challenges Young Ady
to a Rope Match
in
Rope Off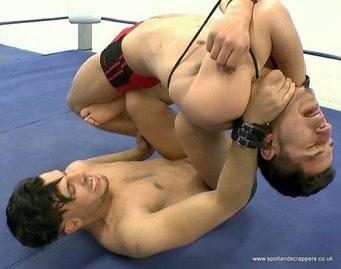 Young Ady v Sam Smiler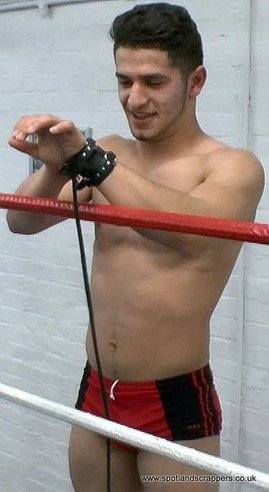 Sam Smiler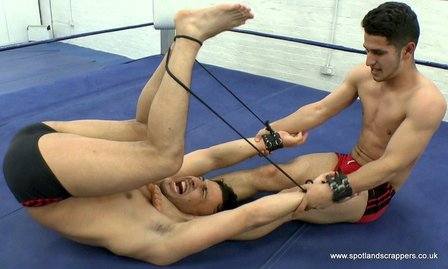 "... good tussle and it needs a fair bit of skill to set up holds while tied together.
I thought surely the surfboard is not going on ...
... appeared in the later World Of Sport days with the chain match format
... remember Danny Collins v Fit Finlay.
++++++++++++
Custom Match
Pony Tale
with
Young Ady v Ray Junior
wearing leggings, using ropes 'n chokes,
and taking us to areas of The Loft never seen before!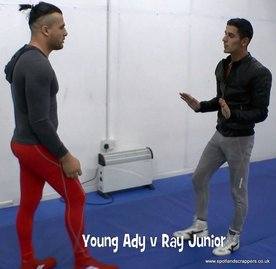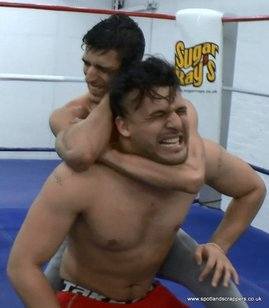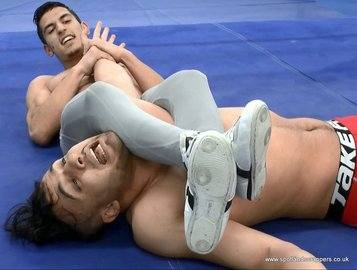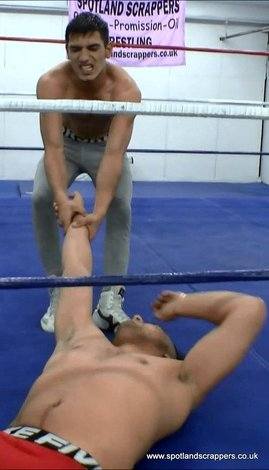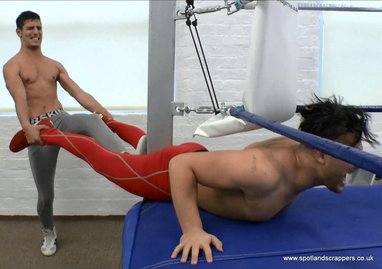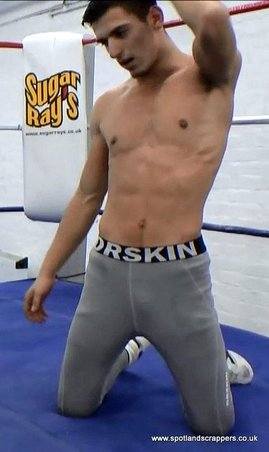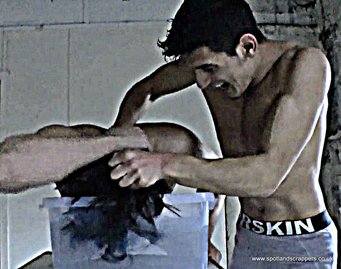 ++++++++++++
Introducing Joey Eden
as a kick boxing instructor
in The Two O'Clock
with Ray Junior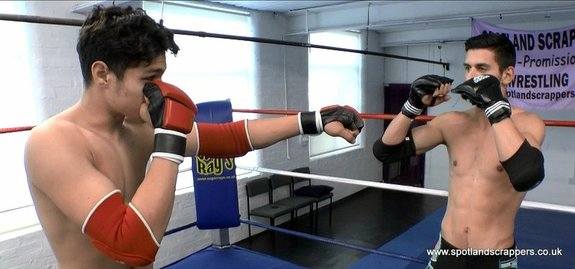 Joey Eden & Ray Junior
Ray Junior decides to try kick-boxing,
and arrives at the gym for his 2pm lesson with instructor Joey Eden,
but the session doesn't quite follow Joey's plan ...

Preview Pics on YouTube at: https://youtu.be/gluTuebUJe4

++++++++++++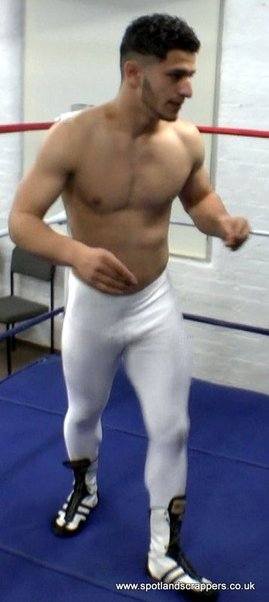 Ruthless David Cuplu expects to get the better of popular Sam Smiler
by fair means or foul in this custom squash match.
Will Sam be smiling at the end?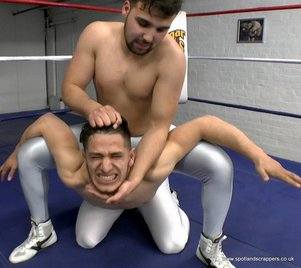 David Cuplu v Sam Smiler
in The Lycra Lads 1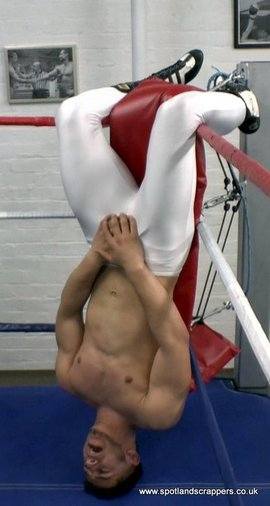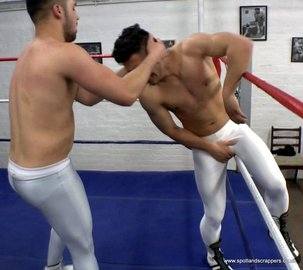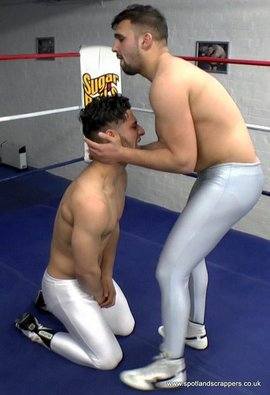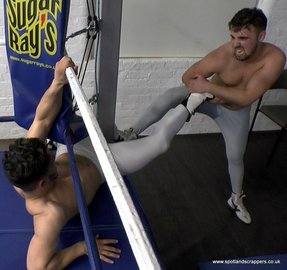 Preview on our YouTube Channel
https://youtu.be/6tSkYyiiYao
"It's a really good match, I especially like the ring bar action,
all four posts was more than I was expecting
and I thought it was really well done.
I liked Sam caught on the ropes too,
and my favourite "shattered dreams" move as it's known by wrestler goldust."
++++++++++++
Memphis Wrestling
Custom Matches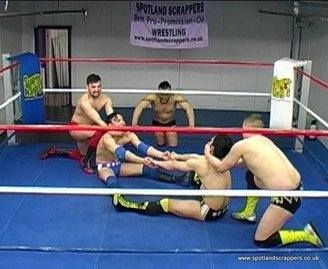 A group of new upstart wrestlers have arrived in the fed.
They are enthusiastic, idealistic and really eager to learn and grow and achieve success.
The more experienced vets in the fed resent their hard work and enthusiasm and eagerness to please.
They view them as just another group of jobbers to be put in their place and taught a lesson.
This plays out in how they wrestle.
The newer guys are high energy, faster paced, more high flying, looking to win by bettering their opponents.
For them it is a genuine contest.
The vets by contrast move more methodically, focusing relentlessly on big power moves and painful submission holds,
looking not just to win, but to inflict pain and humiliation on their opponents.
There are six wrestlers in total - three in both camps.
The action plays out over four matches, with each one naturally leading to the next…
almost the way pro wrestling used to follow an ongoing storyline week to week till it ended and another began.
The story begins with the vets walking in on the new guys who are practising in the ring,
and a challenge is laid down for the first match.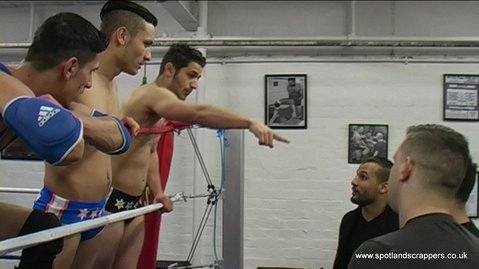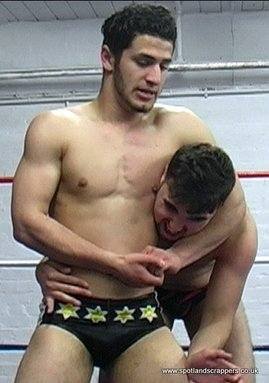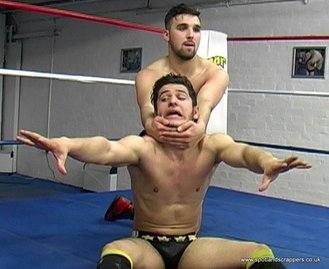 David Cuplu v Sam Smiler
in Memphis Hell I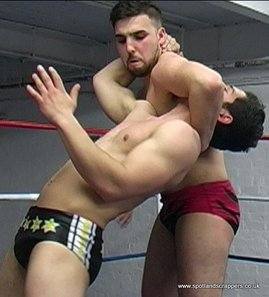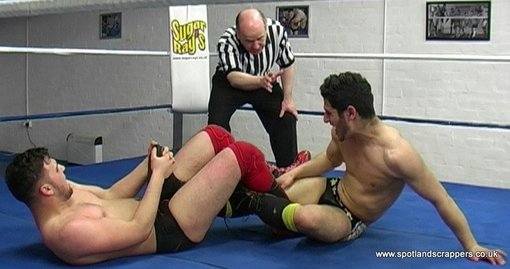 David Cuplu v Sam Smiler
with Referee Nigel Crabtree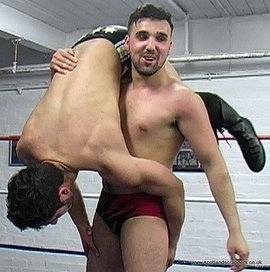 " ...watched the first match. Great stuff! The guys set the scene well...the wrestling was awesome...
really good job by the first two...and you managed to get the ending perfectly.
Kudos to the lads."
At the end of Match One, the Vets stand outside the ring taunting and threatening the new guys.
The Vet leader challenges them, putting up his two vets against Newbie 1 and Newbie 2 in a no holds barred tag match.
So the second match takes place the following week.
It features Newbie 1 and Newbie 2 against Vets 1 & 2.
The Newbies turn up in their wrestling gear, while the Vets turn up in street clothes, clearly ready for a brawl.
There is no ref this time.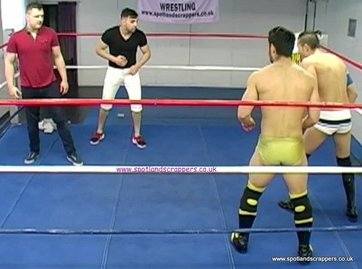 David Cuplu & Killer Callum
v
Sam Smiler & Sammy Scrapper
in Memphis Hell ii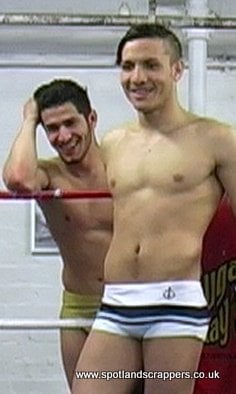 Sam Smiler &
Sammy Scrapper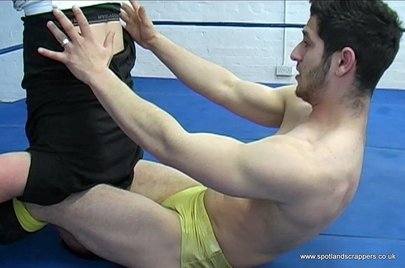 Sam Smiler v David Cuplu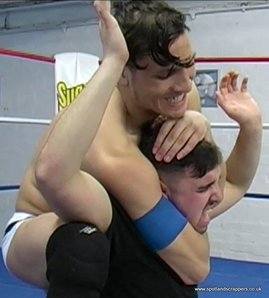 Sammy Scrapper
v David Cuplu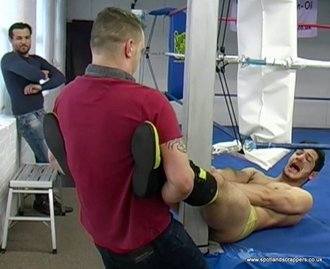 Killer Callum v Sam Smiler
"Match Two turned out really well ... loved it ... thanks!"

Now the Vets Leader decides take care of these upstarts himself.
Newbie 3 is working out late one night when Vet 3 corners him in the gym.
He says there is no way any of them could beat him…
the gym belongs to him...he points to his photos on the wall.
Not wanting to let himself get called out, the Newbie accepts the challenge,
although he fears what might be about to happen.
Junior regrets taking Ady's challenge even before he climbs into the ring
but there's no-one else around to help him as
the experienced guy uses a string of power and submission moves against his lightweight newbie opponent ...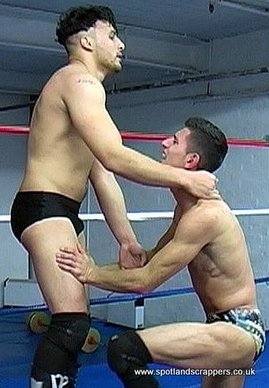 Young Ady v Ray Junior
in Memphis Hell iii
("Boot-Up")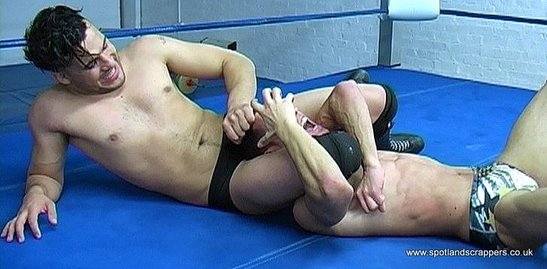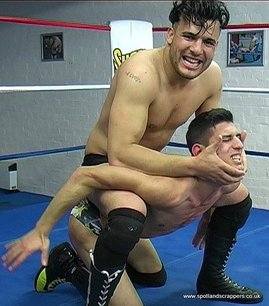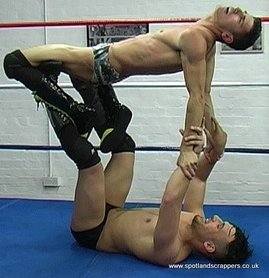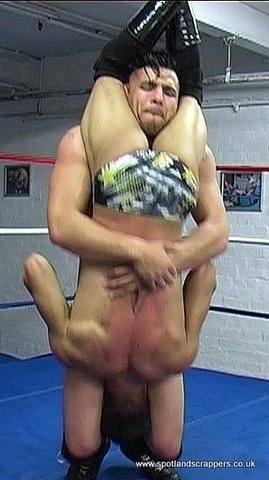 Reviewer's Comments

:
"The wrestling content of this is phenomenal and the teaming of Ady and Ray is amazing.
The whole pace and execution of holds is superb and Ray brings a fresh style of athleticism to the role.
Ray took the punishment well; I know he will know he was in a tough match with Ady; even the gear sets it off with the boots ..."
The other two Newbies turn up and the Vets Leader taunts them from outside the ring.
The Newbies challenge The Vets to a final six-man tag match
- may the best team win!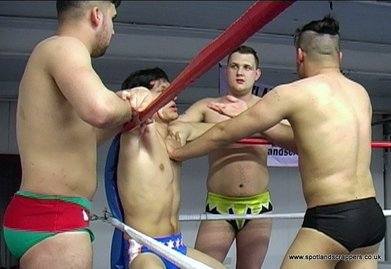 Young Ady - David Cuplu - Killer Callum
("The Vets")
v
Sam Smiler - Sammy Scrapper - Ray Junior
("The Newbies")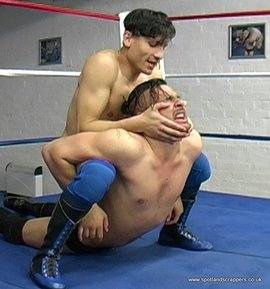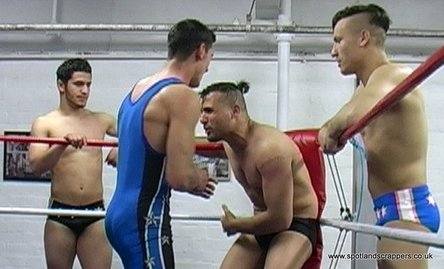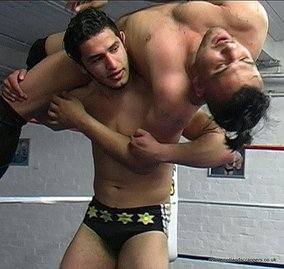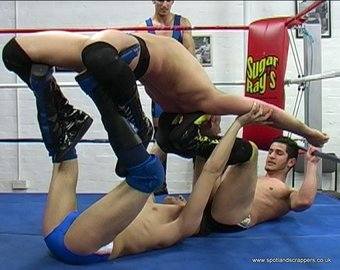 Preview on our YouTube Channel at: https://youtu.be/0sIV5cVuSpk

"Just to let you know I've now got all 4 downloads and the DVD. Thanks again to the guys. Great job.
Really enjoyed collaborating with you and hope to do it again soon."
(Sponsor of Memphis Hell)
++++++++++++
Team Spotland
*** Pro Submission Championship ***
Seeing Stars 1

First Eliminator
"best of three submissions"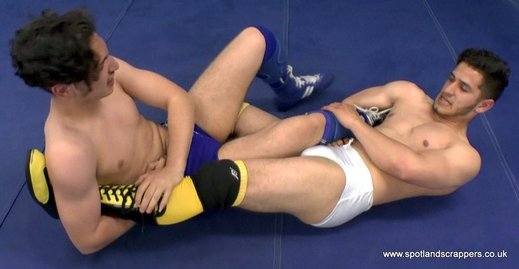 Gypsy Joe v Sam Smiler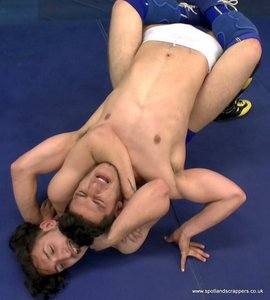 Second Eliminator
"best of three submissions"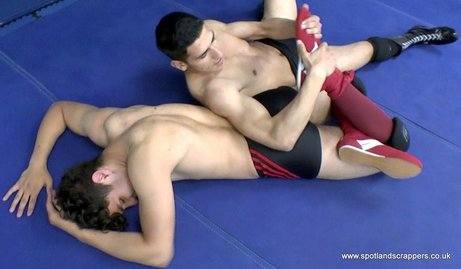 Joey Eden v Ray Junior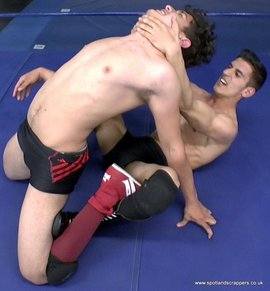 Final
"best of five submissions"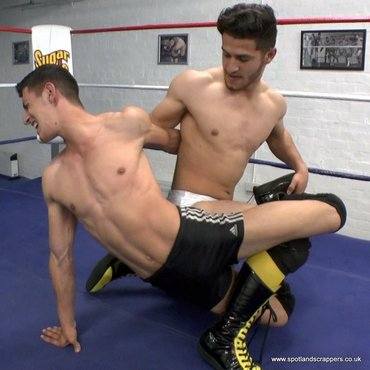 Ray Junior v Sam Smiler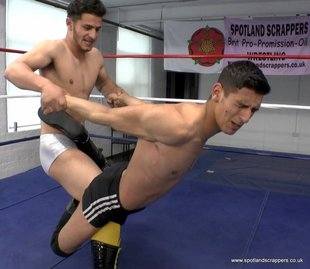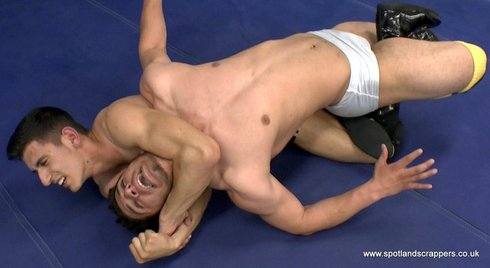 Preview on our YouTube Channel at: https://youtu.be/VM_weLqWJYU

"WOW! It's great. Really good matwork and great action. The guys did good.
So pleased with your work that I think I'd like to sponsor another custom match ..."


"Love the creative submission holds"

Pro Submission Championship
Second Contest

Seeing Stars 2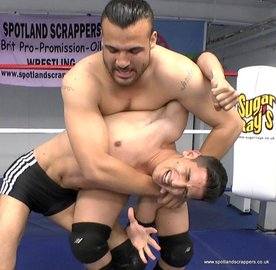 Young Ady v Ray Junior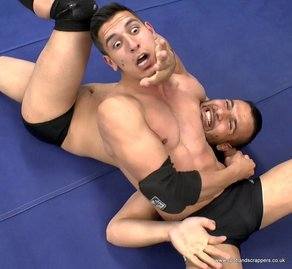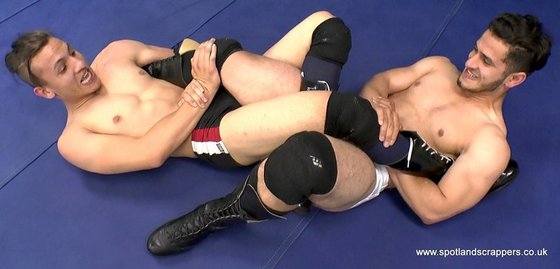 Sammy Scrapper v Sam Smiler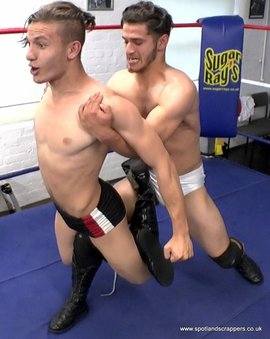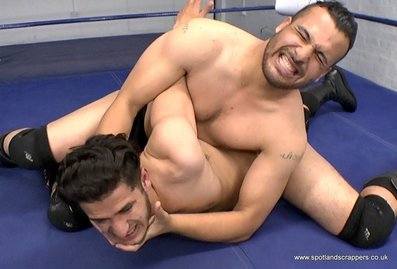 Young Ady v Sam Smiler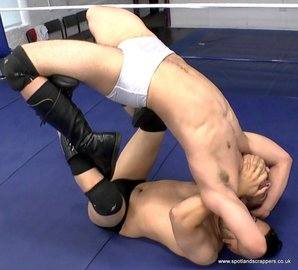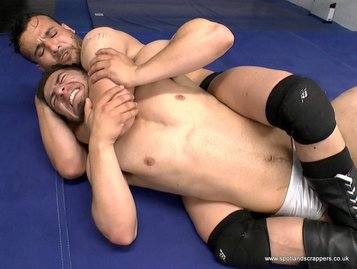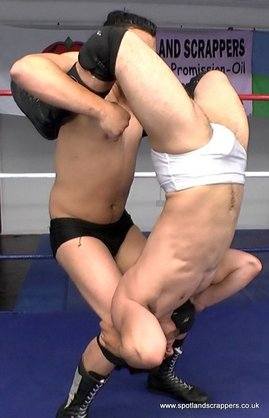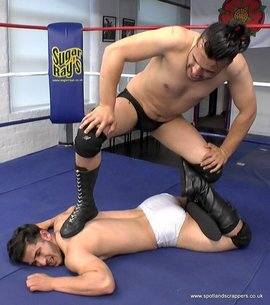 Seeing Stars 2
"Seeing Stars 2 was great production ...
the lads are all becoming expert in their own way with the leg lever combination and back holds ...
Captain Ady back showing no mercy and dishing out
the 3 in 1 Zoltan Boscik hold on Ray and Smiler ..."
(Supporter's Comments)


"Superb matches. The guys worked brilliantly. Please thank them for me.
Great to see those really complex moves and submissions.
Exciting to watch skilled wrestlers working and selling holds and locks.
Thanks again."
(Sponsor's Feedback)


++++++++++++


Junior's Birthday

We pay tribute to Ray Junior
and his contribution to the Group
with a special pro submission contest
plus snapshots of some of his matches
over the last three years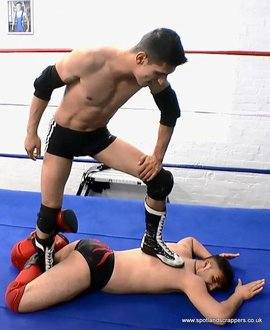 Ray Junior v David Cuplu
in
Star Quality
on Sub Plots DVD compilation
++++++++++++
Boxer Shorts
a series of scenarios with a punch, combining boxing and grappling.
Smiler tries to teach Ray & Sammy to train with a skipping rope
but they soon lose patience and push Smiler into the ring ...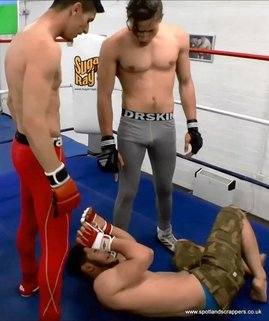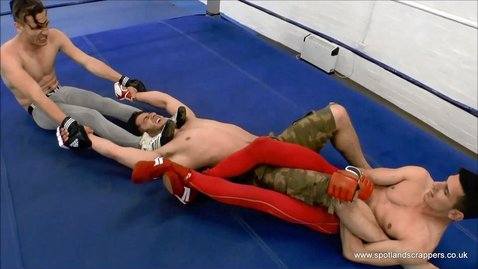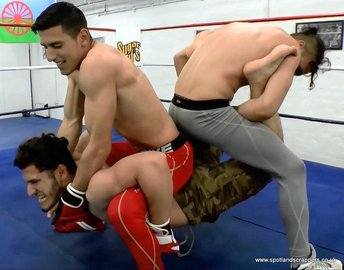 Sammy Scrapper - Sam Smiler - Ray Junior
Ray & Sammy play Rock, Paper, Scissors, to see who has the strongest abs
then Sammy takes the challenge into the ring ...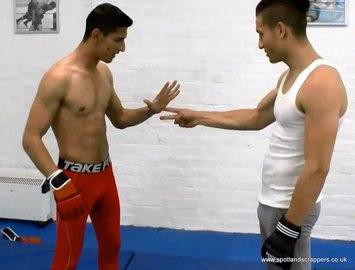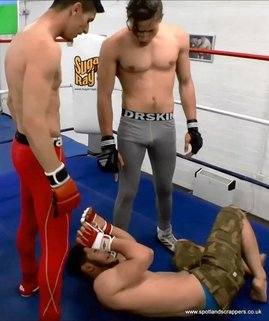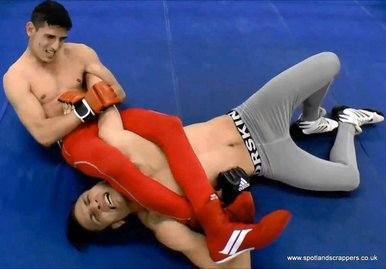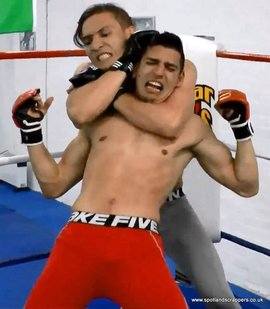 Ray Junior v Sammy Scrapper
"They are incredible!"

++++++++++++
European Disunion
two masked fighters dispute their right
to appear in a forthcoming championship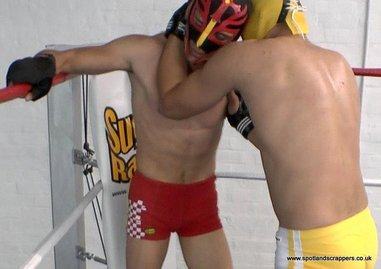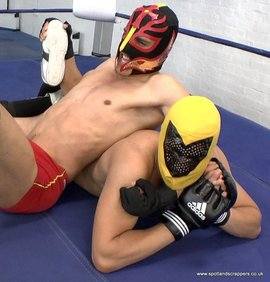 Mascara Junior v Joey Masque in Los Enmascerados 1

and two masked fighters come back for a return match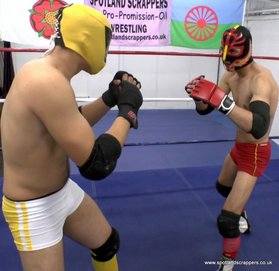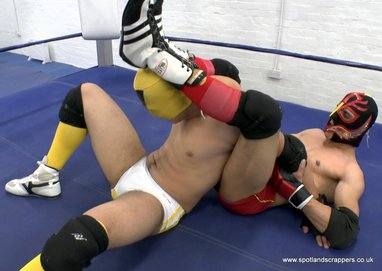 Mascara Junior v Joey Le Cache in Los Enmascerados Return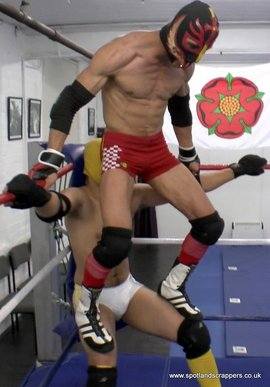 ++++++++++++
"Five Live" Pro Custom Match Series
Sponsored by Paul Shakespeare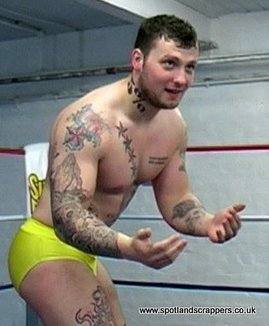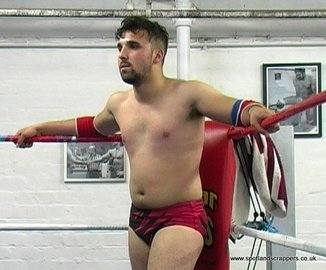 we welcome back the familiar tattooed figure of Lewy Paradise
who takes on sinister Spotland regular David Cuplu
in a Junior Heavyweight clash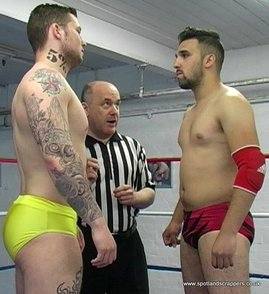 Lewy Paradise v David Cuplu
with
Referee Nigel Crabtree
in
Five Live 2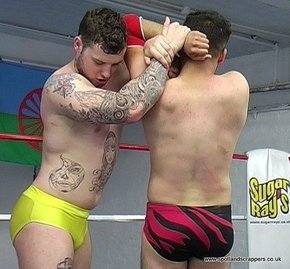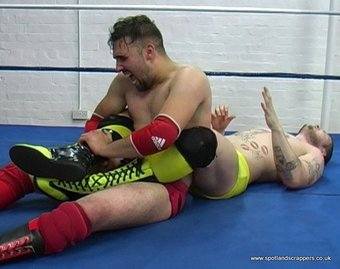 it's scheduled for 8 x 3 minute rounds
but will experienced pro wrestler Lewy Paradise
deal with the cheating David Cuplu?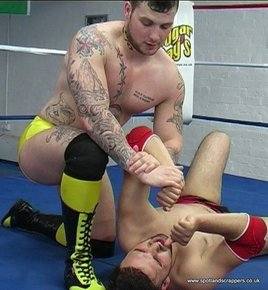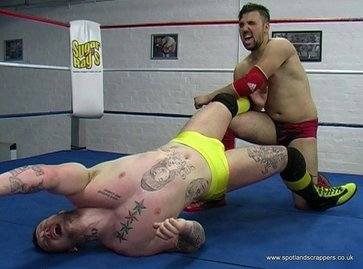 Preview on our YouTube Channel at: https://youtu.be/mmpTALCAXLo
A note from one of our supporters:
"Five Live 2 ... absolutely brilliant! A re-match is a must and soon, please!
Spotland Scrappers just keep getting better."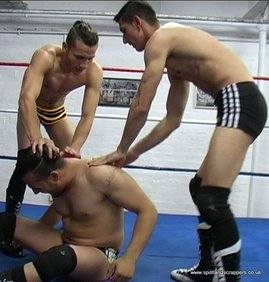 Young Ady v Sammy Scrapper v Ray Junior
in Five Live 3
a three-way match with a difference ...
each wrestler must score over both his opponents
to gain the victory!
++++++++++++
You Must Be Choking!
a treat for fans of rip 'n strip, choking and foreign objects in the ring
as David Cuplu takes Sam Smiler to the cleaners
in this total squash match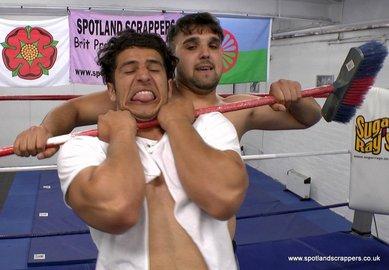 David Cuplu v Sam Smiler
in
A Rippin' Yarn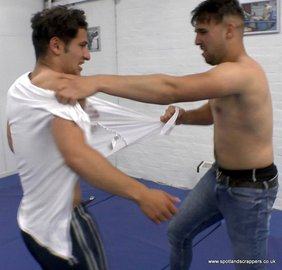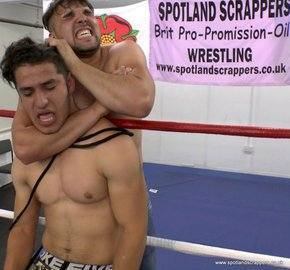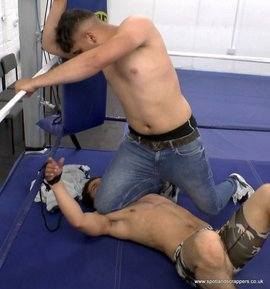 Custom Match Sponsored By Joe King
" ... way better than I could have imagined! Slamming the head, the pole, the stick, the belt ...
Cuplu is the consumate heel and poor Smiler, well, he won't wear those shorts again for sure!
Loved the torture rack ... the best part is the pole full nelson ... not even quite sure what to call it!
Thank you guys so much ... this is just brilliant work"
"some very funny stuff in there"
++++++++++++
Carry On Lifting
meanwhile for Lift & Carry fans
Sam Smiler does the job with Ray Junior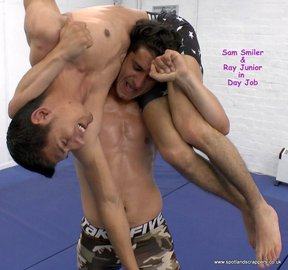 Sam Smiler & Ray Junior
in Day Job
"Sam is a real beast and Ray Junior is a good sport"

"As a fanatic of lift and carry, I ABSOLUTELY LOVED Day Job! Thank you!
Which part was my favorite? The baby carry around the ring!"

"... great vid, lots of wrestling lifts and throwing around!
This is a must buy video 15 mins of lift and carry ...
I suggest everyone to buy it!"

Preview at: https://youtu.be/DPjZwBElnF8

++++++++++++

The Interview
Joey applies for work painting an empty industrial unit
and is interviewed by Ray who remembers
they had a dispute over a girlfriend
and tries to extract the truth from him ...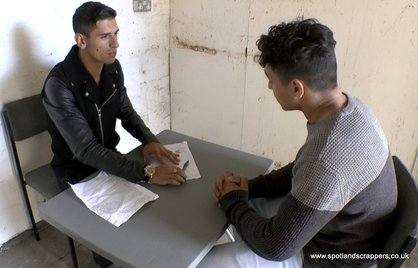 Ray Junior & Joey Eden
in
Rebecca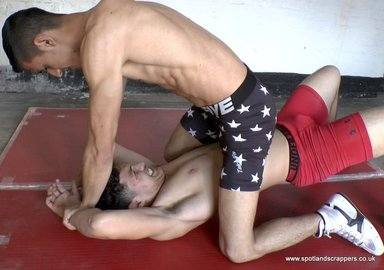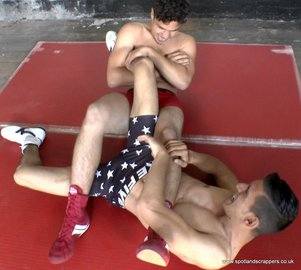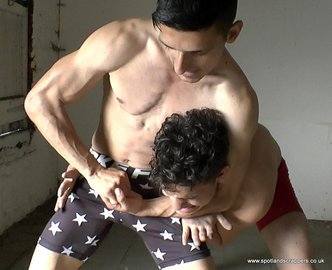 "clever production"
"Ray has the smile of the assassin when required."
"I liked all the verbal banter between them."
++++++++++++
Brotherly Love
Ady takes pride in his pony tail hairstyle
and doesn't take kindly to younger brother Sammy making fun of him ...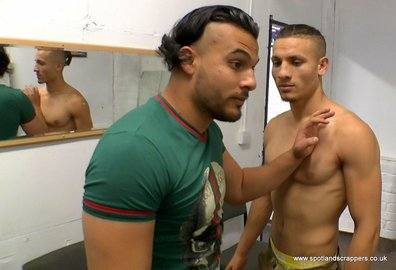 Young Ady v Sammy Scrapper
in
Blood Feud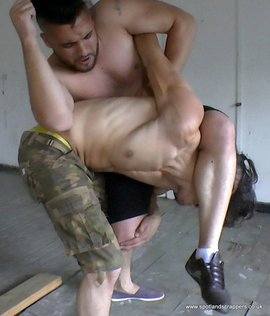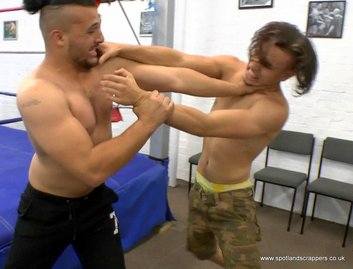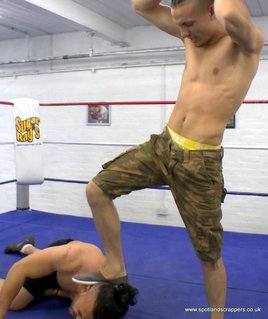 ++++++++++++
Pizza Delivery
Ray Junior feels hungry at the end of training
and orders a Dominoes pizza
but when the delivery lad arrives at the door
it's not what Ray's expecting and he wants his money back ...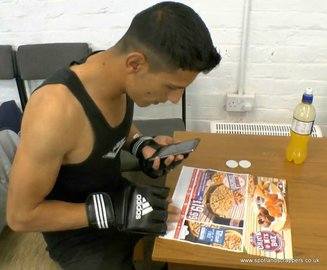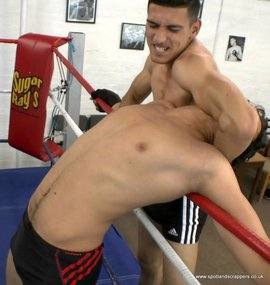 Ray Junior v Joey Eden in Dominoes
++++++++++++
Scrappers On Location

Eden's Garden
three outdoor matches featuring Joey Eden
with Ray Junior - David Cuplu - LJ Silva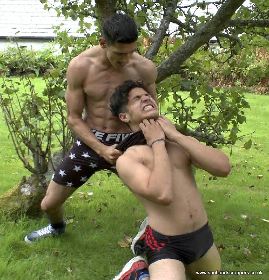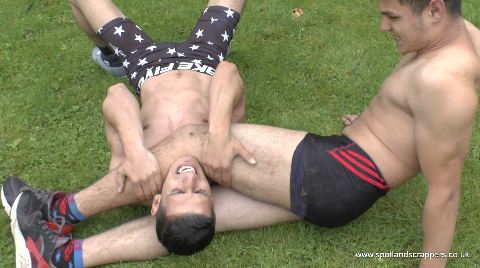 Joey Eden v Ray Junior
Joey Eden v David Cuplu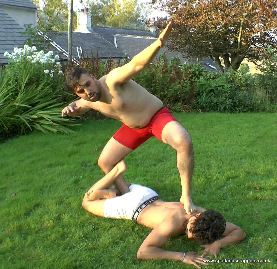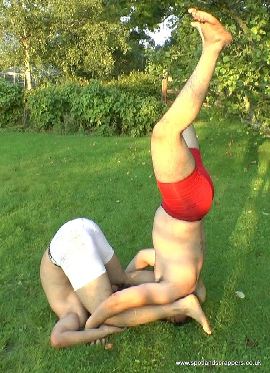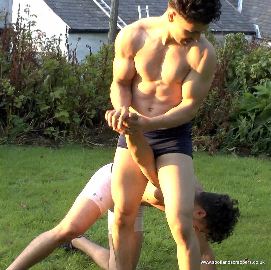 Joey Eden v LJ Silva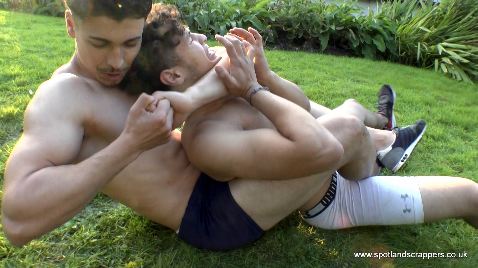 three entertaining matches in the evening light
let's hope the sun isn't setting on Joey's wrestling career!

three more matches
three different settings
in Glowering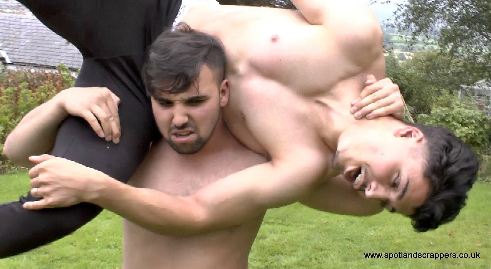 David Cuplu v LJ Silva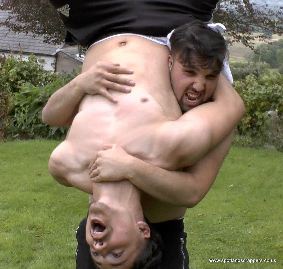 "lift & carry" moves on the cottage lawn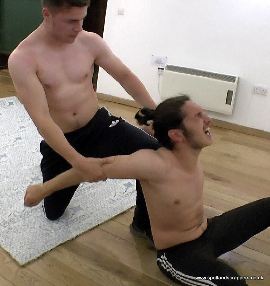 Gypsy Joe v Lofty Valentino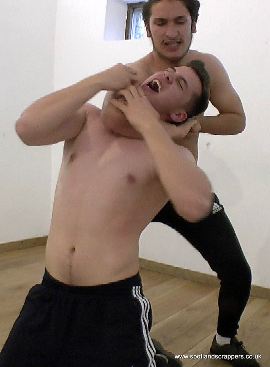 Lofty accuses Joe of cheating in a pool game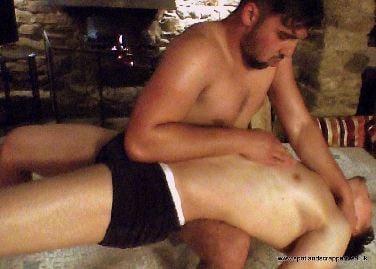 David Cuplu v LJ Silva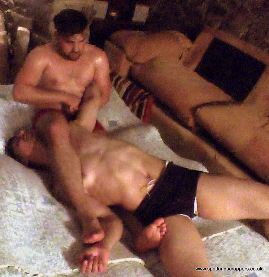 fireside wrestling evocative of the famous scene from Women In Love!
++++++++++++
Star Series
Following-on from Seeing Stars & Star Quality
we return to the ring for three pro submission contests
between experienced wrestlers and rookies
in Shooting Stars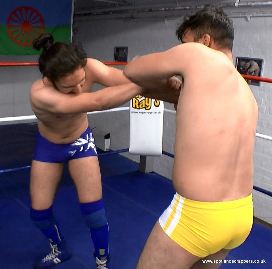 David Cuplu v Gypsy Joe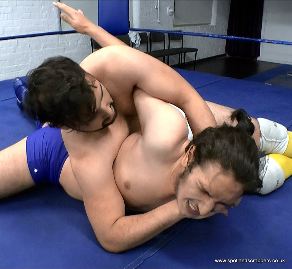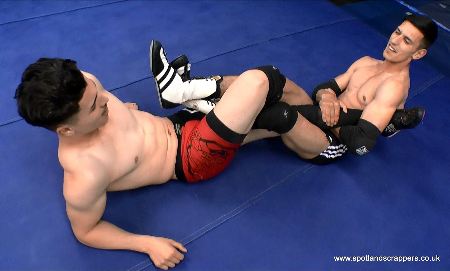 Ray Junior v LJ Silva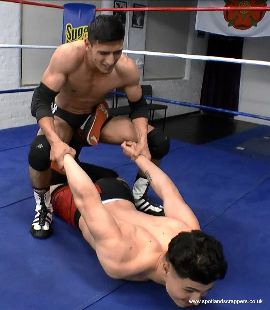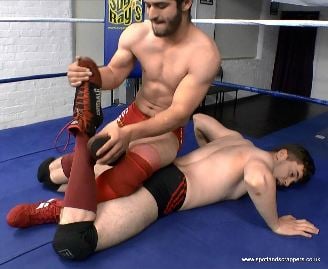 Sam Smiler v Lofty Valentino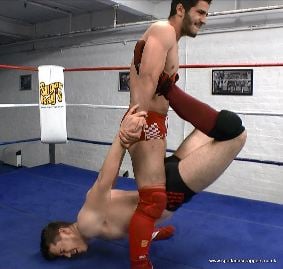 ++++++++++++
Heavy Lifting!
a "lift & carry" scenario
introducing Mara Doner with David Cuplu & Ray Junior
in Lift Man
++++++++++++
Halloween 2015
Following the horrifying success of Darkness Falls
this year's Halloween Special is Ghost Busters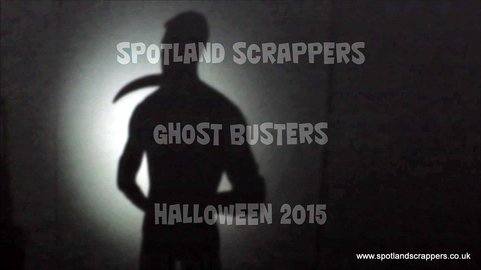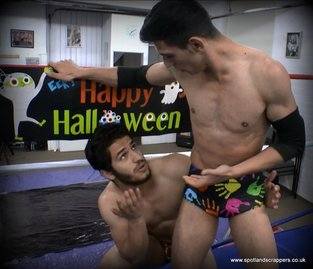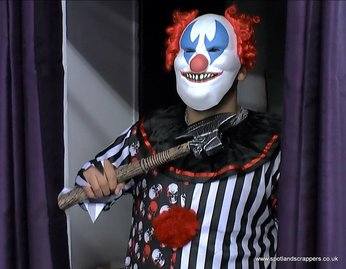 "That was enjoyable ... Ray & Samuel putting the Halloween Ghoul through his paces ...
Nice how Ray has perfected the Monkey Climb
and to finish off with Team Effort Halloween Surfboard ..!!!"
++++++++++++
A Cracking Tale
Those of you who look forward to our custom scenarios will enjoy this tale of intrigue
as at the end of training David thinks Ray has stolen his wallet and takes punitive action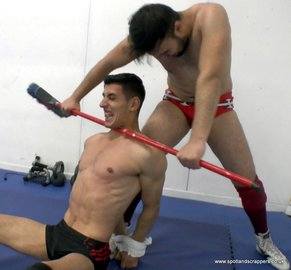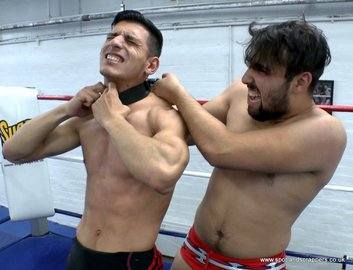 David Cuplu v Ray Junior in You're Choking!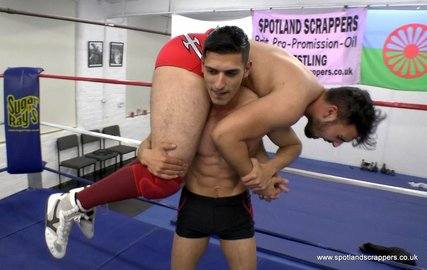 Ray fights back but Sam Smiler is cleaning the gym and joins in with David
Has Sam played a part in setting-up Junior?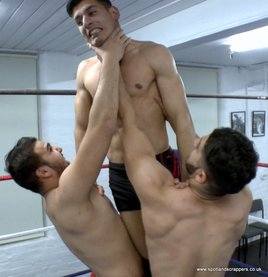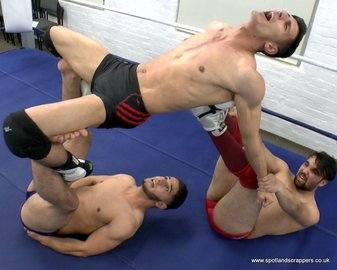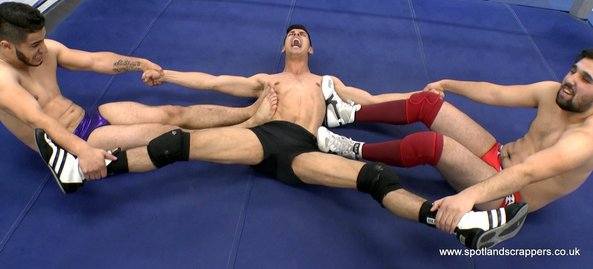 Sponsored by Crackers Productions
"Wow what a spectacular custom and to the word.
It was certainly well worth waiting for and David and Ray are a great wrestling duo ..."


"That was an enjoyable scenario well filmed and a good choice of gear ...
Poor Old Ray he just has that face people must want to suffer
been a while since he had a 2 on 1 like Junior's Revenge ..."
++++++++++++
Double Slided
a 2v1 oil wrestling match with two big guys dominating a small guy who doesn't like oil!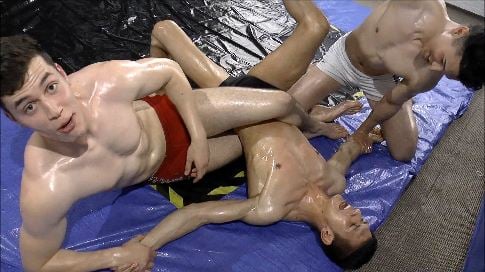 Lofty Valentino & LJ Silva v Ray Junior in Double Slided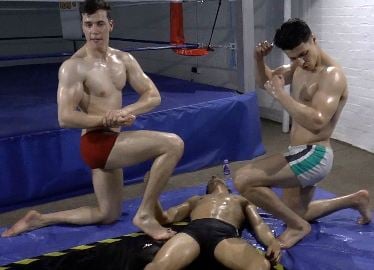 Custom Match Sponsored By Olringen Fan
"I want to thank you so much. The team really did a great job.
The guys look perfect and are in a great shape. And they really did everything I proposed.
But what I liked most was Lofty's talking during the match.
He is not only an extremely handsome wrestler, but a great actor, too.
It really was as if he was the stage director of the whole match.
So thanks again to the whole team."
++++++++++++
Testy Time
Custom Match Sponsored by Boon Support
Bodybuilder Lofty Valentino faces experienced light-heavyweight David Cuplu
who quickly resorts to underhand tactics against the fresh-faced rookie wrestler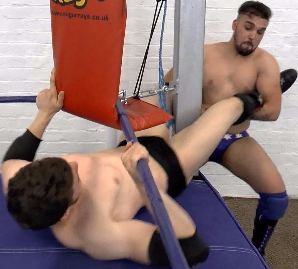 David Cuplu v Lofty Valentino

"I thought it was a great match.
I liked where he was caught on the ropes ..."
Claw Back
Custom Match Sponsored by Joe King
Trainee Joey Eden is taken to task for listening to music by Mr Grumpy David Cuplu.
Eventually Ray Junior hears his shouts for help.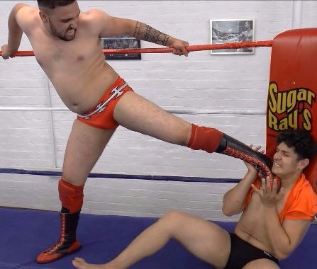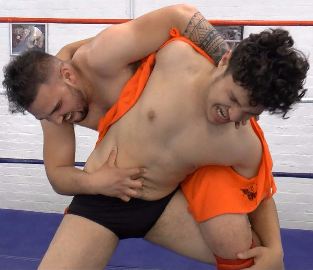 David Cuplu v Joey Eden & Ray Junior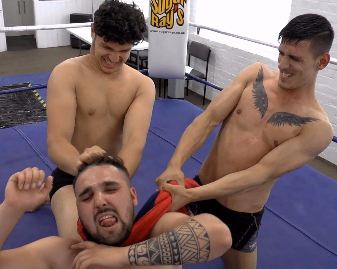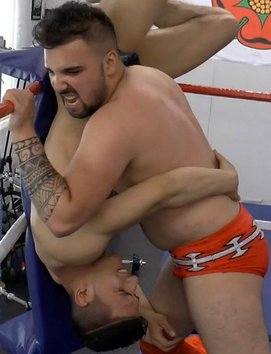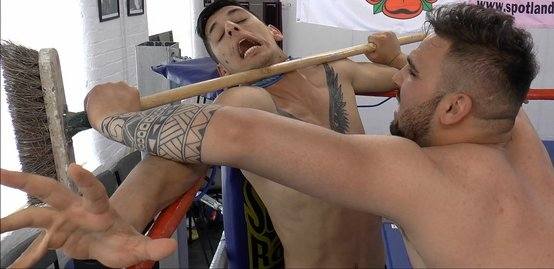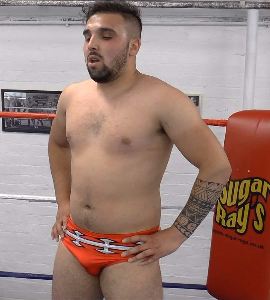 The Two Brexiteers
Awaiting the EU Referendum result, Ray Junior leads Gypsy Joe & Adri creating some music.
Lofty Valentino & Joey Eden are disturbed by the noise in the gym, and mayhem ensues ...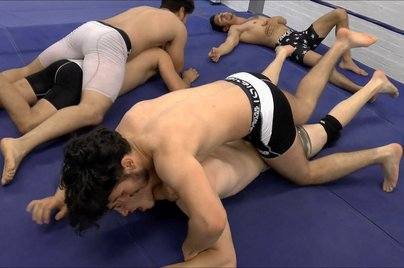 Lofty Valentino & Joey Eden v Ray Junior, Gypsy Joe & Adri
++++++++++++
Let's Have It!
Beefy masked bruiser Gorila Mascat in a customised Squash Match against little Ray Junior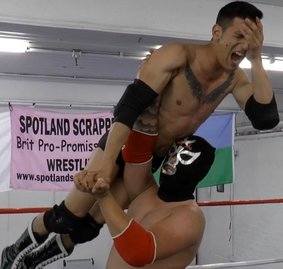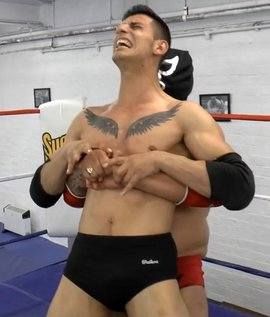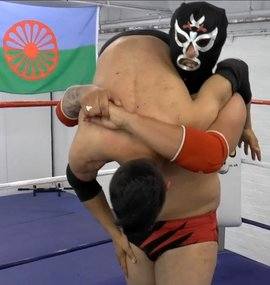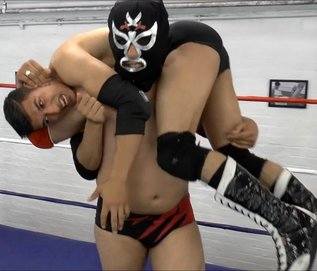 Gorila Mascat v Ray Junior
Sponsored by Andy Rack'em
++++++++++++
The Lycra Lads 2
Ray Junior's training for the Olympics is interrupted by an unknown masked wrestler.
"Oh Not Again!" says Junior but this time he's determined to remove the mask
to reveal the imposter's identity and teach him a lesson ...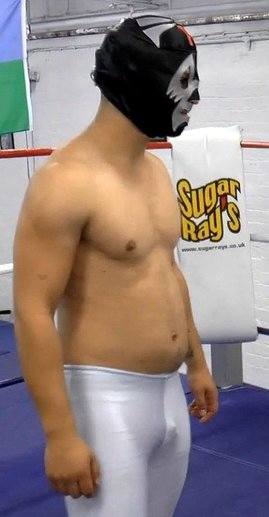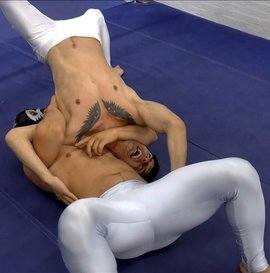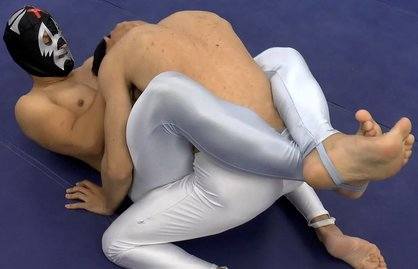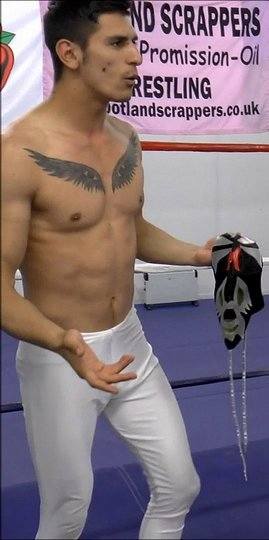 Ray Junior v Sorriso Mascherato
Sponsored by Steve Affleck
++++++++++++
Beemat Miscela
a customised hybrid of 1v1's & 1v2, plus group fun fight with musical accompaniment!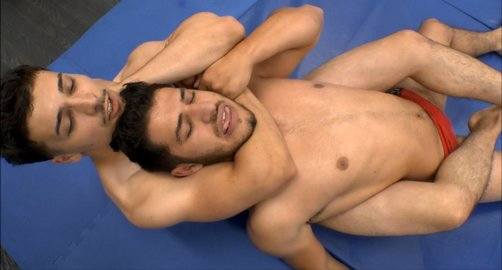 LJ Silva v Sam Smiler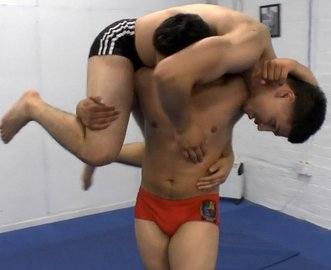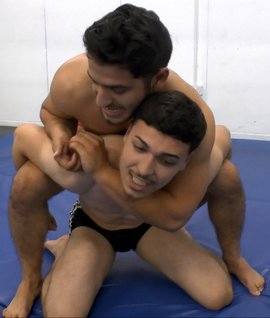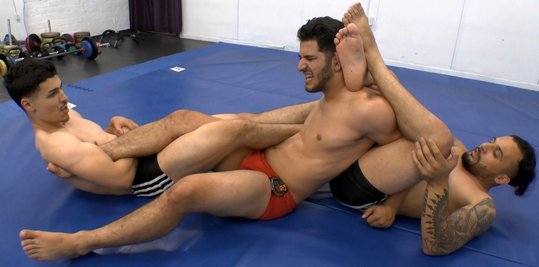 LJ Silva & Young Ady v Sam Smiler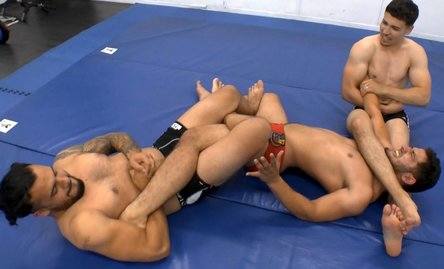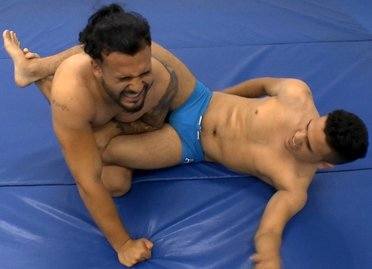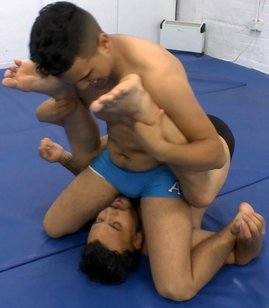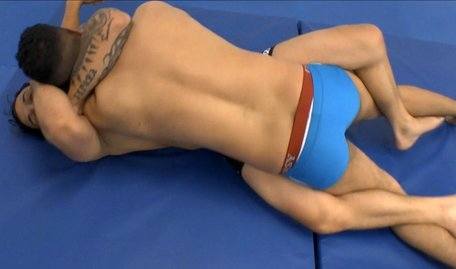 Young Ady v Adri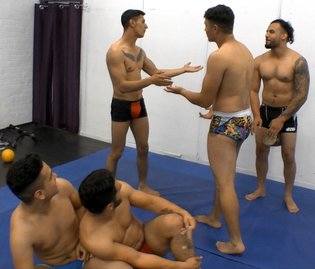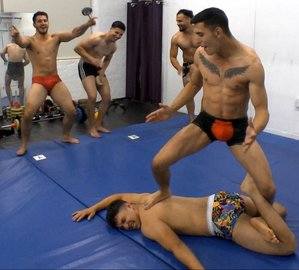 Lupta cu Muzica with Ray Junior v Joey Eden
"You guys are amazing!
The match is awesome ... best part is how Smiler just kept on fighting both of them ... kept on trying!
Young Ady was great in there ... and the music one at the end was brilliant, truly!
You guys do great work."
(Match Sponsor)
"Great to see Samuel back in the fold with LJS in this production
... always a victim for the 2 on 1 ... good bout."
++++++++++++
Testy Times 2
Bodybuilder Lofty Valentino learnt some underhand moves from David Cuplu
which he uses against Sam Smiler in this custom match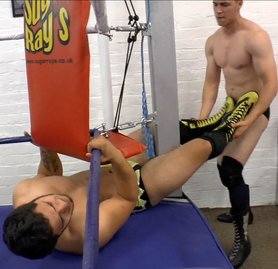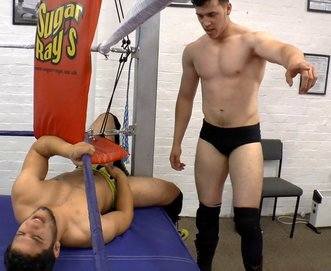 Lofty Valentino v Sam Smiler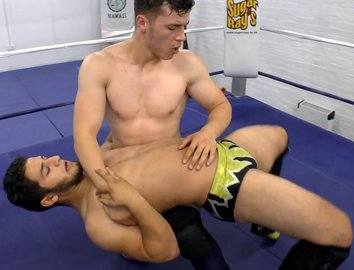 Sponsored by Boon Support
++++++++
Five Live 1 at ringside
Killer Callum - part of the Man 'o' War tag team - meets Sam who is his usual smiling self
at the start of our Five Live series of custom matches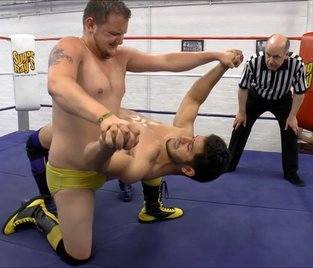 Sam Smiler v Killer Callum with Referee Nigel Crabtree
"This has worked out very much as I wanted it to.
Callum & Sam both look beefier than before and the action is equally robust.
An unusual scenario with an unusual conclusion to boot!"
(Match Sponsor)
++++++++++++
Children in Need Appeal 2016
*** Funraisers ***


Balancing Acts
a gymnastic wrestling challenge with
Rob Palomino
&
Ray Junior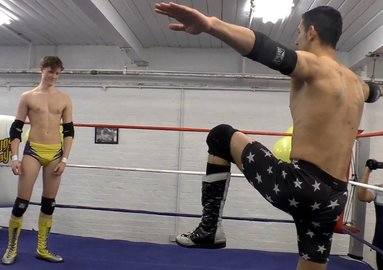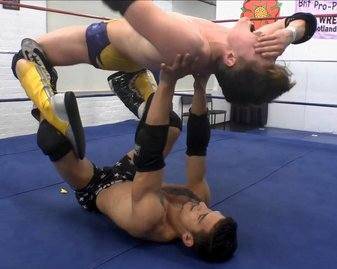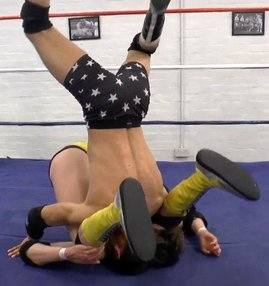 Beamed-Up
a lift & carry challenge with
Sam Smiler
&
Adri Gold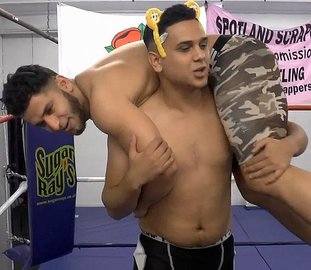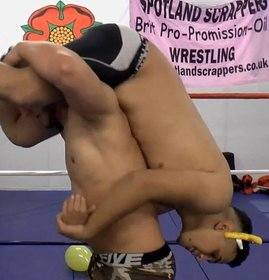 ++++++++++++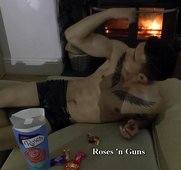 Roses 'n Guns
an arm wrestling challenge leads to a fight by the fireside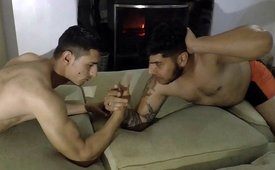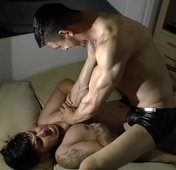 Ray Junior v Gorila Demascat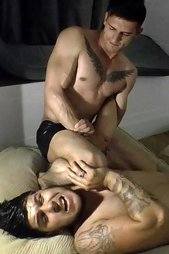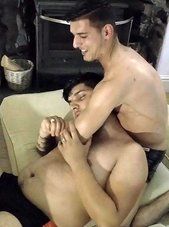 available on DVD
++++++++++++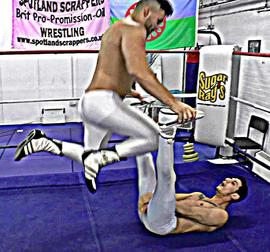 The Lycra Lads 3 & 4 Custom Matches
Jobbers suffer punishing moves involving ropes and ringposts at the hands (and feet!) of Young Ady
in these custom scenarios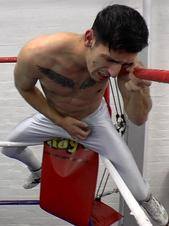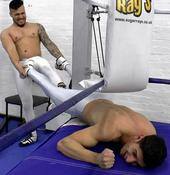 Young Ady v Ray Junior in The Lycra Lads 3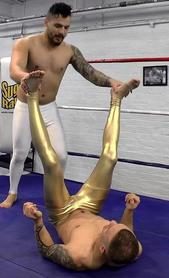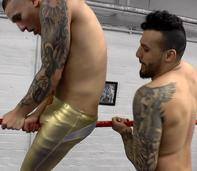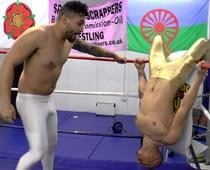 Young Ady v Sammy Scrapper in The Lycra Lads 4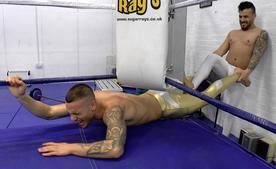 Sponsored by Steve Affleck
++++++++++++
"Who's The Boss?" 4
Experienced French Strongman Eti Eiffel towers over Spotland's Sammy Scrapper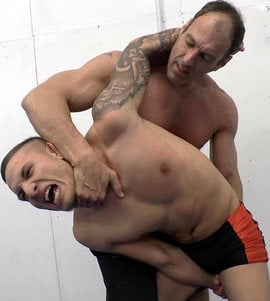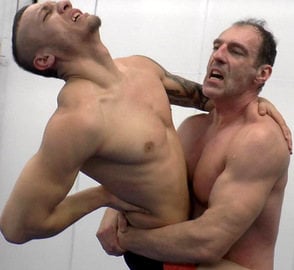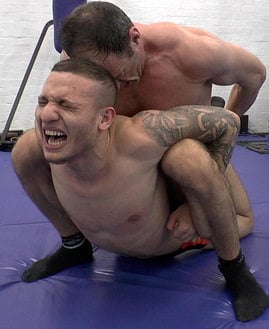 Eti Eiffel v Sammy Scrapper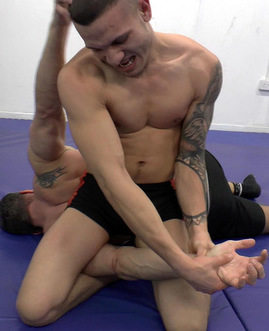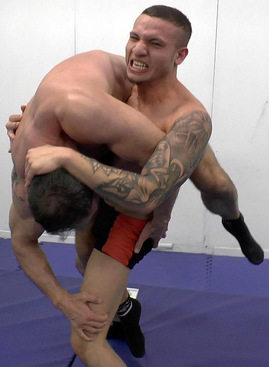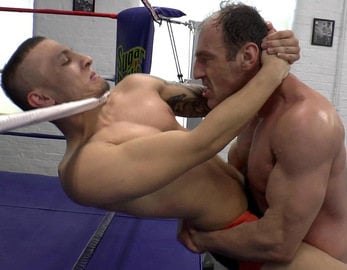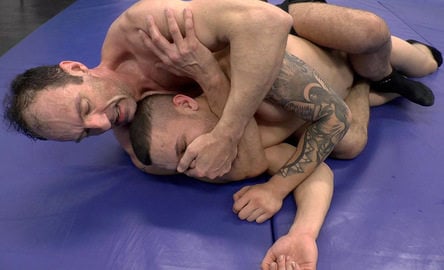 "Really enjoyed WTB4. Sammy has matured in this series.
He showed great tenacity against a much stronger opponent and fought well."
"Love that Who's The Boss is back. Sammy shines in these matches."
"Great set-up for guest wrestlers."
"One of the best wrestling vids I have ever purchased."


++++++++++++
Seeing Stars 3
our third sponsored promission tournament in the ring
featuring
Ray Junior
-
Sam Smiler
-
Gypsy Joe
-
Adri Gold
***
three matches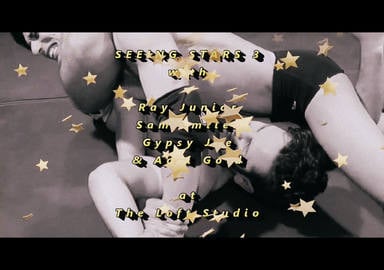 for leglock lovers everywhere!
***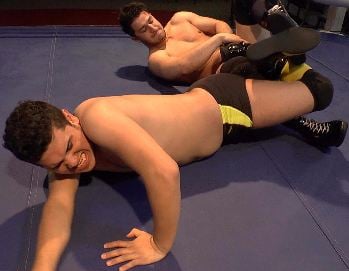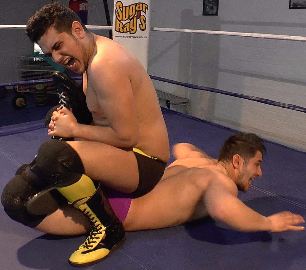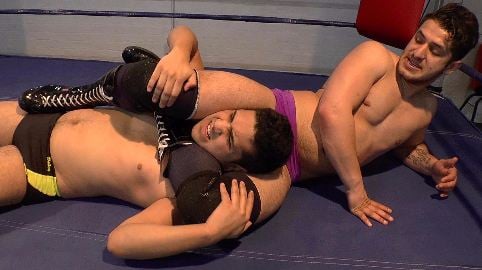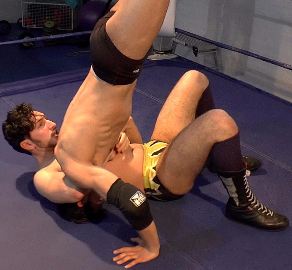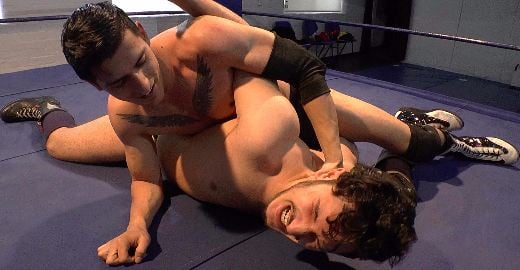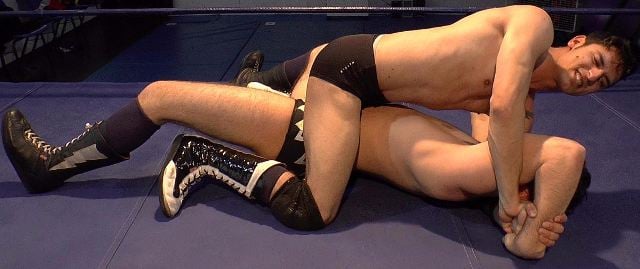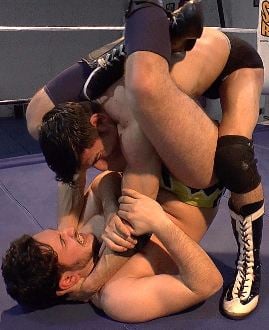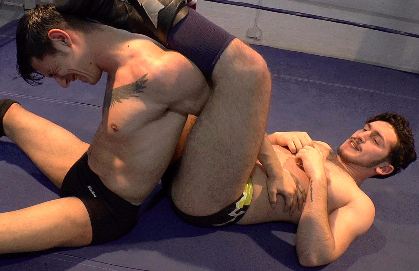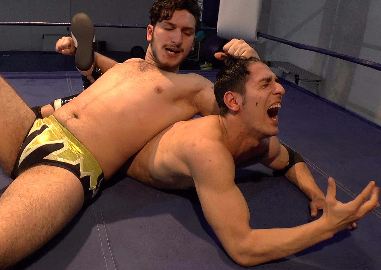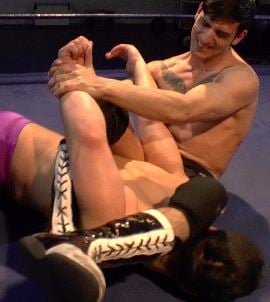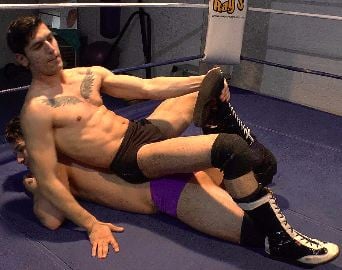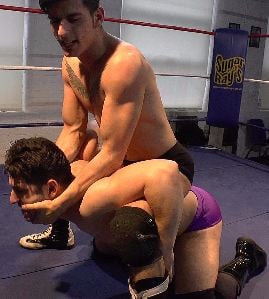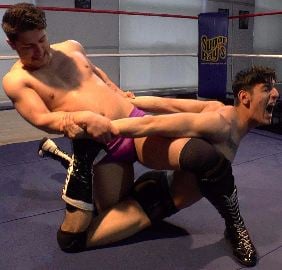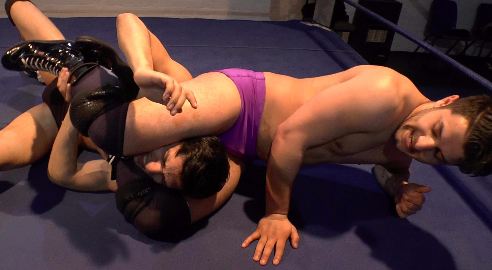 "the tournament gives Adri and GJ - coming on leaps and bounds -
a chance to put their recent learning into practice against more experienced opponents."
"... enjoyed the final tussle ... good close fought encounter with great selection of holds from both guys."


++++++++++++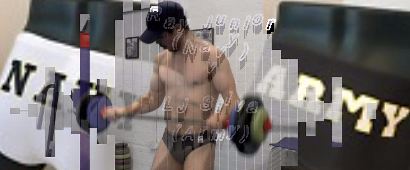 Bullseye Boyz 1
The first of a series with Army & Navy guys
challenging each other lifting weights, grappling & abs testing!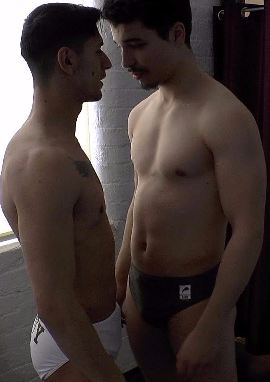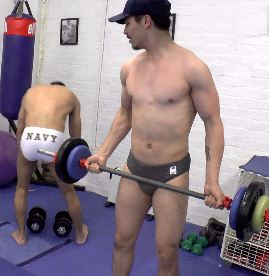 Ray Junior
v
LJ Silva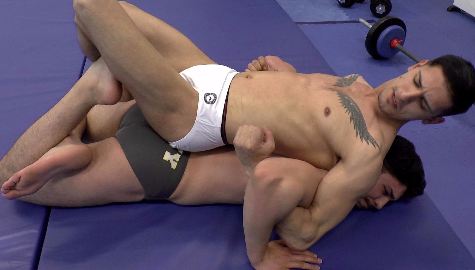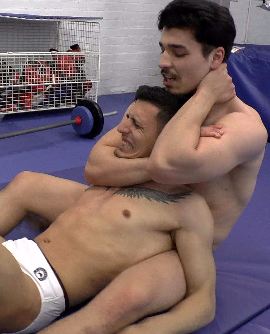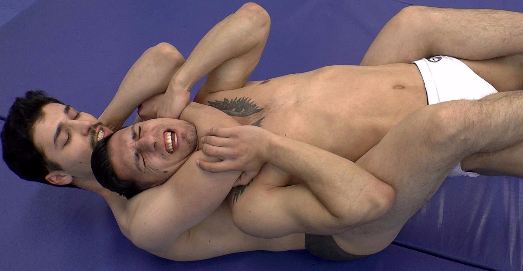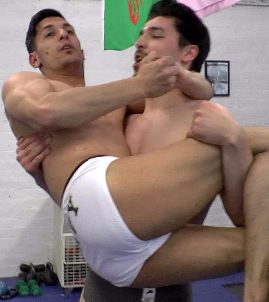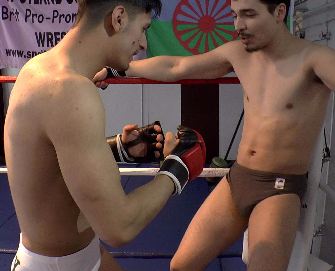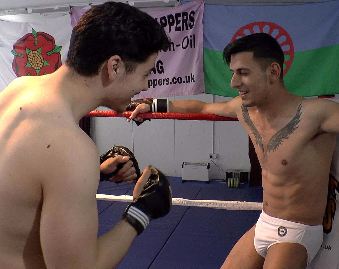 ++++++++++++
Shinobi Custom
a magical match!
We're pleased to see bodybuilder Lofty return to train with Flavi
but he suffers a humiliating ordeal when a Ninja materialises in the ring ...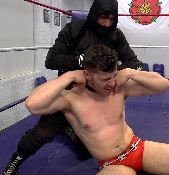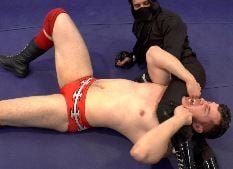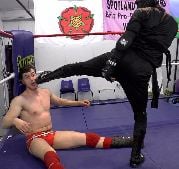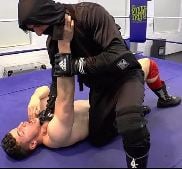 Ninja Junior
v
Lofty Valentino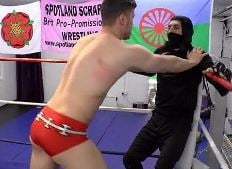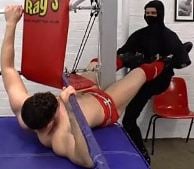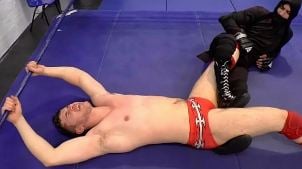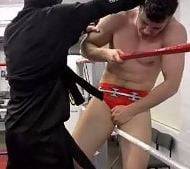 Sponsored by Victory Customs
"That was thoroughly entertaining. I love how you brilliantly integrated many of the different elements I wanted
and it made me happy to see that both these guys seemed to really enjoy themselves doing it.
Now, I need to think up another custom."
"Lofty and Ray Junior did a great job and looked fantastic too!"
"I'm watching the custom Ninja match again and its excellence continues to reveal itself to me.
Bravo again to all involved. So many nice little touches I keep spotting.
Really great job in bringing together so many of the the things I emailed you about when we were coming up with the idea!"
"Good to see Lofty back in action looking in great shape as always ..."


++++++++++++


Bullseye Boyz 2
Police Officer Silva attends an Incident and finds a Junior Fire Officer acting suspiciously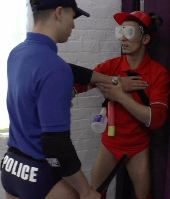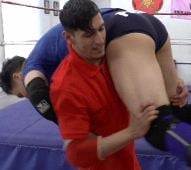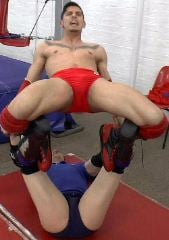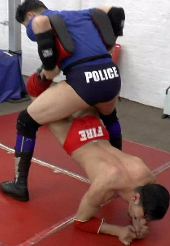 Police Officer v Fire Officer!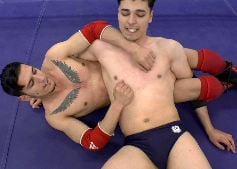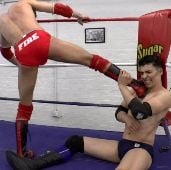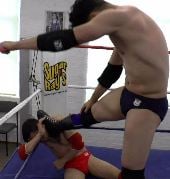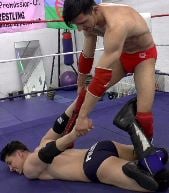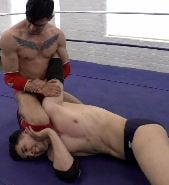 ++++++++++++


Bullseye Boyz 3
We raid the Army & Navy stores again
and this time the guys challenges include lifting a gas cylinder, knees & kicks.
But will little Junior get his revenge on the mats?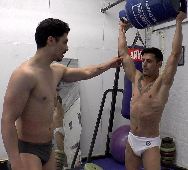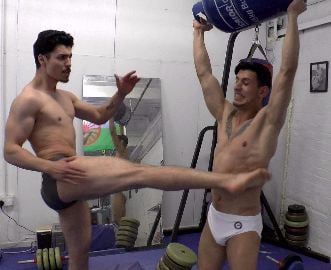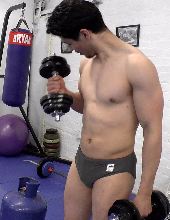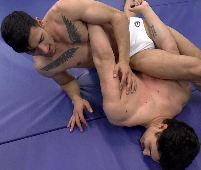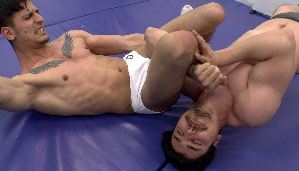 ++++++++++++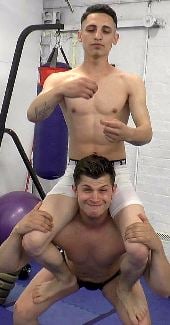 Time for Tea!
La'al Rider
a fun lift & carry scenario introducing La'al Pete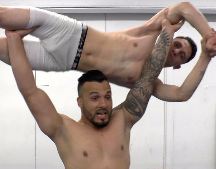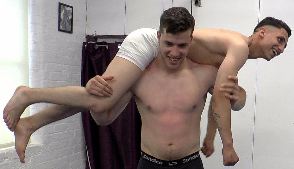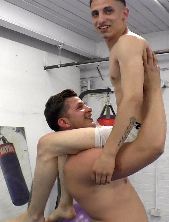 Young Ady
,
Lofty Valentino
&
Flavi Forza
with
La'al Pete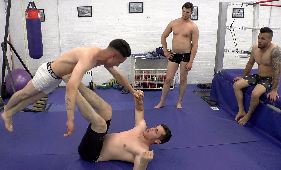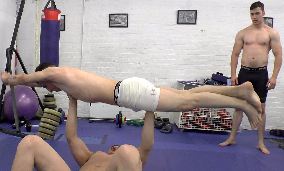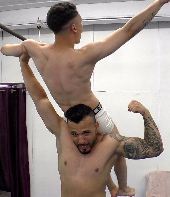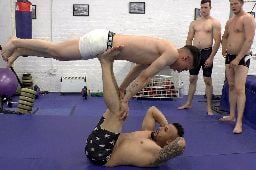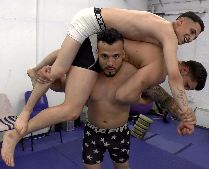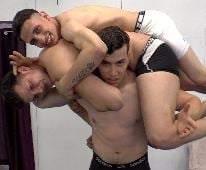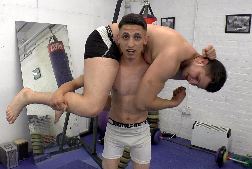 Sponsored by Greet Stefan
"I'd really love to meet Ady, Lofty, Flavi and Pete again;
they are extremely strong, really nice and genuine guys
and during the afternoon I felt that I was spending time with friends.
I still can't believe that they went thru' my entire list of lifts
- what an amazing afternoon it was!"


"All I can say is - HOLY SH*** this video was FUN!
The little guy is cute - and being used as a weight for all the guys to lift and carry and use
- especially the bicep curls and baby carried - that is such a fantasy of mine!"
++++++++++++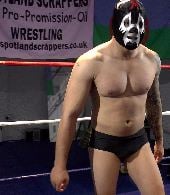 Testy Times 3
an unknown masked guy uses dirty tactics to dominate fresh
-faced Flavi in this pro style custom match with a surprise ending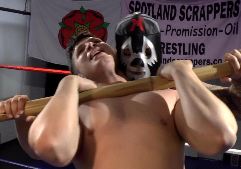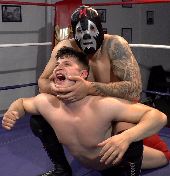 Lucas Mascat v Flavi Forza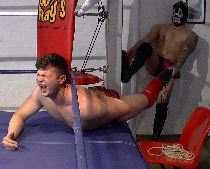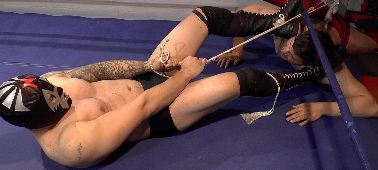 Available on DVD Compilation
Sponsored by Boon Support
"I enjoyed it.

This match is very good.

Thank you so much."
"... young Flavi suffers beautifully in this camel clutch by the masked heel Lucas Mascat ..."
++++++++++++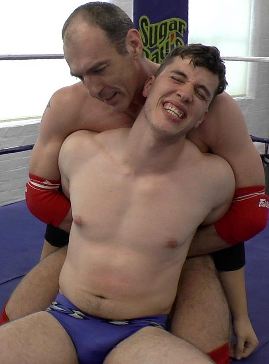 Le Boxeur
We welcome back the experienced rugged Parisian 6'3" 14st Eti Eiffel seeking to dominate boxer & rookie wrestler Lofty in the ring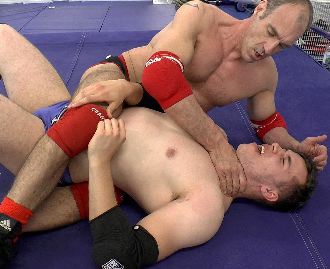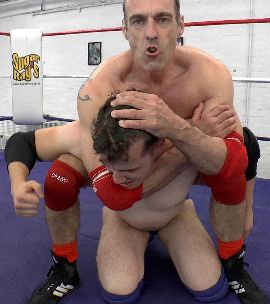 Eti Eiffel
v
Lofty Valentino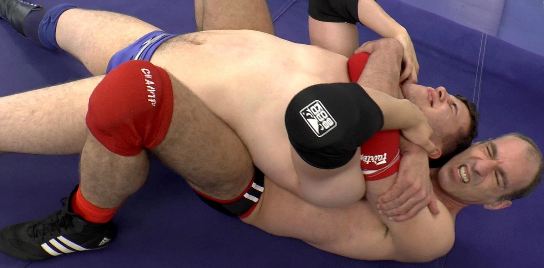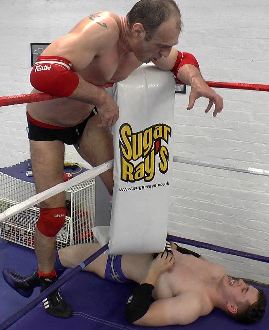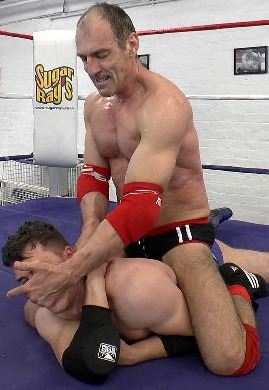 ++++++++++++
Spladle Splits
custom match with
a masked wrestler, spladles and a rope!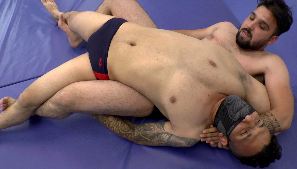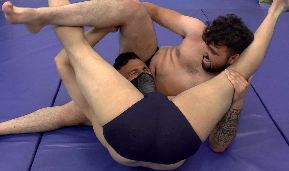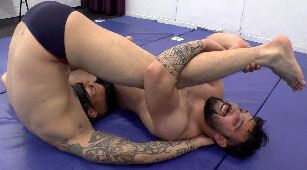 David Cuplu v Lucas Mascat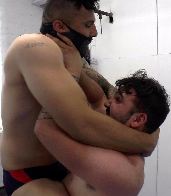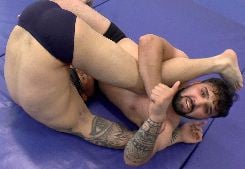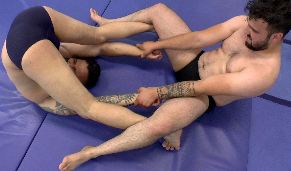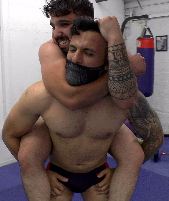 Sponsored by Maskman
"Hey I just wanted to tell you that I loved the custom, I'll definitely be ordering another one soon. Keep the mask please."
++++++++++++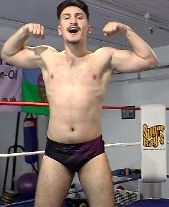 Spotland Slamdown
Gypsy uses smashes and slams to wear Joey down in this custom Brit Pro match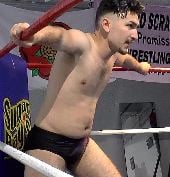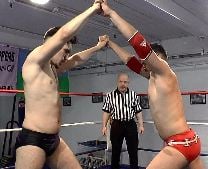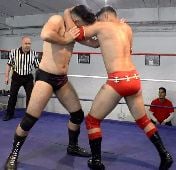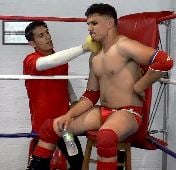 Gypsy Joe
v
Joey Eden
with Referee Nigel Crabtree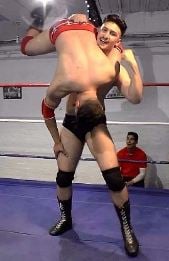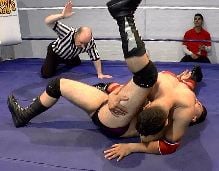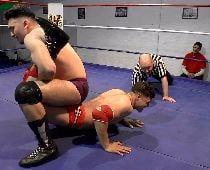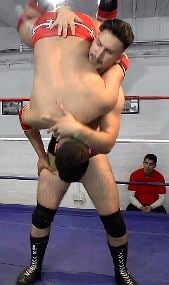 Sponsored by Batley Basher
++++++++++++
Ray Jay's Scissors

Ray catches newbie Pete lifting weights, laughs at his "chicken legs" and challenges him to a scissors match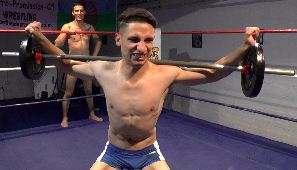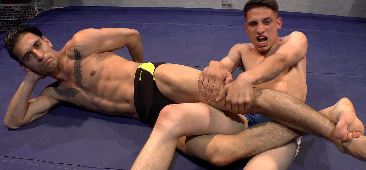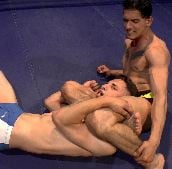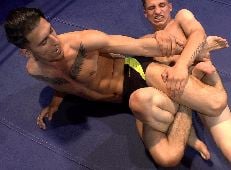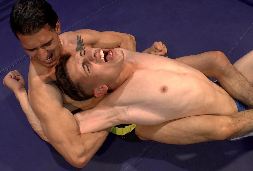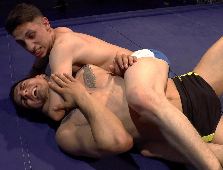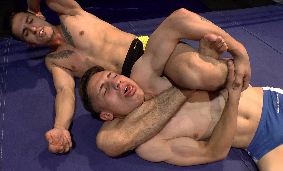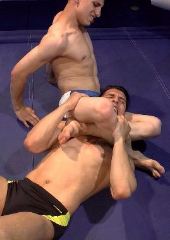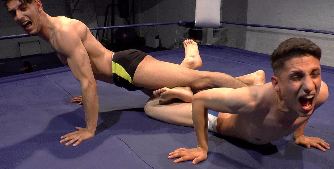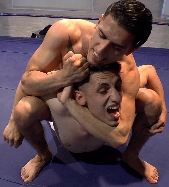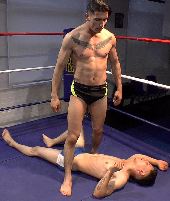 "Good to see Ray Junior enjoying a Scissorfest"
++++++++++++
Phoney War
Ray Junior has been stealing from the locker room.
When four of the guys confront him, RJ says he can do what he wants because he's the boss.
They challenge him to prove it by fighting each one of them in turn.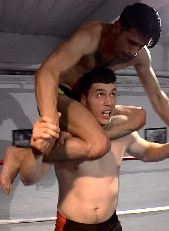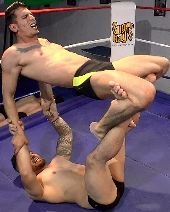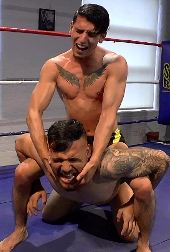 Ray Junior
v
Young Ady
-
Lofty Valentino
-
LJ Silva
&
La'al Pete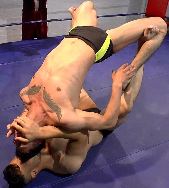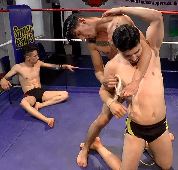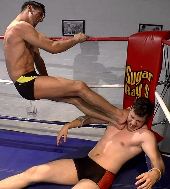 Sponsored By Keel Hauler
"Just finished watching ... it was great! Loved how you incorporated so much of what I asked."


"Good lively production with Ray giving a lesson to the Four Just Men"
++++++++++++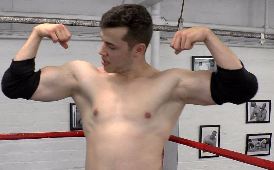 Lofty Valentino features in two
custom matches
in Dirty Habits 1 Lofty uses more power moves but LJ Silva is better at brawling and fighting,
until one of the guys dominates towards the end and produces an unusual flying knockout move.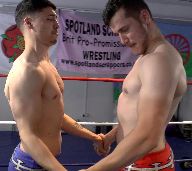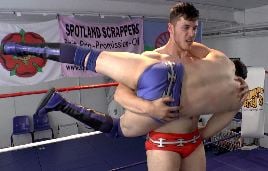 Lofty Valentino v LJ Silva
in Dirty Habits 2 again there's more slams and bearhugs than grappling,
as powerful Lofty tries to deal with cheating moves from Gypsy Joe and the match develops into a brawl with a knockout win!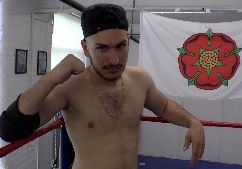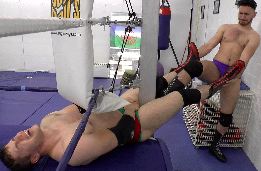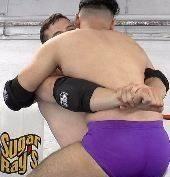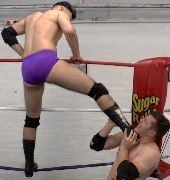 Gypsy Joe v Lofty Valentino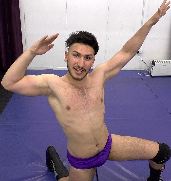 Thanks to our Sponsor Arstosur Customs
++++++++++++
Spladle Splits 2
spladles tapout custom match on the grapplezone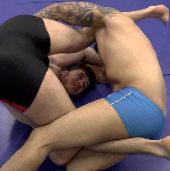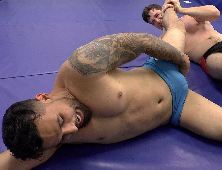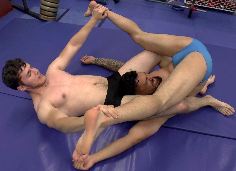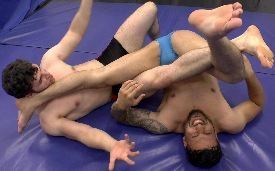 Lofty Valentino v Young Ady
Sponsor
Canephorus
Thank You!
"Really enjoyed this match. Great technique and ability. Spotland Scrappers are terrific guys."
++++++++++++
Take It Two!
slam & bridge themed custom match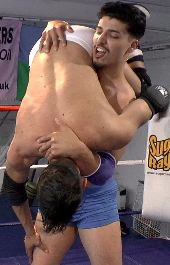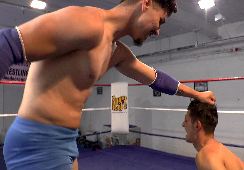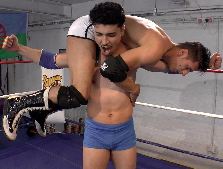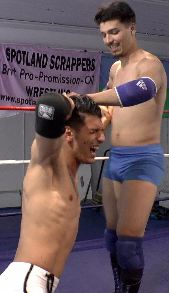 LJ Silva v Ray Junior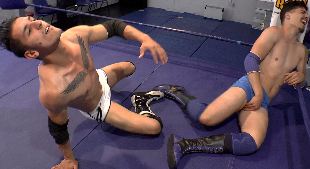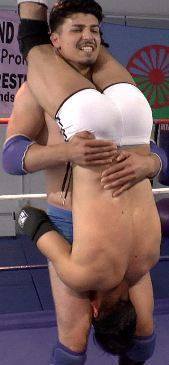 Sponsored by Cloud One Customs
"Thanks so much for all the hard work. I really appreciate it."

++++++++++++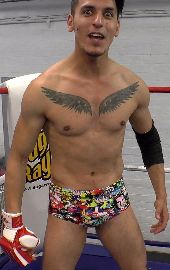 Comic Capers
Ray Junior & LJ Silva are even dizzier than usual
as they find themselves locked in a comic book story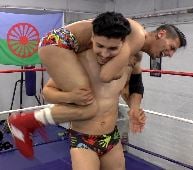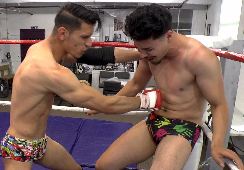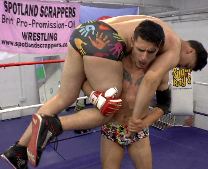 Ray Junior v LJ Silva
Custom Match sponsored by Baker Daze
"This one certainly put a smile on my face, really a quite original and unusual match.
I do like the way these two work together very well, and the sense of fun."
++++++++++++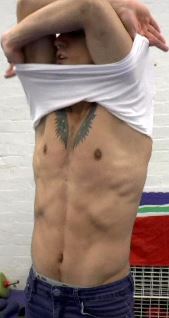 Kofun Fights
This is more of a fantasy fighting scenario than a wrestling match
with punches and grappling/chokes rather than wrestling/submission holds.
Ray and Silva are known as the best fighters in their regions.
Both guys are too cocky to share such a title, so they decide to meet up and fight it out.
They've agreed to a best out of three fights, with the winner declared by knocking out his opponent.
The last man standing after two KO's wins, and can proudly claim to be the better fighter once and for all.
Both guys are confident they'll be the one walking away victorious.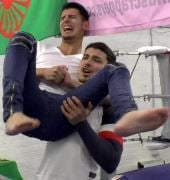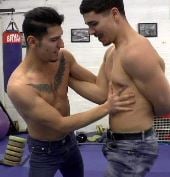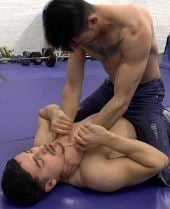 Ray Junior v LJ Silva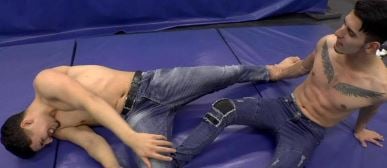 Match Sponsor
Mike Tekken
"I've watched the video several times since you sent it and really enjoyed it. Thank you so much!"
++++++++++++


Matt Finish
The match is heavier guy vs smaller guy but the lighter one is experienced and a better wrestler.
The fight is more of a brawl as both guys use their fists, forearms, uppercuts.
Matt uses power at times with slams and bearhugs against the resilient Ray,
who beats Matt up in & outside the ring.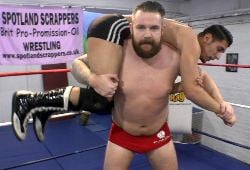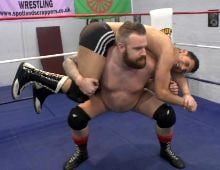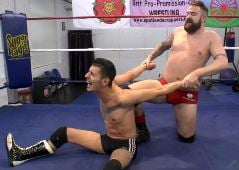 Matt Fletcher
v
Ray Junior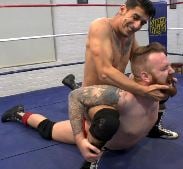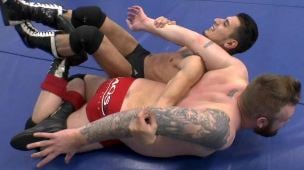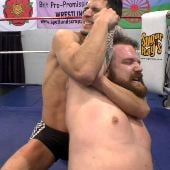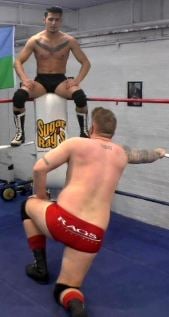 Custom Match sponsored by Arstosur Customs
"This is an amazing custom, please tell the guys how good they are ..."
++++++++++++
Spladle Splits 3
They might be gym buddies but Ady dominates trainee Beni in this submission custom match
demonstrating spladles, kneebars & toe holds with the guys casually attired in tracksuit bottoms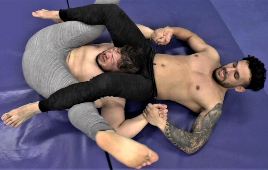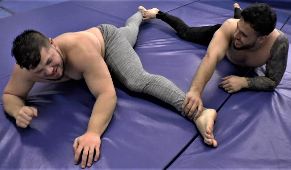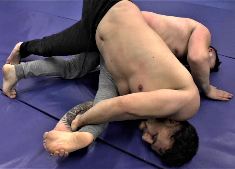 Young Ady v Beni Zotmar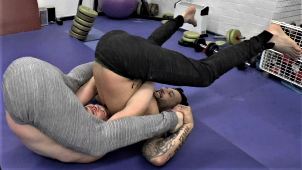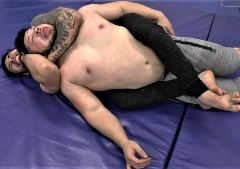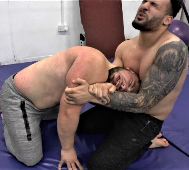 available on DVD

"The content is all there and it's everything we wanted"
++++++++++++

Bridge 2 Far
Slam & Bridge themed practice
with Franky learning to bridge the hard way
as Sammy enjoys the job of rookie wrecker!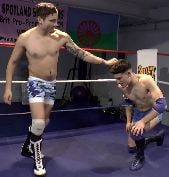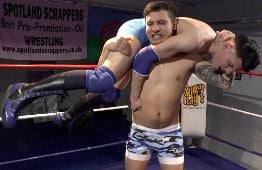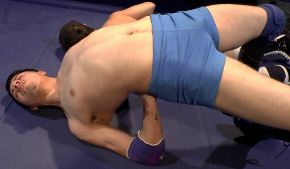 Sammy Scrapper v Franky Dare
Download at: Buy Now


++++++++++++
Outsiders
a trilogy of pro-style custom matches
featuring
Young Ady with his henchman LJ Silva
v
Ray Junior leading "The Rookies"
Sammy Scrapper, Joseph Barbera & Franky Dare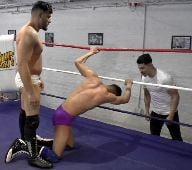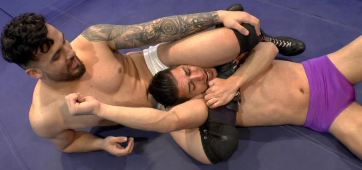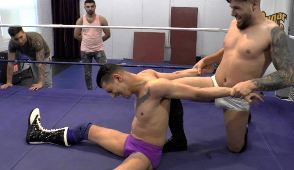 Young Ady v Ray Junior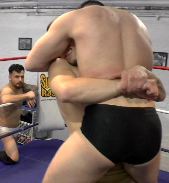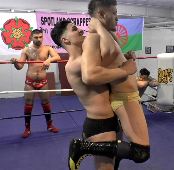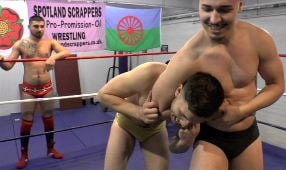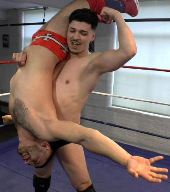 LJ Silva v Sammy Scrapper & Joseph Barbera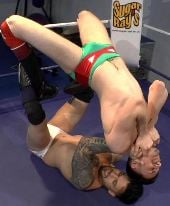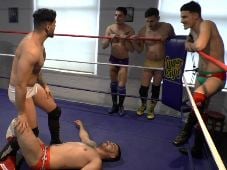 Young Ady v The Rookies
With Thanks to our Sponsor
Rob Atlanta
"... the guys did a great job of capturing the spirit of what I was looking to produce.
I really appreciate how they tried to immerse themselves "in character" to deliver.
Ady was especially good -- both his action and his smack talk. Really well done. And of course Ray made for a great jobber.
So please extend my thanks and appreciation to the lads."
Outsiders Finale
Smiler was Ady's oldest friend and protégé and he used his return from retirement
to stab Ady in the back at the end of the Outsiders series.
Ady is out for revenge and wants Sam to pay a price
so all the other "Outsiders" see what happens when you cross him.
Ady accuses Sammy of betraying him while
Sam says he was only defending some new lads
against an unreasonable Ady - it was nothing personal.
So Ady challenges Sam to a "loser leaves Spotland" match.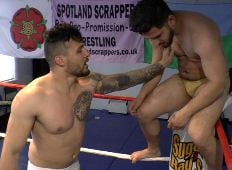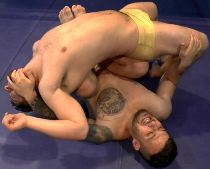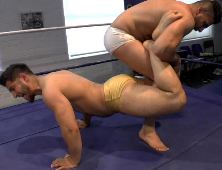 Young Ady v Sam Smiler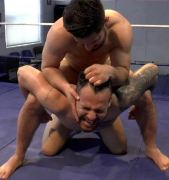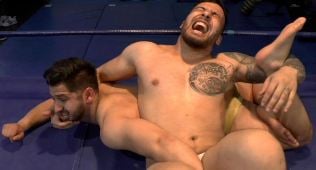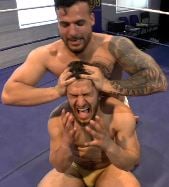 Sponsored by Rob Atlanta
"I love that they are always willing to have fun bringing my vision to life!
Enjoy collaborating with you!"
++++++++++++
Stripdown
a tuxedo challenge with a difference
as the guys are wearing casual clothing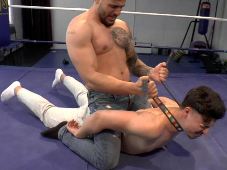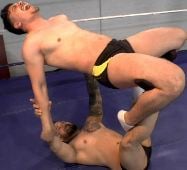 Young Ady v LJ Silva
&
Smashdown
two construction workers argue
over who should mix the cement!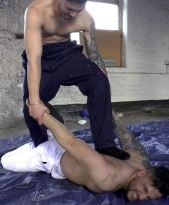 Sammy Scrapper v Young Ady
"Really liked the set up for both bouts, and the contrast between them
(the combo of rip strip in the first with workers' gear in the second - two of my favourite scenarios).
Good to see Young Ady with both Sammy Scrapper and LJ Silva
(I like the fact you've got some new recruits to the roster recently, and I'm sure they'll develop well,
but I personally prefer the more muscular physiques until then!)
I thought the grittier location for the second bout was particularly good, and has given me some thoughts on future custom bouts
(how about two of the guys starting out in Victorian workers' gear in the annex like the clog bout you did a year or so ago?)
All in all, I reckon this goes on my list of Spotland favourites!"


++++++++++++
Building Bridges
another in our custom match series
with a slam & bridge theme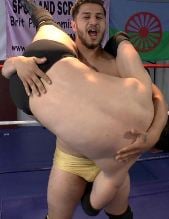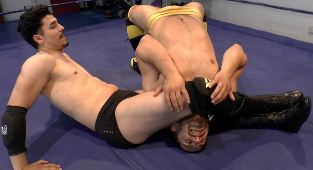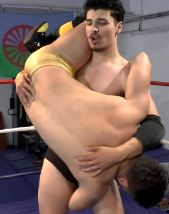 LJ Silva v Sam Smiler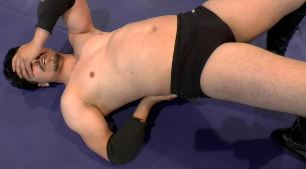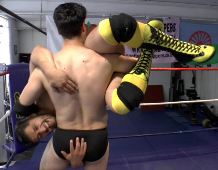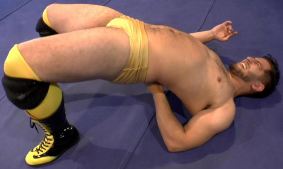 Sponsored by Cloud One Customs
"The match is perfect! I love it. The choice of music is hysterical and a very nice touch!
It's amazing what you're able to do so quickly, based on another person's view of what their custom match would be.
Please thank the guys for doing such an awesome job, and let them know t really appreciate all the effort they put in
... it was fantastic! They really do work well together."
++++++++++++
Spotland Snapreel
featuring newcomers
El Maz Morrison & Dan Mascat Mettle
plus recent custom matches

++++++++++++
Bodybuilder Toys
a bodybuilder v skinny guy scenario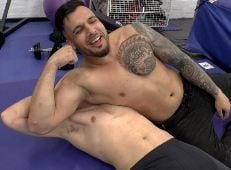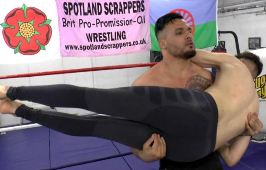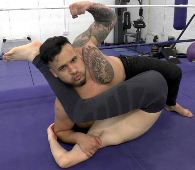 Young Ady v Franky Dare
++++++++++++
Lionel's Trilogy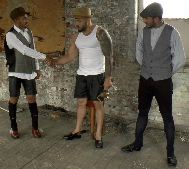 Trouble at t'Mill
shin-kicking into submission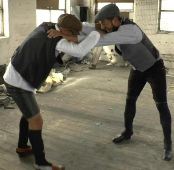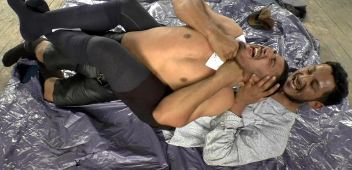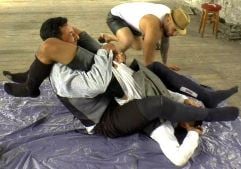 Danny Mettle v Max Morrison with Referee Ady Ramsbottom
Sponsored by Lionel Messy
++++++++++++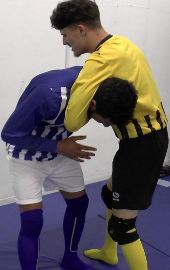 Sergio's Move
after the Champions League Final
a footballer learns Sergio's move
and a team scrap is the inevitable result!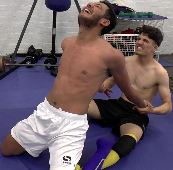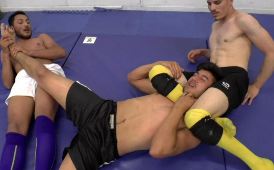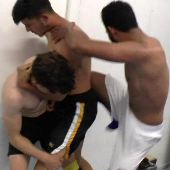 Max Morrison - Frankie Dare - Robyn Hudd

Available on your personal DVD compilation
Sponsored by Lionel Messy
++++++++++++
Shiny Sprinters
the team have fun on the oil zone
in their sprinter shorts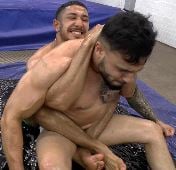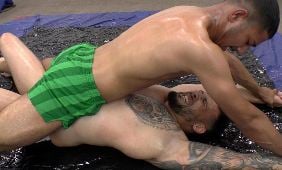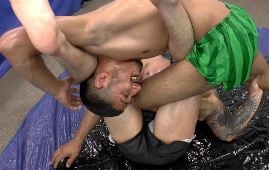 Young Ady & Danny Mettle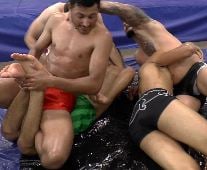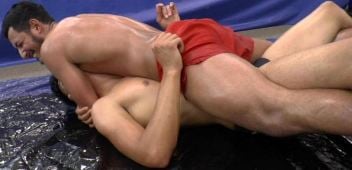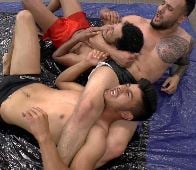 Franky Dare - Max Morrison - Robyn Hudd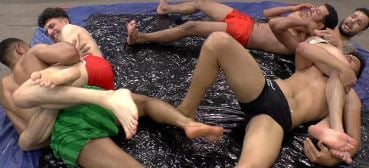 Download: Buy Now
Sponsored by Lionel Messy
++++++++++++
Comic Cuts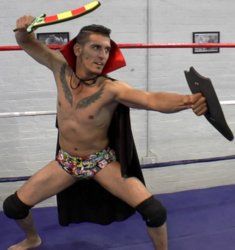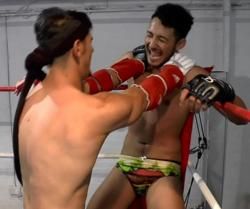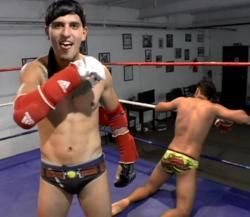 Ray Junior & Max Morrison as comic book fighters in the ring
Download: Buy Now
Sponsor & Guest Editor: Baker Daze
"I really enjoyed this ... the guys did an amazing job."
++++++++++++
You are warmly invited to our
Halloween Party 2018
come and meet some rather spooky guests
in 2v2 & 2v1 fun scenarios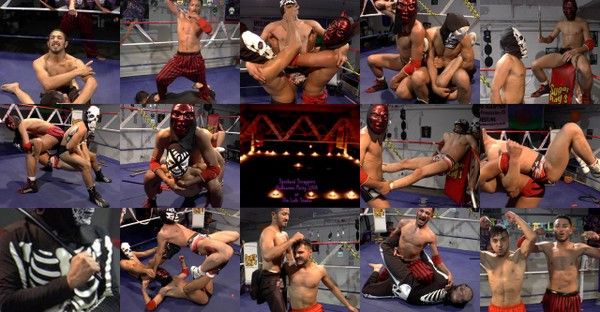 Goosebumps with Team Spotland
featuring Max Morrison - Danny Mettle - Brasov Tiger
and introducing Flying Fionn!
"scarily good"
++++++++++++
Children in Need Appeal Week
12 - 16th November 2018
Once again Spotland Scrappers are "doing our thing" for Children in Need.
This year we've produced a video compilation funraiser.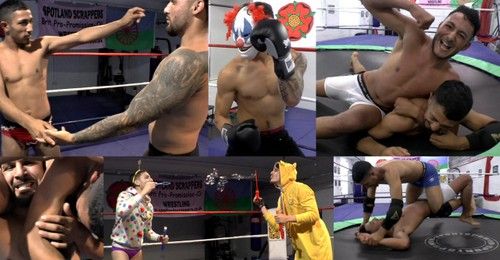 Onesie, Twosie, Threesie
featuring
Dizzy & Onesie
plus
Young Ady v Danny Mettle in Fortnight Custom Match
Danny Mettle v Max Morrison in Bouncing Checks
and another chance to see
Sammy Scrapper v Young Ady in Clowning A Round
++++++++++++
Randy's Custom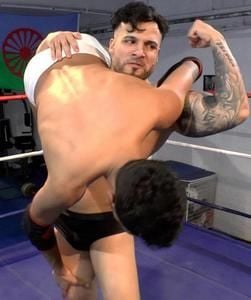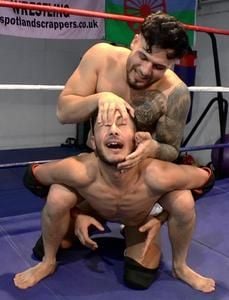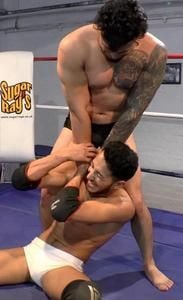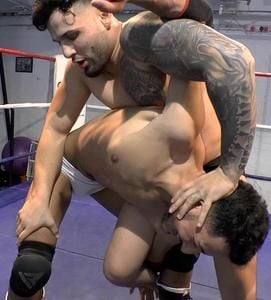 Young Ady barefoot v booted Max Morrison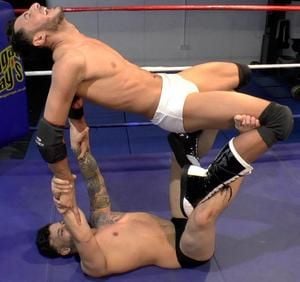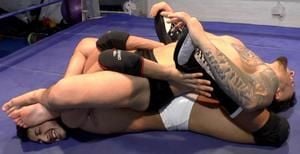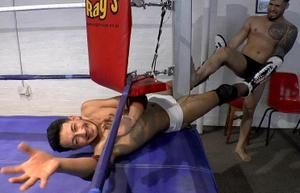 Download: Buy Now
++++++++++++
*Match Sponsorship Opportunities*
wrestling matches and scenarios filmed to an individual specification
utilising The Loft Studio facilities
with our experienced team of wrestlers,
referee, director and videographer.
************