"The long awaited rematch for a crack at the belt by David Cuplu, full of bravado and confidence as he makes his entrance.
After his tangle in Attic Attack he tries to get the match going at his pace to weaken the champ but Ady soon has none of it
the Johnny Kidd knee back breaker early on sends out the sign that he wont get his own way.
David gets lucky when he can reach the top rope to get out of a trademark Ady surfboard.
A nice slow paced Brit Pro style bout with plenty of holds from both wrestlers that the knowledgeable Loft audience enjoyed."
(Blue Sky)
"Peace Pirates a nice little production.
The smiles and enthusiasm from the mischevious Sammy & Ray in their entrances showed it all.
The lads put on a good skillful bout using the ropes to get into position.
So the Spotland Pirates Team get 10 out of 10 and the audience warmed to it too.
Well done on Bout 4 of 4 from LATL4!"
(Peace Pirates)


"Like two silverbacks going at each other.
Well contested bout fought with skill & determination."
(Aaron v Ady in Underground)

"Sammy is funny, totally owned lol."
"Tough, gutsy and fun, gets 11 out of 10 from me.
Great viewing."
(Aaron v Sammy in Underground)
"... a great combination of wrestlers."
(Live in the Capital)


"Love it when a Brit Pro match goes the full number of rounds."
(Killer's E-Clips in Custom Tales)


"... the balance of street clothes and pro gear gave an added tough look ..."
(Memphis Hell ii)
"Nice camera work in motion & stills pics ... that kept one's attention to the viewing ..."
(Memphis Hell YouTube Preview)


"The final bout was perfect, some of the holds the lads slipped in were great
especially that hold towards the end which Ray sells well ..."
"Love the creative submission holds"
(Seeing Stars)
"really well produced and paced ...
good switching of control ... flowed well."
(Pro Club 2)


"Great pairing who work well together a flawless bout to watch ...
athleticism of Ray and the strength and very innovative skill of Joey ...
great selection of holds and counters ... how long did the prepare for that? ... "
(Pro Club 3)
"Superb matches. The guys worked brilliantly. Please thank them for me.
Great to see those really complex moves and submissions.
Exciting to watch skilled wrestlers working and selling holds and locks.
Thanks again."
(Sponsor, Seeing Stars 2)
"Just bought the boxing themed download which is very good
... always had a bit of a thing for gutpunching !"
(Boxer Shorts 1&2)
"As a fanatic of lift and carry, I ABSOLUTELY LOVED Day Job!
Which part was my favorite? The baby carry around the ring!"
(Day Job)

"... great vid, lots of wrestling lifts and throwing around!
This is a must buy video 15 mins of lift and carry ...
I suggest everyone to buy it!"
(Day Job)

"clever production ..."
"Ray has the smile of the assassin when required."
"I liked all the verbal banter between them."
(Rebecca)
"some very funny stuff in there"
(A Rippin' Yarn)
"This is great and glad that you guys are trying something new, please can we have some more of the same."
(Turkish Delight 1&2)

"... what really makes it work and what is really worth highlighting is how the guys attitudes tie it all together.
Right from the start and all throughout the match both Ady and Ray lead you to believe they hold a real grudge
as very move and hold seem to arise from pure hatred.
A couple of off-angle punches let us know this guys know what they are doing, but still at some points I couldn't help but to worry for their well being.
The match is basically a stand-off between two alphas and the guys help the tale come true with their body language,
their ruthless attitude and menacing silence that reigns throughout the match."
Review of Pony Tale in Lasustancia Blog:
http://www.lasustanciap.com/2015/09/an-even-more-awesome-deal/
"... an enjoyable paced bout with David and GJ ... he has picked up the pace when in holds now and when countering ...
Good variation of weakening holds with DC his favourite Indian Death Lock/Fig4/then Boston ...
David looking good with his selection of gear ..."
(Shooting Stars)
"The bout was brilliant ...
The Inclusion of the Trainees has been a breath of fresh air in LATL5 ...
We knew The Banshee could wrestle from the previous encounter with Ray but Samuel sorted out the showman"
(Live At The Loft 5 - "Wailing Banshee")


"... an enjoyable scenario well filmed and a good choice of gear ...
Poor Old Ray, he just has that face people must want to suffer
been a while since he had a 2 on 1 like Junior's Revenge ..."
(You're Choking! - Wallet & Gromit)
"Many thanks for another entertaining DVD ...
I am amazed (but not surprised) how much David Cuplu has progressed as a wrestler since Live At The Factory.
Looking forward to lots of Brit Pro bouts throughout 2016"
(Pro Club 5,6,7)
"Thank you for the DVD's ... well impressed with them.
Your guys have come a long way and The Loft looks brilliant. Congratulations.
I saw Johnny in a Show about three years ago, was impressed and it was good to see him again."
(Ask Him Ref! 8)

"I totally love the Spotland action and would feel awful if it ended ..."
(The Two Brexiteers)


"Many thanks for all the entertaining DVD's.
Lofty Valentino is a brilliant showman and natural talent.
I really admire all the effort the lads put in."
(Ask Him Ref! 9)
"Congratulations to the Spotland team
on another excellent display of wrestling skills.
Enjoyed both hard fought bouts and entertaining scenarios"
(Ask Him Ref! 10)

I especially love the submission/promission style matches.
They are well wrestled by good looking guys, well shot and presented.
Thanks a bunch for the entertainment.
I would love to watch your new French guy Eti manhandle everyone else at Spotland Scrappers.
Good luck in the future and thanks for the hard work!
("Who's The Boss?" 4)


"Congratulations to the Spotland team once again.
Always enjoy watching these talented guys keeping the sport alive.
Good to see David back. Enjoyed all of Rob's appearances.
Just keep the matches coming."
(Old Dog)


"Thank you for the prompt delivery of my latest DVD.
Really enjoyed the two energetic Brit Pro bouts featuring outstanding performances by GJ and LJS.
Ray Junior always gives of his best and likeable Joey is always a pleasure to watch.
Congratulations to all the team. Can't wait for more of the action."
(Pro Club 10 & Spotland Slamdown)

"I particularly appreciate the excellent camera work.
I also find the sound very well done; it is fun to hear the wrestlers talking to each other
and revealing something of their personalities.
The videos are fairly priced and I like the "sporty" and unsleazy production values."
(Dirty Habits)
"A really fantastic Brit Pro match, brilliant wrestling and wow no one executes the surfboard better than Young Ady,
that's why Spotland Scrappers are the best."
"... it's well edited and Ady did some brill bridge moves too ...Great stuff."
"Great atmosphere and camaraderie."
"Really enjoyed the 'World Of Sport' style Title Belt match between the lads.
Plenty of collar and elbow locks leading into some great technical moves and counters.
Ady reeling off the 3 in 1 Zoltan Boscik hold ...
Ady showed his wealth of experience with holds whilst Yourek was just managing to stay with him.
The final fall came from the Steve Grey v Richie Brooks era with the pin fall nearly coming from the suspended surfboard
... enjoyed that combination attempt but was only a matter of time before the closure ...
well contested and sporting approach from the lads which came across throughout the bout."


"I thoroughly enjoyed it and could feel the atmosphere."
"... now no.1 in my list of all time favourite matches ... excellent camera work and editing."
(Sauvé Par La Cloche)


"... the guys really seem to know what they are doing and are genuinely interested to learn.
Thats what comes across anyway!"

"Absolutely loved Giggles & Absercise"
"A fantastically great value DVD."
(Randy's Custom/Laughing For Good/Absercise)

"awesome customer service man, thanks!"


"Young Ady is a truly talented and highly skilled wrestler, who always delivers the goods.
He just gets better and better! I love his ring presence, his prowess, his stamina,
his arrogance and his technical skills in the sport of wrestling.
He acts and looks every inch a true champion, especially when wearing his full black wrestling gear (trunks & boots).
Really hoping to see more of him in action again soon and reclaiming the champions belt back around his waist where it belongs.
Thanks for producing some excellent matches. Much respect!"
++++++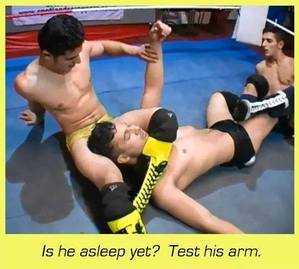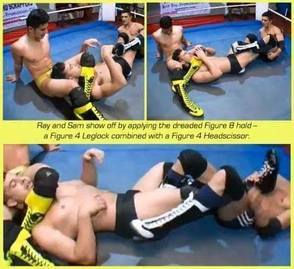 Review of Mexican Table
in Squash Job Stories
++++++++++++


"One of the best organizations for wrestling."