PJ Pics News
News from The Loft Studio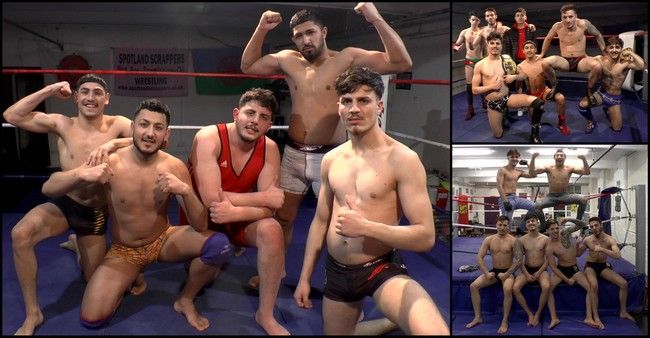 Government Covid-19 Restrictions
following rules regarding social gatherings, gym environments and sports
group training sessions at The Loft have been curtailed since March.
We have a plan to re-open gradually with necessary procedures
such as temperature checks and cleansing stations in place.

Stay safe and well.
Coronavirus Update from British Wrestling:
https://britishwrestling.org/return-to-the-mat-update/
The mental health charity Mind has some useful advice for looking after your mental health during lockdown.
Check it out here 👇
https://www.mind.org.uk/information-support/coronavirus/coronavirus-and-your-wellbeing/?fbclid=IwAR3Rr22au3Skck3bB9tSftRmi6pbbxup_yTnQbmhgh6S3alqIJ8iafhqdG8
'You've built up an impressive roster of new talent over the last year or so.
Fingers crossed you'll be able to pick up where you left once the restrictions are lifted.'
'I hope you and the lads are staying well and they will come out fighting fit when this is all over.'
'It has been a joy and privilege to have followed Spotland Scrappers, from the early days up to these strange times.
Thank you everyone.'
'I've been enjoying your posts on facebook, and your site looks great.
I hope to do what ever I can to support you guys, so plan on a few more DVD orders from me. :)
Stay safe, and stay well!'
'keep up the amazing content'
'Please pass on my best wishes to the team.
I'm missing your bouts but have just bought a download to get me through the Bank Holiday (and to help your team).
Fingers crossed there'll be some relaxation of social distancing to allow you to resume filming new bouts soon
(only if safe to do so of course).'


Sad News


We were very sorry to hear that Michael died suddenly at his home in Burnley, Lancashire.
He was a true gentleman and a long-standing supporter of Spotland Scrappers.
Our thoughts are with his family and friends.


Coming Soon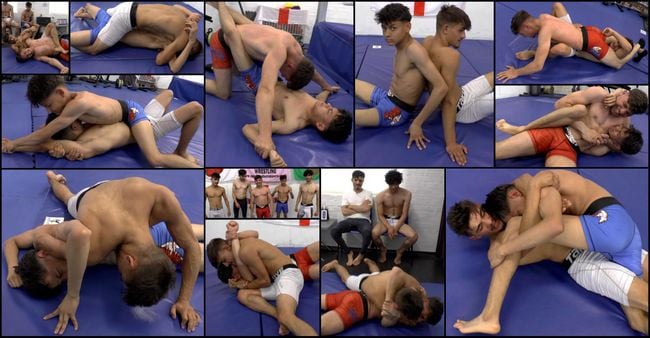 introducing Alberto Rosso with Alex Tanner & Adrian Malloy

Ring Tangles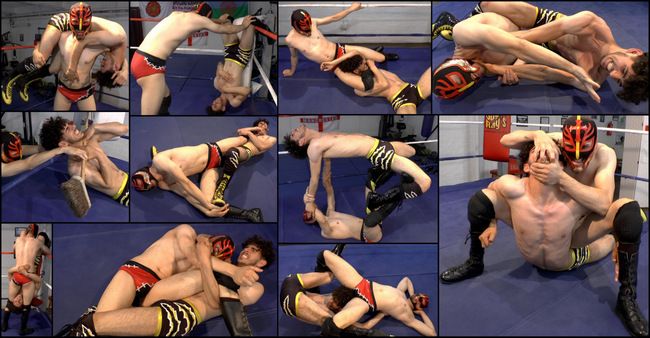 Nadra Mascată v David Hitman
Sagger Fight 3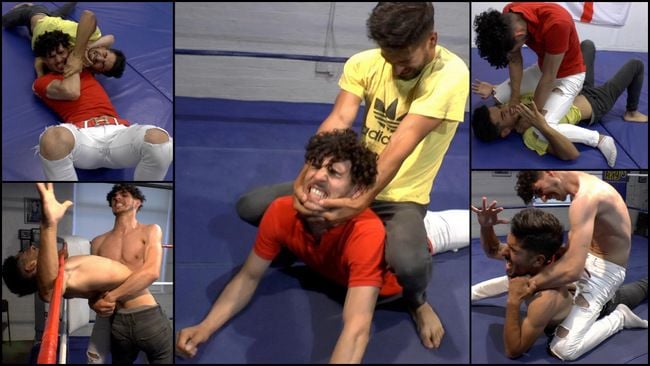 Bruno Baccy v David Hitman
Latest Releases


Beemat Trials series 17 - 19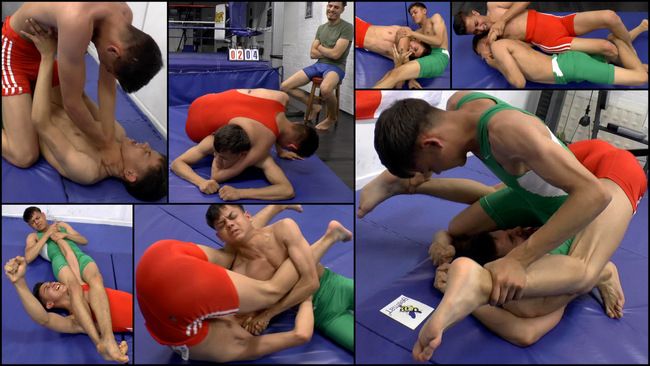 The shrimps in singlets Tanner Bro's battle it out on the grapplezone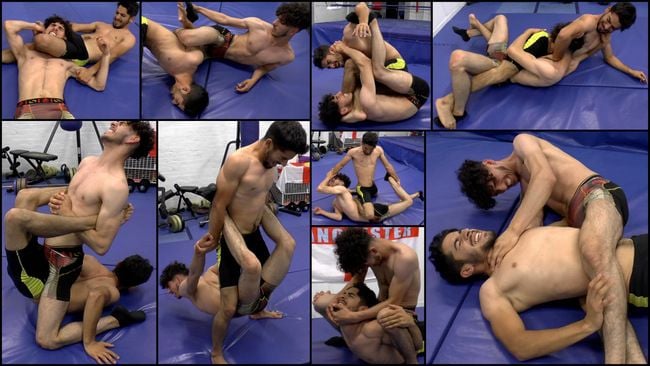 David Hitman v Bruno Baccy
showing the benefits of Franky's training in a return match.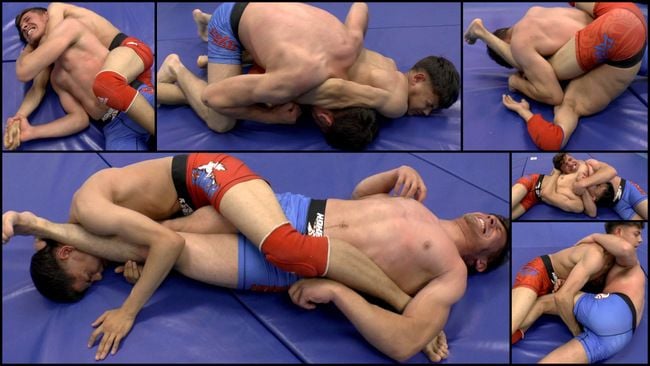 Alex Tanner v Adrian Malloy
Determined Alex introduces another newcomer to the mats in a fun schoolboy-style fight.
This struggle is full of raw passion and energy.
Will the tiger cub rookie get any change from a Tanner ?
'Can it get any better?
Where did you find Alex Tanner - he's a star in the making.'
'Alex is a joy to watch a true warrior with some good moves.'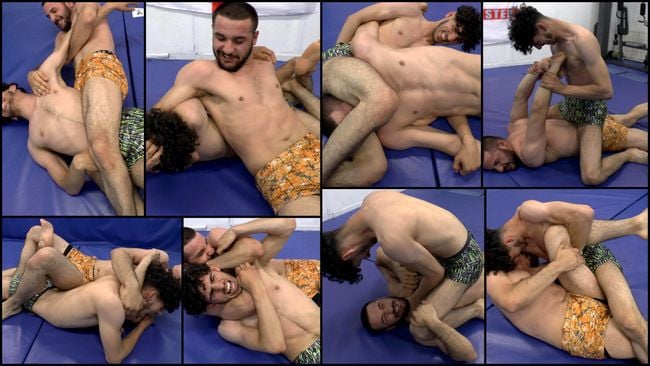 Alex Beatboxer v David Hitman
Popular lad Beatboxer looks to have grown bigger since his last appearance
as he returns to take on trainee Hitman in a lively grapplezone contest.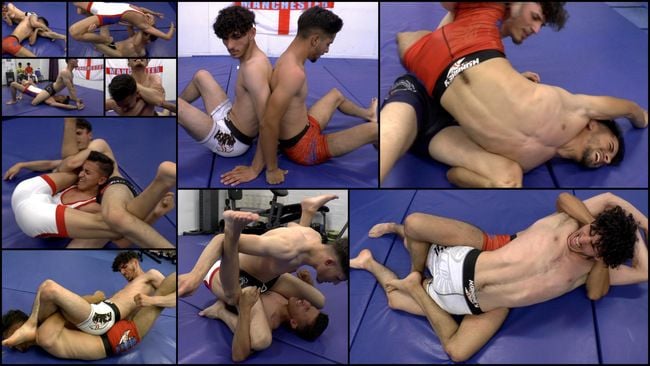 Franky Nadara leads the training group in a roll on the mats
as we welcome back Bruno Baccy
and introduce newcomers David Hitman, Vaz & Alex Tanner.


'Really great to see you're back in action with Beemat 17, and that you've got some new recruits ...
Bruno Baccy looks like a really great addition to the roster
(feisty with a good physique and with a good grounding in wrestling moves already)
and I hope he becomes a regular. I also liked David Hitman.'
'Just bought this video and all I can say is WOW. Loved it. Great new talent. Cannot wait for next one.'
Crushsters 3

three match action from the grapplezone

Franky Dare & Brasov Tiger introduce "Tin Ribs" Pantelimon in a 3-way competition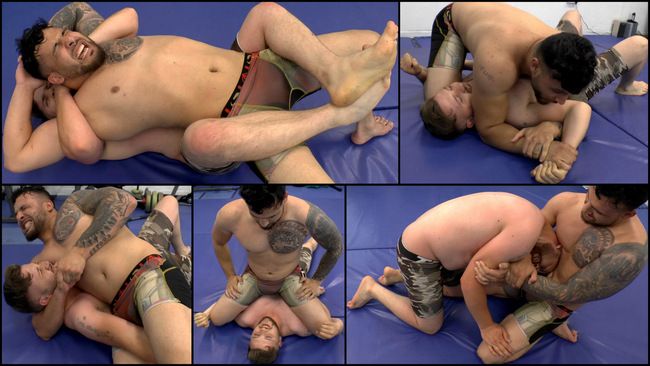 Young Ady v rookie Ion Strain
Captain Ady always likes to give a Spotland welcome to a newbie!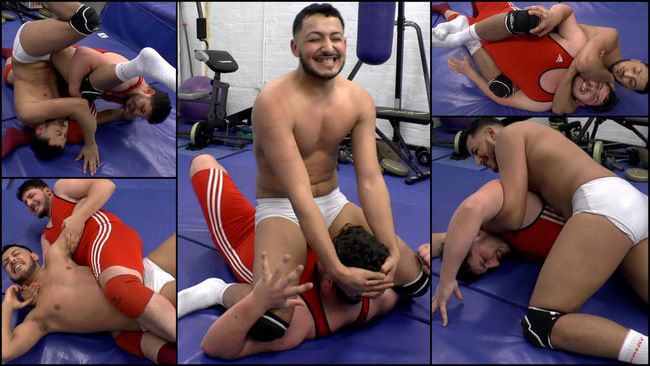 Max Morrison
v Brasov Tiger
rough 'n tumble


'You have some great lads on your roster and always quality action.'

Ring Revelry
summer 'end of the pier' variety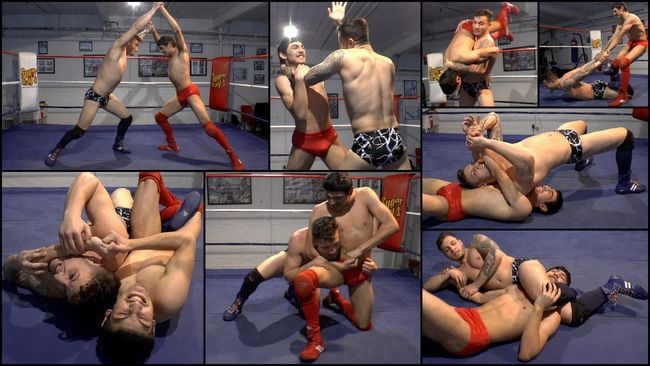 Sammy Scrapper v Neymar Jnr
trainee Neymar tries some flying moves against old 'scrap metal' Scrapper
in a pro-style match under the ring spotlights
Teo & David give us some different angles on the laddercam!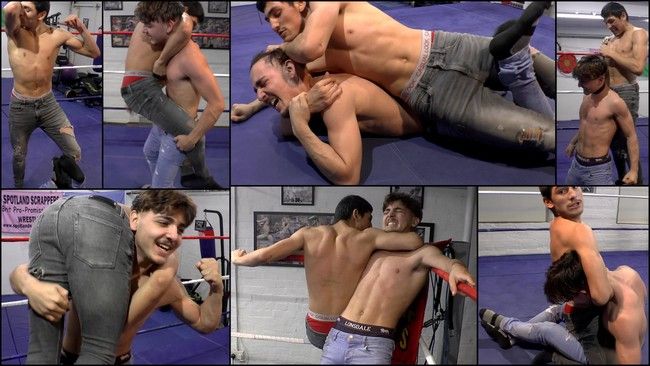 Neymar Jnr v Deathslayer
in a Sagger Fight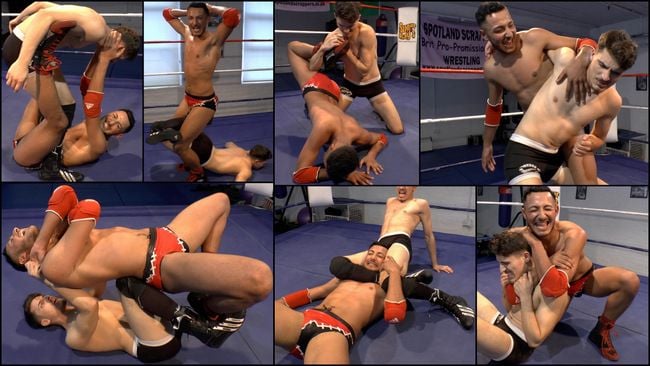 Franky Dare (Nadara) v Max Morrison
recorded in 2018 as both guys were learning their trademark moves
'Seeing guys in suspended surfboards is a great day!
Love the boots on these two!'
plus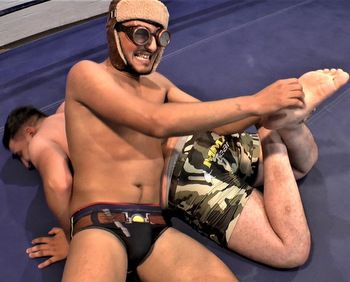 Giggles Gigglesworth flies in again and has Drummer Tiger in a tailspin.

Download: Buy Now
Beemat Trials 16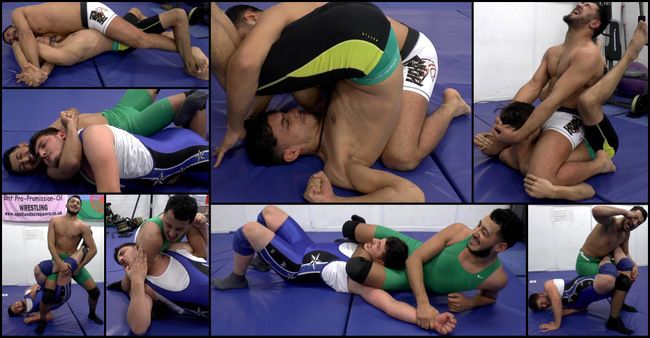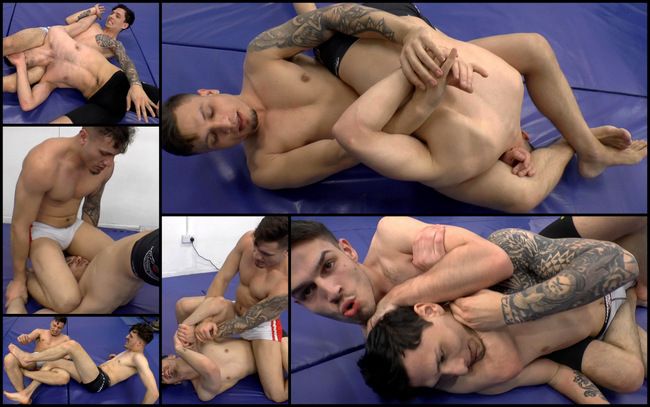 Max Morrison v Brasov Tiger
two singlet wrestlers in a beefy battle
Danny Mettle v Danny Green
experienced grappler "Big Man" Mettle doesn't have it all his own way against an agile trainee
Alex McDonald v Joshua Gold
up & coming Alex is well-matched with newcomer Josh who threatens to kick his ass!
Franky Nadara v Sammy Scrapper
our two experienced grapplers give an enjoyable demonstration of their mat wrestling skills
Eight guys in four matches on The Loft grapplezone
filmed prior to the lockdown restrictions.

Download: Buy Now
"Loved Max in his green singlet."
Dedicated to Danny Green

Ring Moves 4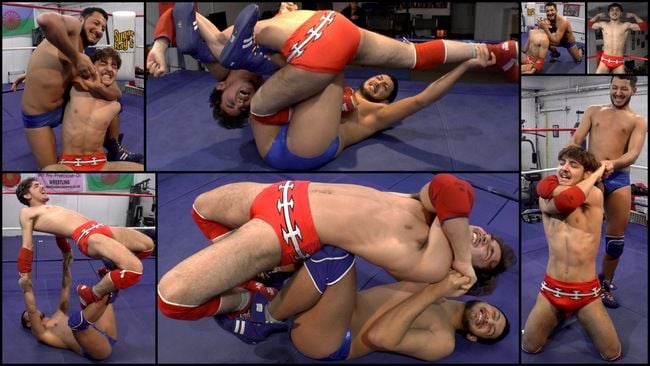 Max Morrison v Deathslayer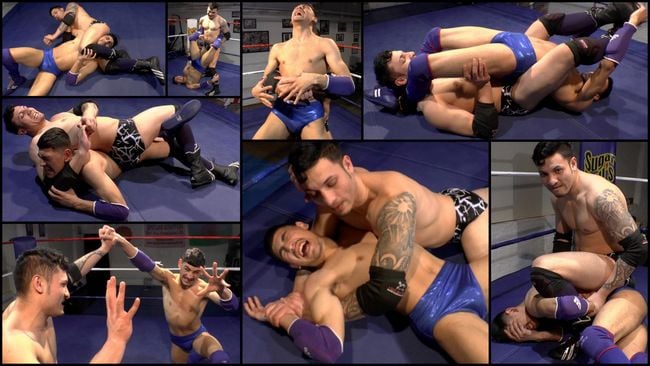 Sammy Scrapper v Neymar Jnr

Two of our young trainees have speed and agility but are still learning
as they face more powerful and experienced opponents in training matches.
Filmed prior to the lockdown restrictions.

Download: Buy Now

'Two very good bouts,
good ring presence from Deathslayer (could be another Joey Eden) and Neymar Jr.'
Grapplezoners 5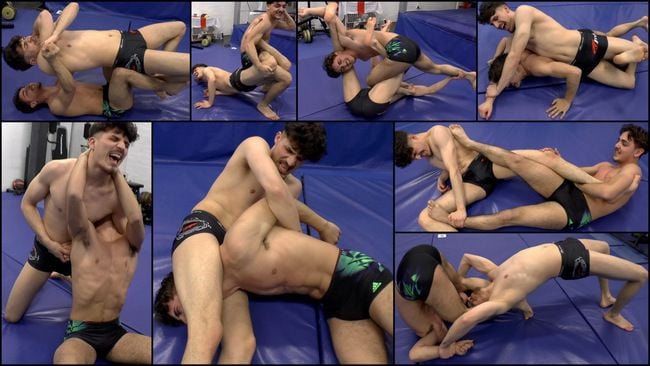 Franky Nadara v Deathslayer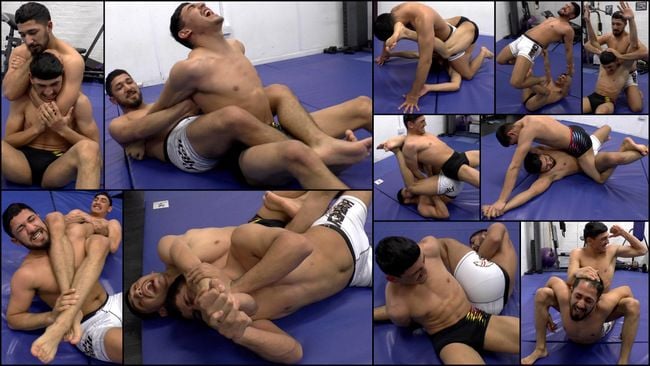 Danny Mettle v Neymar Jnr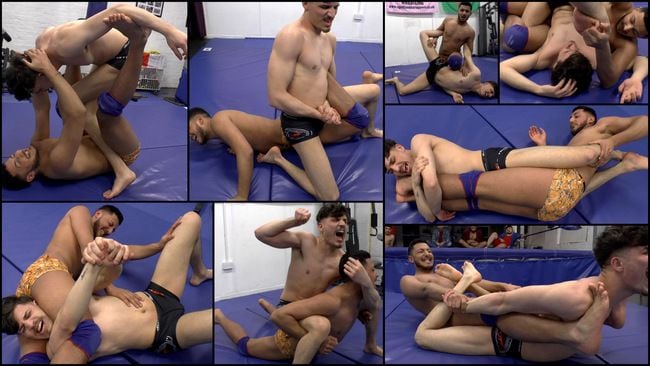 Max Morrison v Franky Nadara

Download: Buy Now
three lively promission matches on the grapplezone
filmed prior to the Government Covid-19 restrictions

Test Match Special
bumper entertainment for our supporters facing difficult times worldwide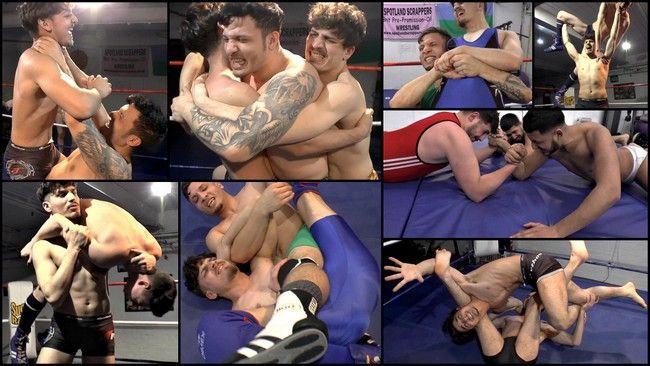 Brasov Tiger v Max Morrison & Danny Mettle
arm wrestling tests
Sammy Scrapper v Franky Nadara
strength challenges wearing singlets
Franky Nadara v Pepsi Fetesti
lift & carry with a trainee
Sammy Scrapper & Alex McDonald v Franky Nadara & Deathslayer
in fun tag team action

Four scenarios featuring
strength tests, lifts, slams, bearhugs, and singlets!
Download: Buy Now
'It's just not cricket!'
'I sold you some ring gear a few months ago on eBay -
I knew it was a bad move and false economy as I've started buying the videos with the gear in!
I've bought test match special and it's a good match and the lads look great!'
Practicing Restraint

Sammy Scrapper v Franky Nadara in our first chain match

Download: Buy Now

'... my love of gimmick matches includes chain matches.'
'That's certainly a different theme ... good to see Sammy as buff as ever!'

Uniform By Design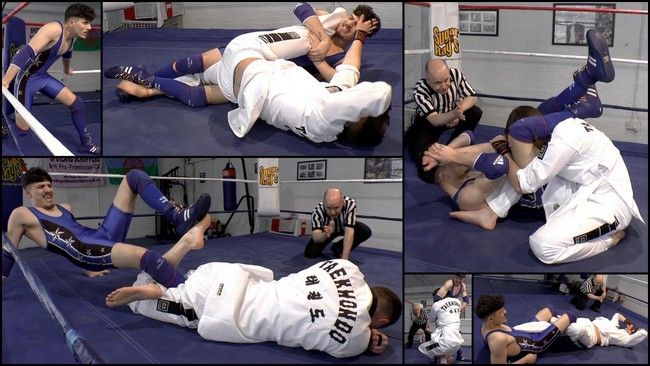 Taekwondo Joe v Franky Nadara in a special TKD Fighter v Wrestler contest
Referee
Nigel Crabtree
leglock lovers will enjoy this one!
Download: Buy Now

Custom Match
Sponsored By Uniformity

'That was great!
Overall you guys did an awesome job with the moves and the production!
Thank you so much for doing this and please send my regards to the guys.
Would love to have another match at some point. :)'
'I enjoyed the uniform bout - I prefer 'gimmick' matches to more straightforward ones
and have a thing for judo gear and also mixed disciplines ...'
Grapplezoners 4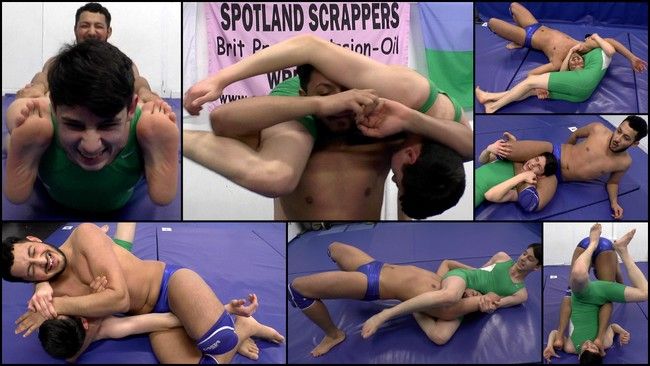 Max Morrison v singlet-clad rookie Pepsi Fetesti in a training match


Franky Nadara v Neymar Junior in a lively encounter on the mats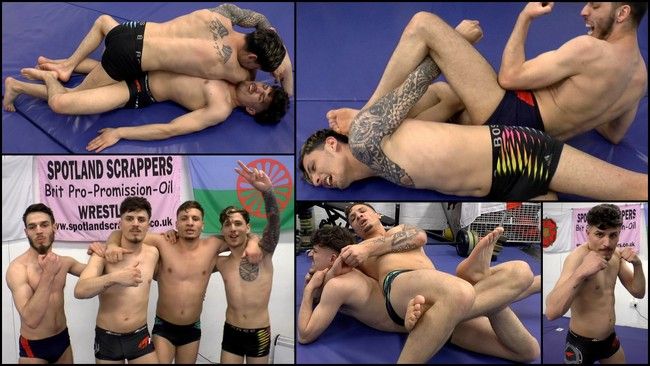 Sammy Scrapper, Franky Dare, Alex McDonald and introducing Joshua Gold
in a 4-man grapplezone challenge

Download: Buy Now
Other New Titles in 2020
Roses War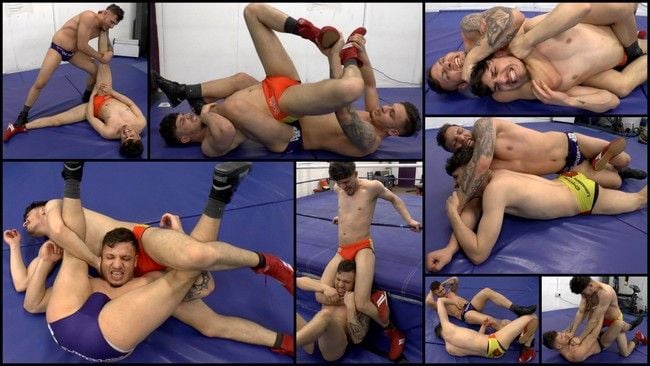 Sammy Scrapper v Franky Nadara
wearing their tackle trunks in a Valentine's Special
with some less than noble moves!

Download: Buy Now
'Another really good wrestling video from the spotland scrappers'
Brexit Bundle
Team Spotland in a variety show
including three trainees making their debuts

Brexit Moves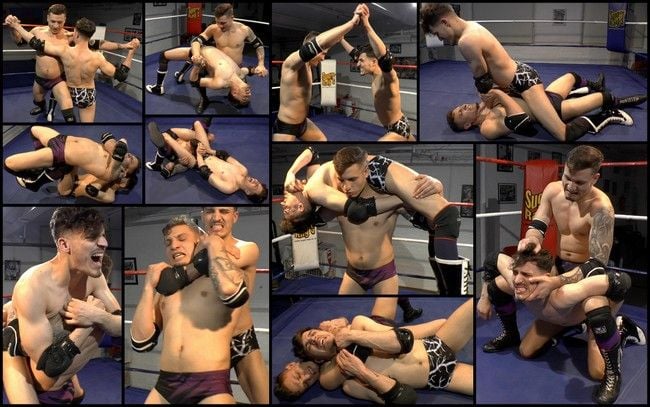 Sammy Scrapper v Franky Nadara
with a Ring Pro special edition

Brexit Ding-Dongs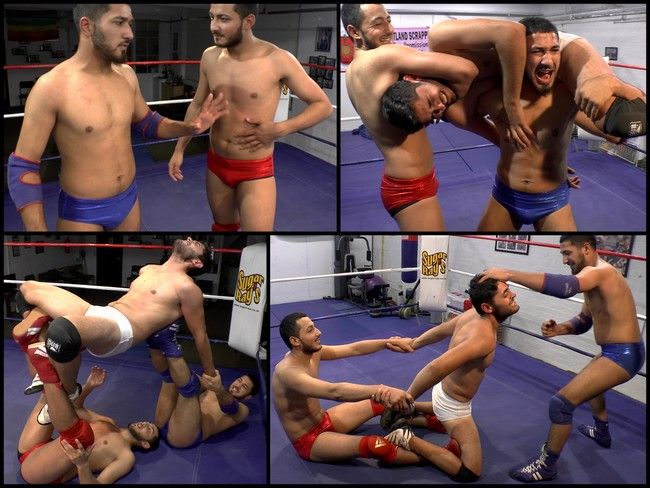 Max Morrison & Danny Mettle v George Espanol
in 2 v 1 fun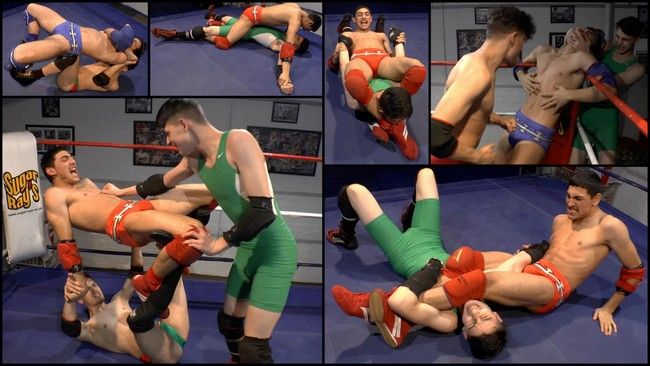 Franky Nadara & Pepsi Fetesti v Neymar Jnr & Deathslayer
for the Spotland tag team championship belt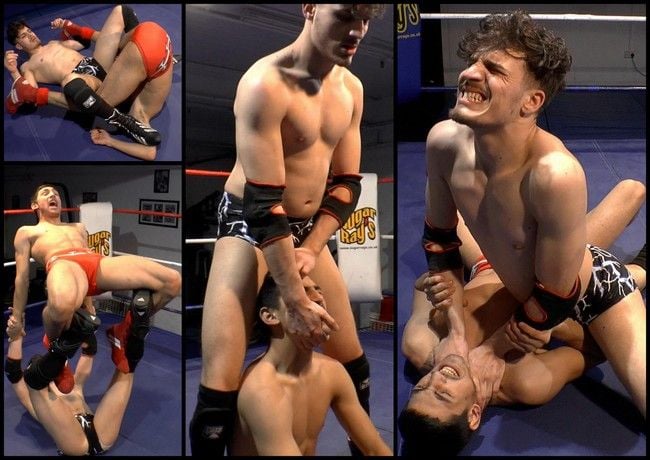 Franky Nadara leads a six-man royal rumble finale.

Spotland followers will enjoy this entertaining romp
as we chime in to mark Brexit even if Big Ben doesn't!

Download Brexit Bundle Buy Bundle
'I thought George Espanol and the Deathslayer were really impressive as newbies.
I also liked the way the tag match descended into a free for all ladder match!'
Sagger Fights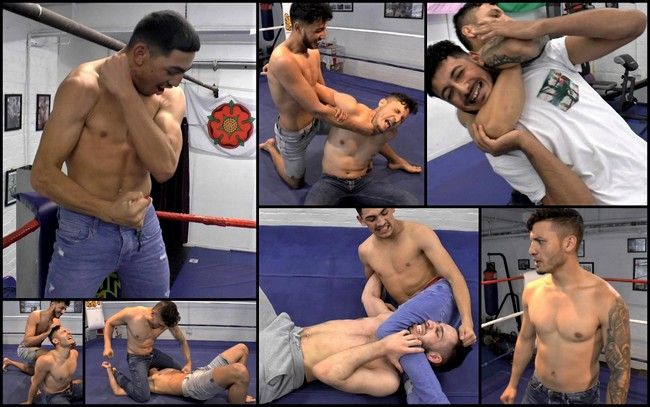 Sammy Scrapper v Max Morrison
&
Alex McDonald v Neymar Jnr
with the guys fighting on the mats and in the ring, wearing jeans and trackie bottoms.

Download: Buy Now

'I loved the sagger fights - jeans, jean shorts and saggers have always been favourites of mine.
I thought Alex and Neymar in particular put on a really good show - a proper 'pub car park' type of scrap!'
Ring Pro
Spotland steam into the New Year with a double-header!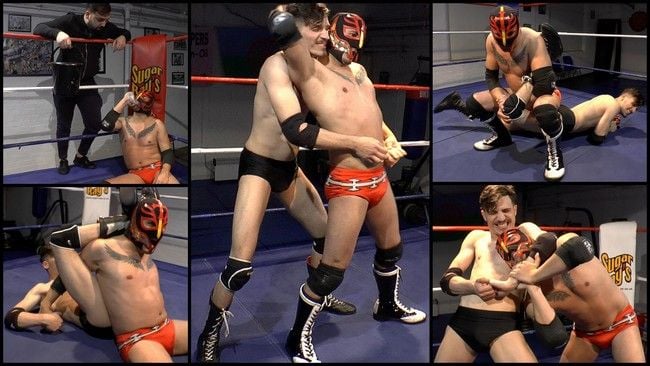 Franky Dare v Rey Mysterious
who is the man behind the mask?


Jack Nero v Neymar Junior
the masked Nero against rookie Neymar making his ring debut
the mouthy tyrant returns expecting to put out young Neymar's fire with ease.

Download: Buy Now
'... as ever two brilliant bouts.'
'It was enjoyable, Neymar is a good wrestler to say he is new.
Would like to see him do submission as he has that cocky streak in him.
Cannot wait till his next.'
'Absolutely loved Ring Pro.
Neymar is a great find.
Jack certainly gave him a wrestling lesson to remember.
Looking forward to future releases.'
Still Available
the best from 2019
Beemat Trials 15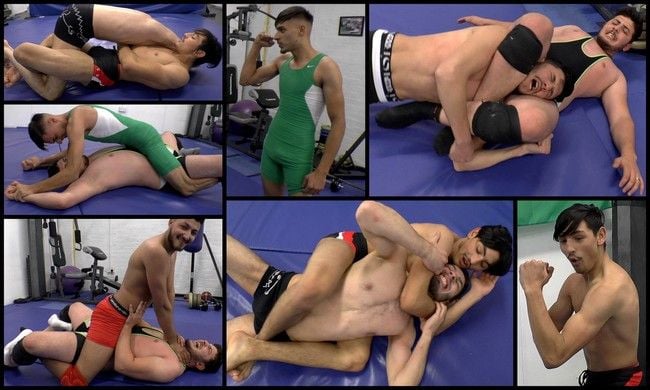 Introducing Danny Green & Sammy Salami with Max Morrison & Brasov Tiger
in a winner stays on training routine
Alex McDonald v exciting newcomer Neymar Junior
plus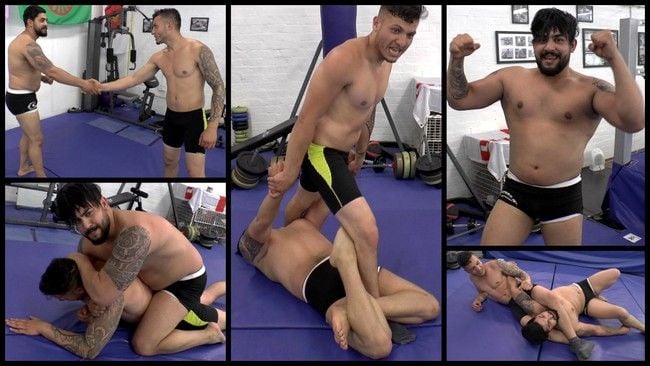 Sammy Scrapper v Nicos Power making his mat debut

Download: Buy Now
'Just bought Beemat trials 15. Loved it. Who is Neymar? He was amazing against Alex.'
Rainbow Tie-Ups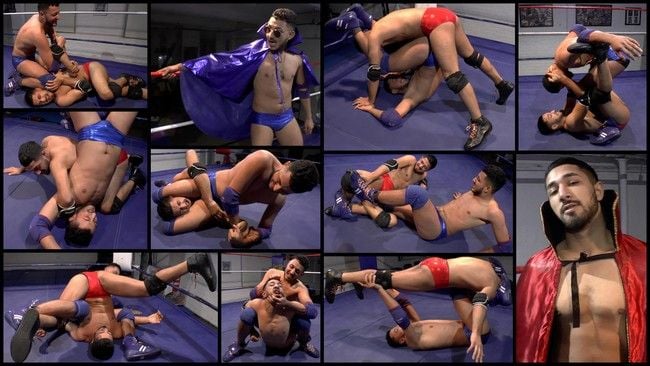 Download: Buy Now
Max Morrison v Danny Mettle
both guys have been training hard and take this opportunity to use some new moves
(and a few old favourites!) in a lively ring encounter.

Spotland Scrappers support Stonewall's Rainbow Laces campaign to make sport everyone's game.
Snapreel:
https://youtu.be/gw0nDllyE-U
Ring Moves 3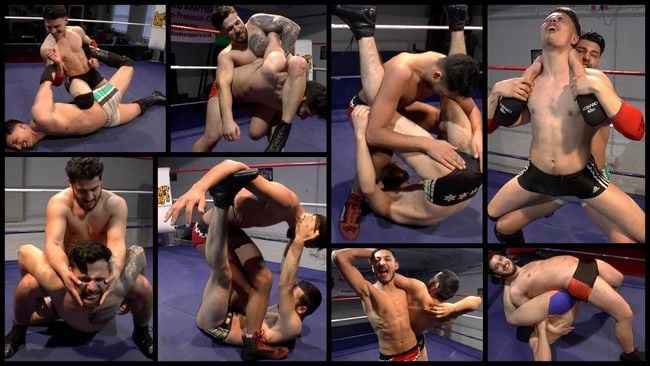 Young Ady v Sam Smiler
this recently found footage provides a real treat as our favourite vets meet in the ring
LJ Silva v Franky Dare
Franky has his work cut out against the heavier Silva
Max Morrison v Alex Beatboxer
a fun training match with these new lads on the block

Download: Buy Now
Ring Missions 2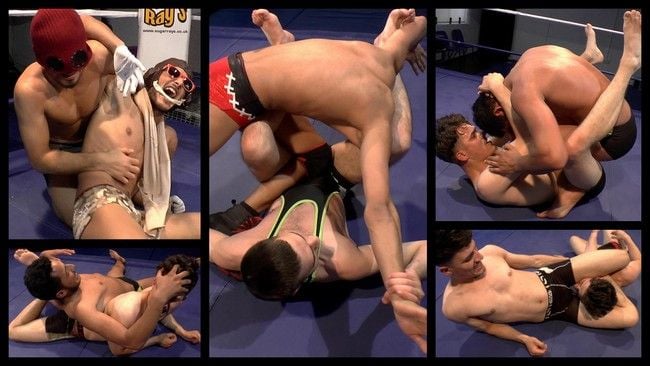 Download: Buy Now
Max Morrison v Franky Dare under the watchful eyes of trainer Master Ady.
Experienced technician Franky Dare v rookie lad Cheeky Chippy.
Masked pro El Maz Morrison v collegiate wrestler Alex McDonald new to the ring.
Tickler Giggles Gigglesworth v Gunner Mettle flying in to put a spanner in his works.
A compilation of promission variety entertainment with experienced guys and two rookies
barefooted in The Loft Studio ring.
I'm amazed that you pack so much enjoyable content onto one DVD."
Punching Bryan 3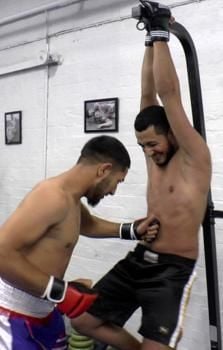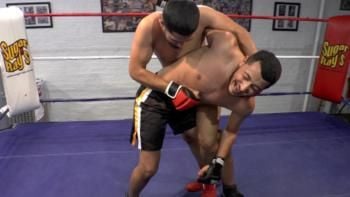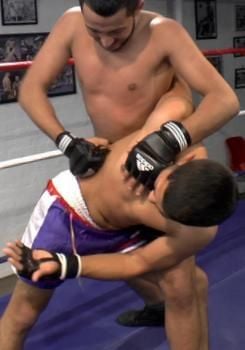 Max Morrison v Danny Mettle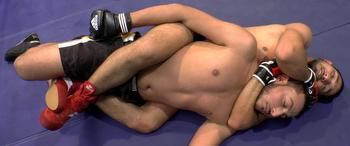 Download: Buy Now

The latest video in our Beatdown Boyz series.
The guys are wearing fingerless gloves, ankle boots and boxing shorts in this scenario.
Little Danny can just about reach up and hang from the frame of the punching bag stand, while Max tests his abs.
The two switch positions, then the action spills into the ring with more ab punching and grappling.
Eventually one of them is caught in a sleeper hold, and wakes up tied to the punchbag frame!

Fortnight 2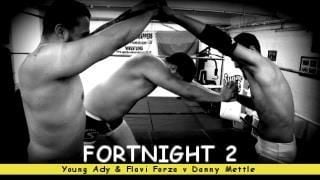 The Sequel !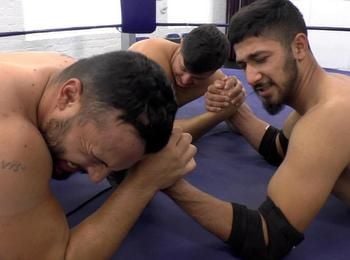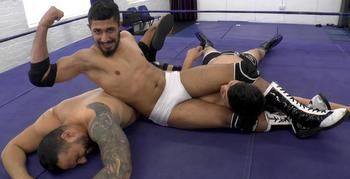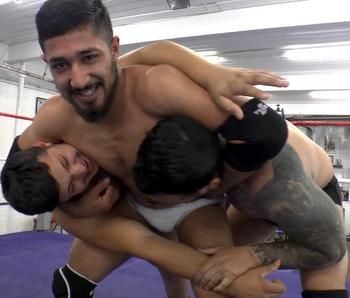 Young Ady & Flavi Forza v Danny Mettle

Download: Buy Now
Ady doesn't know what happened last time but he's brought help for this sequel. Flavi wonders how Danny beat Ady.
They say they are going to show Danny that he is too weak (hence fortnight, get it?) and they are strong.
A hypnotic contest sponsored by N Trance.
'The match was fantastic! You included everything I asked for. Thank you and the guys!'
Matman Cup 4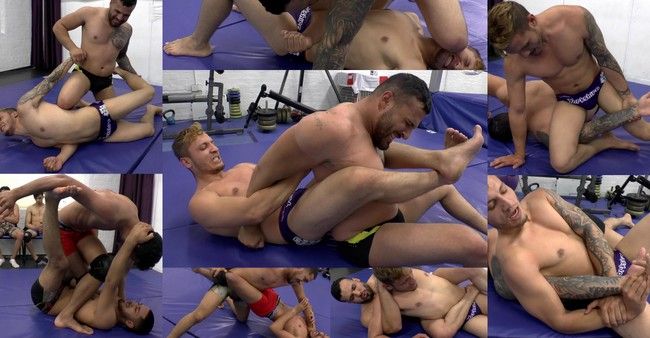 Young Ady v Sammy Scrapper
Max Morrison v Danny Mettle

Download: Buy Now
Young Ady challenges Sammy Scrapper for the Matman Cup.
Enjoy the brotherly banter and the quality mat grappling
as Ady tries to cut Sammy in his new tackle trunks down to size
plus
Max & Danny showcasing their skills
and introducing Benny & Jazz in a fun "round robin"

Dark Horse
Custom Match
Sponsored by The Welsh Warrior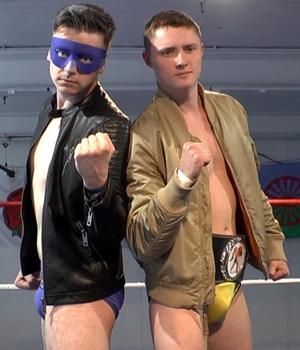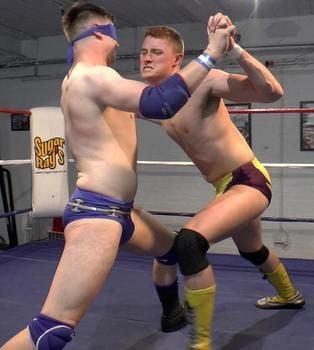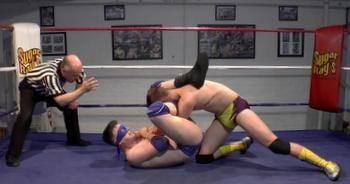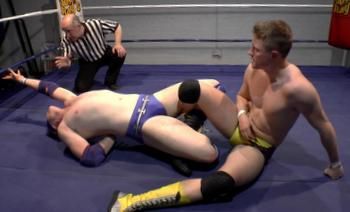 Rob Palomino v Jack Nero
Download: Buy Now

A classic two out of three falls or submissions to decide the winner
scheduled for 10 x 3 minute rounds
with Referee Nigel Crabtree applying the Mountevans Rules

Thrilling hard-hitting fast-paced action!
'Thanks so much for the custom match.
Rob and Jack really did a great job and it's probably one of the best I've seen.
I believe everything I asked for went in to it.
The public warnings and dirty tactics always make it fun to watch.'
'It's become a favourite of mine already.'
(Match Sponsor)

'Two words describe the bout , it was brilliant and awesome.'
'Many thanks for another fun-packed DVD compilation.
Dark Horse lived up to all expectations. Well Done.'
Preview on our Pivotshare Channel:
https://spotlandscrappers.pivotshare.com/media/rob-palomino-v-jack-nero-(2)/90673/preview