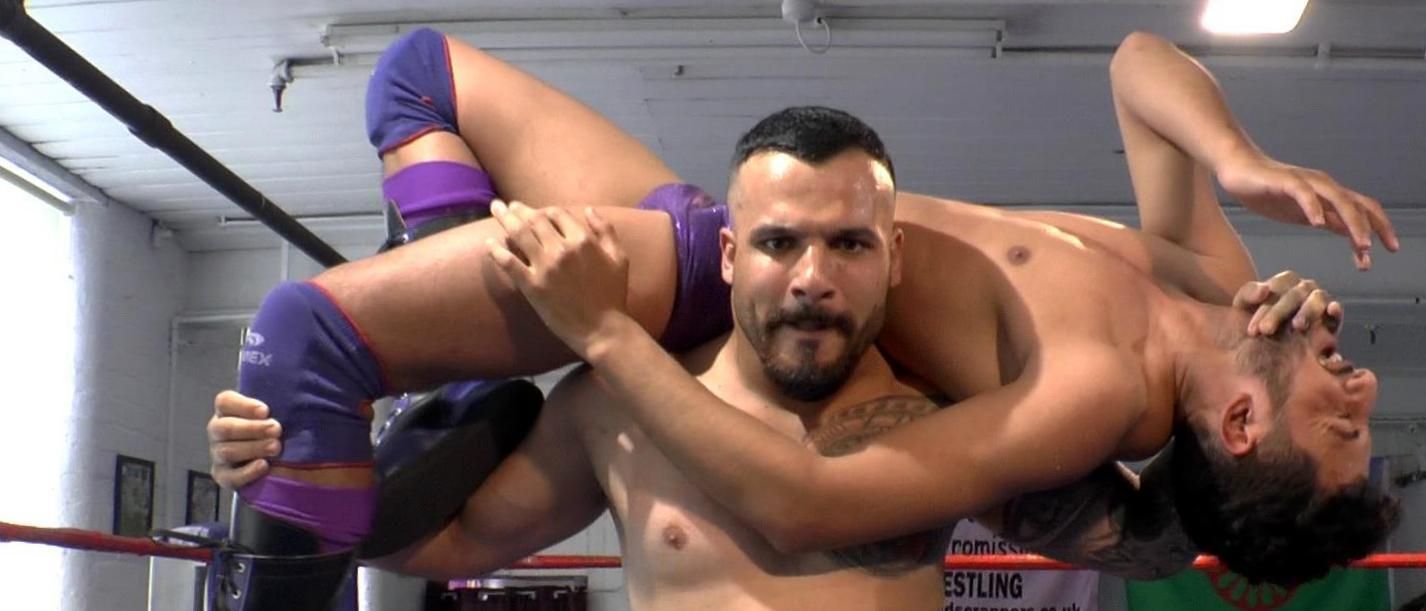 Al Rosso v Alex Hermes
Rosso delivers newcomer Hermes
to the mats!
+
Joey Delgado v Fendi Bambino
Spotland favourite Joey Delgado introduces a
new kid on the block
'Loved Joey and Fendi.
Joey had to up his game to contain his stocky opponent.'
'Hope to see more of him.
One for the future.'
Al Rosso v David Hitman

Tigerish Rosso in funky trunks
faces his nemesis Hitman
in our Pride Month Special.
'Very good. Quite an
intense encounter!'
'David and Al keep getting better and better. Lots of fast action, clever holds, and superb closeups and angle shots.'
Al Rosso
introduces soccer player
Adrian Brewster
+
Joey Delgado
faces heavyweight trainee
Timo Mare
Will Timo be too much for Joey to handle?
'another newbie entering the scrappers locker room'
Al Rosso v Matty Matalan
+
Joey Delgado v Cris Armani
Trainees Matty & Cris have return matches with their mentors
'Another cracker. Loved Joey dominate poor Chris.'
Abel Rosso v Vaz Pitesti
in a lightweight Brit Pro bout scheduled for 8x3min rounds,
with two falls or submissions, or one knockout to decide the winner.
Referee for this contest is
Nigel Crabtree.
'... give those two young men a huge compliment and pat on the back from me ... that was absolutely awesome ...
the action was constant yet they held certain holds when it was called for, like Rosso holding that difficult suspended grapevine longer than anyone I can remember
... they added some moves I hadnt seen your guys use for a long time like the russian leg sweep ... it was a total pleasure to watch.'
Vaz v Abel right out of the top drawer. Loved it. Credit to both wrestlers.'
Joey Delgado v Maz Miller
+
Al Rosso v Ronnie Henshaw
Two more rookies are introduced
by experienced team members.
Lobo Gris v Sammy Scrapper
Classic muscleboy action with Spotland Legend Sammy Scrapper and visiting Mexican wrestler Lobo Gris.
'... a cool dynamic ... the 'low blow' thing added a different twist and it was quite funny too.'
'Just to say how much I enjoyed watching this. To me, it was one of the best in recent times. The interplay between the two guys was great, the banter, the low blows etc. The selling as each of them in turn was pounded in the corner was sublime. A nice long meaty match too. Lobo is a natural, infectious grin, good looking and muscly, great foil for Scrapper.'
Vaz Pitesti v David 'Rocco' Uzbek
Trainee David performs well against his more experienced opponent.
+
David Hitman v Al Rosso
An intense mat match between these two skilled rivals.
Joey Delgado
v David 'Rocco' Uzbek
Rocco bounces into the ring like a spring lamb but will he be for the chop by foxy Delgado?
+
Davey Boy Braha
v Cris 'Supersonic' Armani
Will smiling Supersonic be
Davey Boy's latest victim?
Franky Nadara v El Turbo
El Turbo makes a welcome return, with his mentor Franky, and they have some new moves in store for each other!
Will experience prevail?
'A great dynamic with two guys hungry to prove that they belong at the top! Franky is becoming a cocky veteran whilst young El Turbo gives it his all. Both guys execute some incredible technical submissions.'
'After some intial hesitancy,
Turbo rose to the challenge.'
Jack Nero v Abel Rosso
A Three Degrees of Pain variation
two out of three falls match where a wrestler must achieve a victory in the specific order of a pinfall, submission, and the third by knockout.
Sammy Scrapper v Vaz Pitesti
up & coming Pitesti faces
returning veteran Scrapper.
'A really great contest of
power vs speed!
Vaz sure has his work cut out.'
'The younger wrestlers can learn a lot about all aspects of ring action
from Sammy.'

'... some trash talking adds to it ...
good to see Sammy back in the ring ... kept himself in pretty decent shape ... he really knows his way around a ring and knows the moves.'
'Kudos to Vaz for executing that tough Boscik special. Spectacular move.'
'Really enjoyed the production even more so with Sammy being back in action. He looked so much at home in the ring with Vaz a perfect match.'
Sam Smiler does the job for our lift & carry fans, with Ray Junior.
'Sam is a real beast and Ray Junior is a good sport.'

'As a fanatic of lift and carry, I loved Day Job. Thank you!
Which part was my favourite? The baby carry!'

'... great vid, lots of wrestling lifts and throwing around.
This is a must buy video 15 mins of lift and carry ...
I suggest to everyone, buy it!'
A fun lift and carry scenario
at The Loft.
Introducing La'al Pete as the rider
with heavy ponies Young Ady, Lofty Valentino
& Flavi Forza.
Sponsored by Greet Stefan.
'I still can't believe that they went thru' my entire list of lifts
- what an amazing afternoon it was!'
Sammy Scrapper
v Franky Dare
in a "Slam & Bridge" themed practice match
with Franky learning to bridge the hard way as Sammy enjoys the job of rookie wrecker!
'The stars of this match are smaller guys Sammy Scrapper and Franky Dare. In the world of British style pro-wrestling, which brings to my mind images of pasty, flabby, and toothless skin-headed dudes, Sammy and Franky easily qualify as pretty boys. And Sammy shows that you can be both a pretty boy and a heel as he dominates Franky for most of this match. This is another good production by Spotland Scrappers for those of us who like lift and carry wrestling.'
(bodyslamfan.blogspot
.com)
Please get in touch with enquiries regarding custom scenarios or other questions/comments.
We're always pleased to hear from our supporters. Thank You.
Terms and conditions.
Thank you for submitting the contact form.