Videos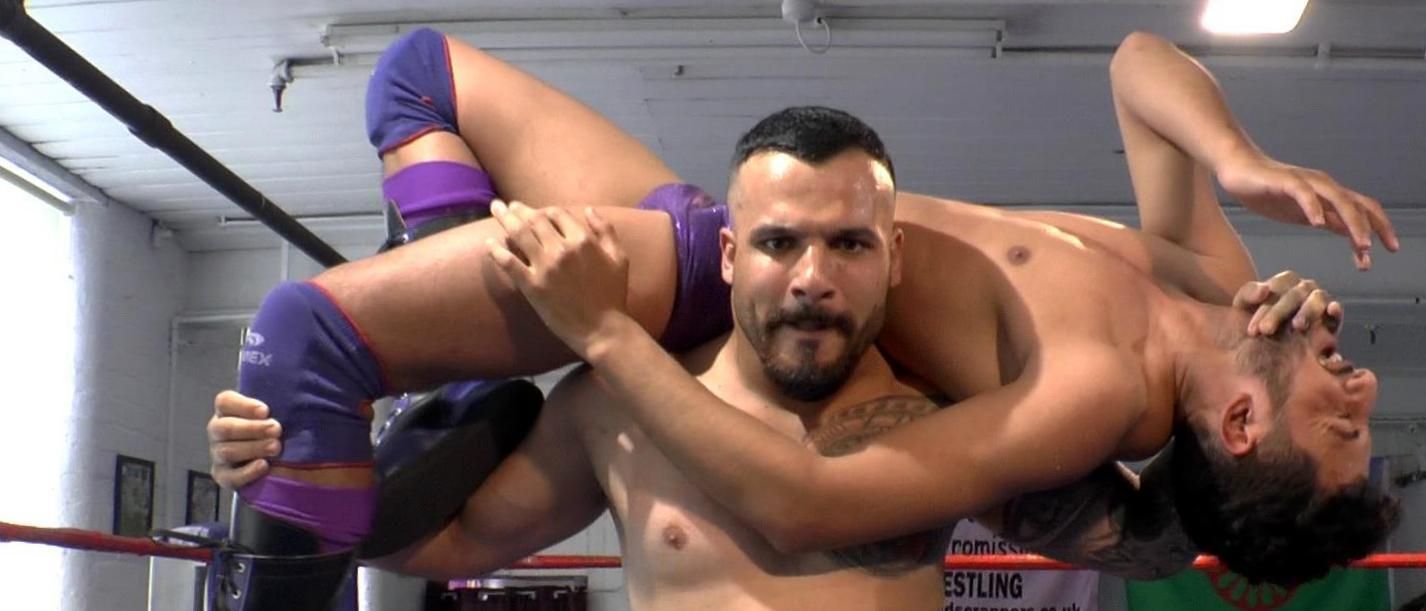 Bert Ruben
v Jonny Rizado
Ruben has the gym trained torso but is
facing a lively newbie.
Brasov Tiger
v Franky Nadara
singlet-clad Tiger will aim to use his weight against our
athletic group leader.
Daz Taser v Bert Ruben
Taser returns looking to stun a novice opponent
with his fiercesome attitude
on the grapplezone.
*Special Offer Bundle*
with
Beemat Trials 20
https://wayopay.com/p/grapple-bundle-2-by-spotland-scrappers
Alex Tanner
v Jonny Rizado
Two Curly Tops as
Alex introduces another new recruit.
Franky Nadara
v Bert Ruben
Group leader Franky has a roll with newcomer Ruben after training.
David Hitman
v Alberto Rosso
Hitman expects to use his powerful moves against inexperienced Rosso.
'Jonny looks good and can wrestle. Felt sorry for Alex!
Hitman continues to impress, should use the back hammer more as he knows how to crank it on.'
*Special Offer Bundle*
with
Grapplezoners 7
Bruno Baccy
v David Hitman
in a Sagger Fight.
Baccy is the more experienced wrestler but the rookie fighter is Hitman by name and nature in this encounter outside & inside the ring.
Max Morrison
v Franky Nadara
in a Chain Match with an impressive finishing move.
A colourful spectacle under the ring spotlights to brighten your day during these difficult times.
'I really am beginning to get into both Bruno & David, and hope they've got many more bouts ahead of them.'
'The final pin looks epic.'
David Hitman
v Adrian Malloy
trainee Hitman is getting a reputation for his vicious scissor moves.
Franky Nadara
v Alberto Rosso
tough rookie Rosso has to work hard against his experienced trainer.
'Once again David H impressed.'
introducing
Alberto Rosso
with
Alex Tanner
& Adrian Malloy
Our 3 A trainees are looking for a good result in this
three-way mat battle
Franky Nadara
v Max Morrison
a return match between these two Spotland stalwarts with their array of promission moves.
'Young Alex was up against it with those two muscled guys.'
Alex v Vaz Tanner
The shrimps in singlets
Tanner Bro's battle it out.
David Hitman
v Bruno Baccy
showing the benefits of Franky's training in a return promission-style match.
Alex Tanner
v Adrian Malloy
Determined Tanner introduces another newcomer to the mats in a fun schoolboy-style fight.
This struggle is full of raw passion and energy. Will the tiger cub rookie get any change out of this Tanner ?
Alex Beatboxer
v David Hitman
Popular lad Beatboxer looks to have grown bigger since his last appearance as he returns to take on trainee Hitman in a lively contest.
'Can it get any better?
Where did you find
Alex Tanner
he's a star in the making.'
'Alex is a joy to watch
a true warrior
with some good moves.'
'An awesome headscissor
by David.'

Franky Nadara
v Vaz Tanner
one of our
new kids on the block
wearing a colourful singlet.
Franky leads David Hitman, Bruno Baccy
& Alex Tanner
in a
"winner stays on"
exercise.
Bruno Baccy
v David Hitman
rookies showing us
what they have learnt.

'Bruno Baccy looks like a really great addition to the roster (feisty with a good physique and with a good grounding in wrestling moves already) and I hope he becomes a regular.'
'Just bought this video and all I can say is WOW.
Loved it. Great new talent. Cannot wait for next one.'
Summer
"End of the Pier" Variety
featuring
Sammy Scrapper
v Neymar Jnr
trainee Neymar tries some flying moves against old 'scrap metal'
in a pro-style match under the ring spotlights.
Neymar Jnr v Deathslayer
in Sagger Fight 2.
Franky Dare (Nadara)
v Max Morrison
recorded when both guys were learning their trademark moves.
And finally ...
Giggles Gigglesworth
flies in again and has
Drummer Tiger in a tailspin.
All matches filmed prior to the lockdown restrictions.
'Seeing guys in suspended surfboards is a great day!
Love the boots
on Franky & Max!'
"A favourite!"
Max Morrison
v Deathslayer
&
Sammy Scrapper
v Neymar Jnr.
Two of our young trainees have speed and agility but are still learning
as they face more powerful and experienced opponents in training matches.
'Two very good bouts,
good ring presence from Deathslayer (could be another Joey Eden) and Neymar Jr.'
Please get in touch with enquiries regarding custom scenarios or other questions/comments.
We're always pleased to hear from our supporters. Thank You.
Terms and conditions.
Thank you for submitting the contact form.