Messy Fun Archive
Oil Zone & Messy Matches!
fun series for your enjoyment
DVD titles are shown
please go to our wayopay online store for current Download matches in Oil/Messy category

Special Guest
Cameron Mathews
takes on
Sam Smiler
&
Team Spotland
to be
King of the Oil
in
Slithery Scrappers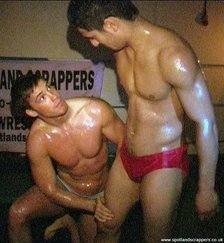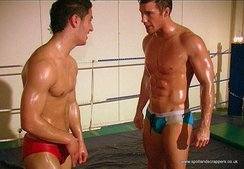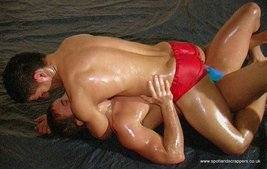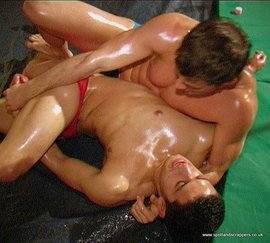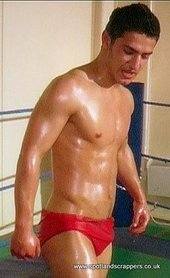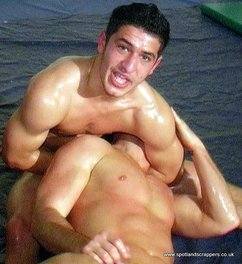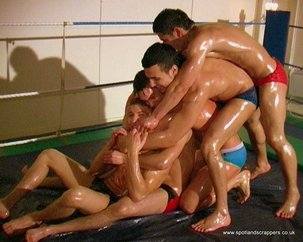 and a special treat for oil wrestling fans ...

Slither Factor
Oil Wrestling
DVD compilation
Sammy Scrapper v Sam Smiler
Young Ady v Sammy Scrapper
&
*** Cameron Mathews ***
with
Sam Smiler
&
Team Spotland

over an hour of fun action
++++++++++++
Slap 'n Dash
Young Ady joins Sammy
in Slippery Scrappers
filmed as part of Phil's 60th Birthday Celebration.
Enjoy!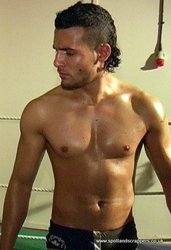 ++++++++++++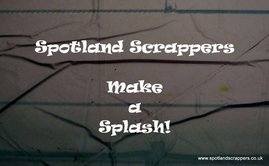 Make A Splash!
Our first
Ring Pool Matches
with
Team Spotland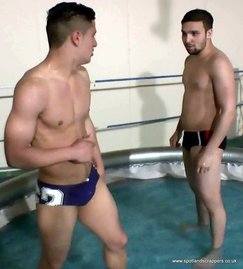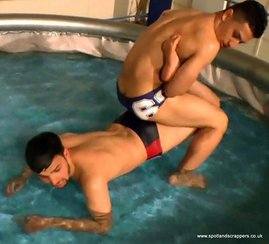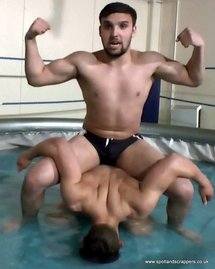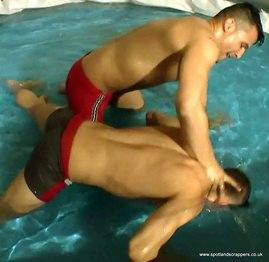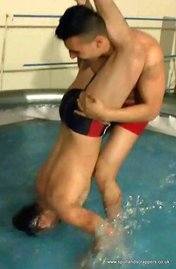 "Make A Splash!"
Custom Water Fights filmed in HD video
now available on DVD
++++++++++++
Team Spotland go in at the Deep End
in Splash Factor photo & videoshoot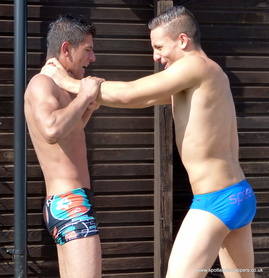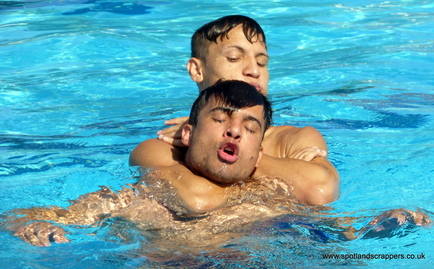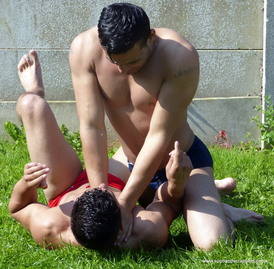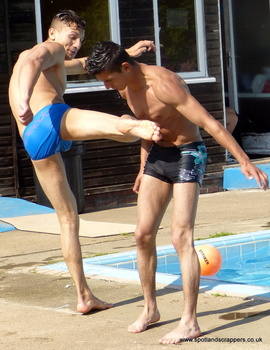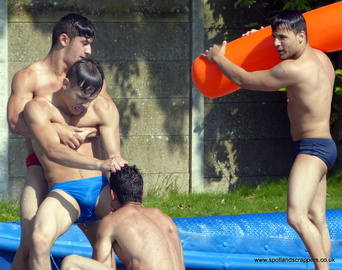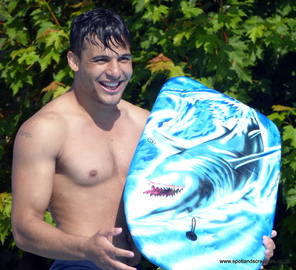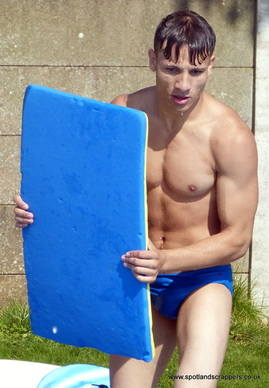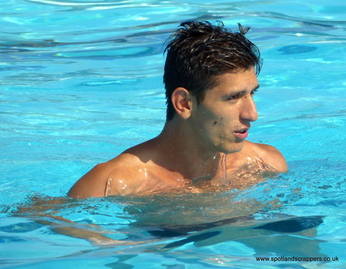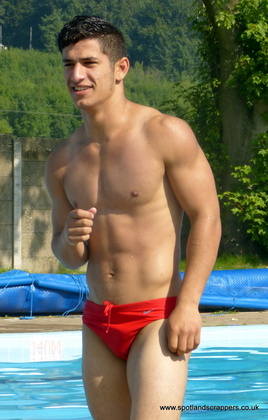 Sam Smiler, Sammy Scrapper, Ray Junior & Young Ady
having fun at Helmsley Pool in Splash Factor

custom pool moves - behind the scenes clips - action shots
Sponsored by Rob

also on Strange Customs DVD compilation!
++++++++++++
Cameron Mathews was surprised to find Team Spotland had prepared a pool of custard for him!

Cameron was joined by his friend Adam Flash in

Custard Creams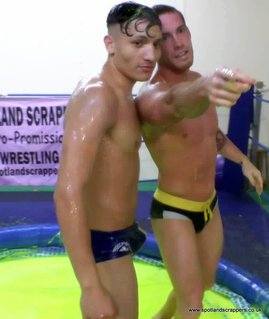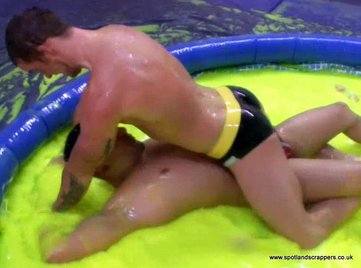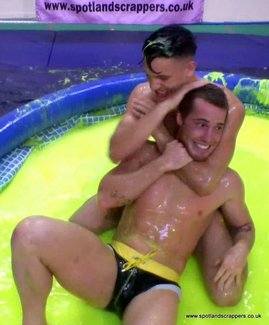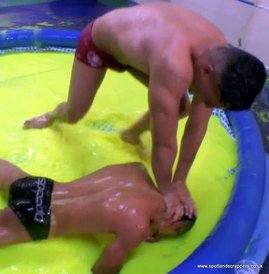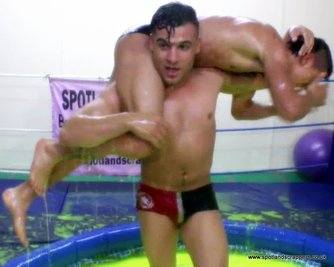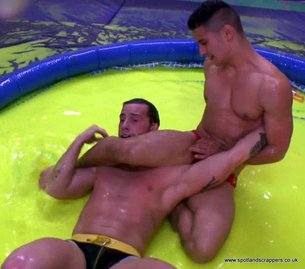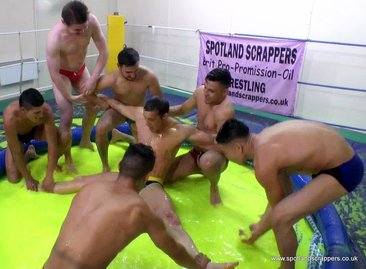 Custard Creams is available to download and on Cameron Factor DVD
"It is hilarious and excellent ... with an ending that's just perfect."
++++++++++++
and close to water ...
On Our YouTube Channel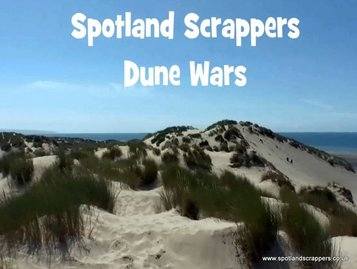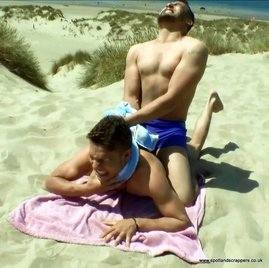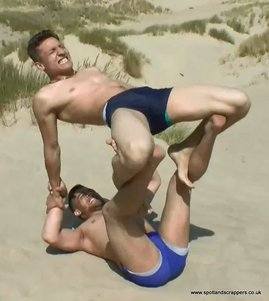 Dune Wars
with
Young Ady & Sammy Scrapper
on Shell Island
Free for Subscribers at:
http://youtu.be/RyGMao8ueN8?list=UUIbvr0ZFw90aiBAnQ0j6xDA
++++++++++++
We return to Helmsley Pool
for Scar Wars 1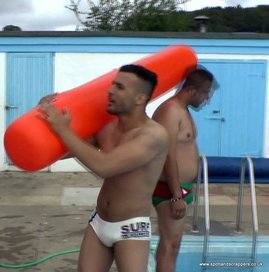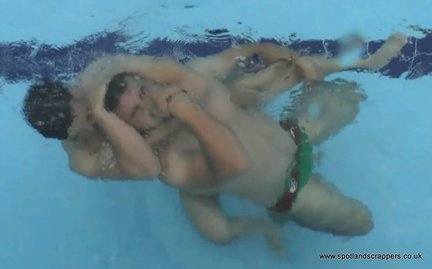 Young Ady v Cristi Man
underwater action!
++++++++++++
A Refreshing Cool Down
at the end of a training session
Team Spotland
take part in the
Ice Bucket Challenge
for
Macmillan Cancer Support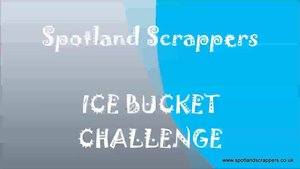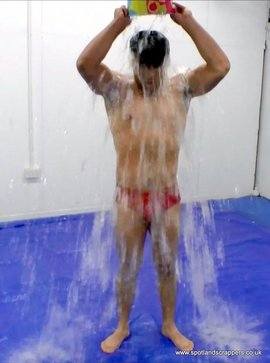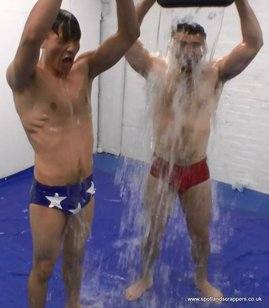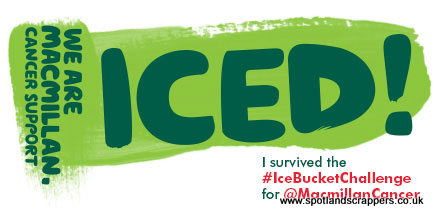 For more info and to donate: www.macmillan.org.uk
We've heard of Dancing on Ice
but never Wrestling on Ice!!!
There's cool action with Young Ady v Cristi Man
followed by Sammy Scrapper, Cristo Cub & the Team Spotland brand of mayhem!

Prevew on YouTube: http://youtu.be/XpNEKE_jcUU
++++++++++++
Summer Spectacular
It's the time of year for an "End of the Pier Show"
but trust us to go one step further into the sea ...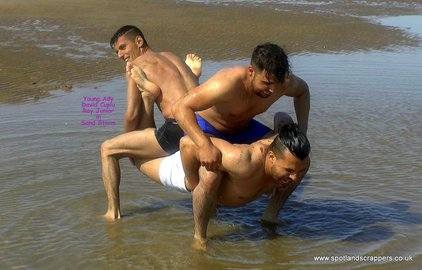 Ray Junior - David Cuplu - Young Ady
in Sand Storm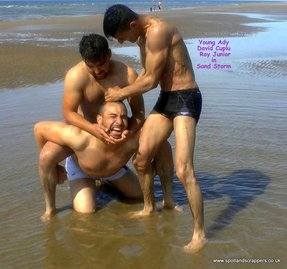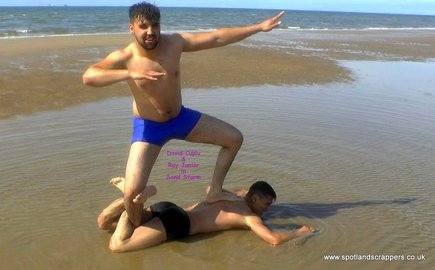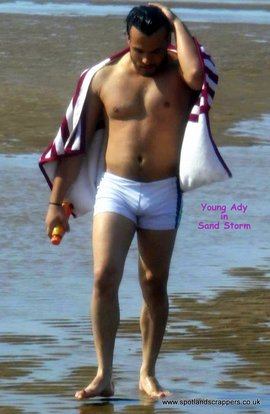 Young Ady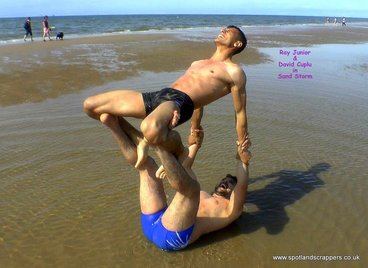 Sand Storm
available on Rip Tide DVD compilation
with
A Rippin' Yarn & Day Job
Preview at: https://youtu.be/DPjZwBElnF8
++++++++++++
Kirkpinar to The Loft

a treat for oil wrestling fans
with our first Turkish-style contests
on the new Loft Studio "Olio Zone"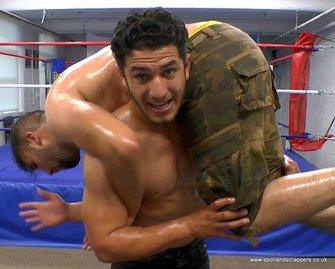 Sam Smiler v David Cuplu
in Turkish Delight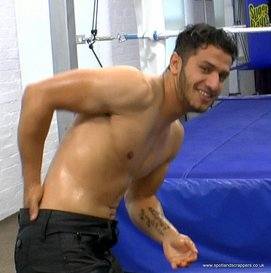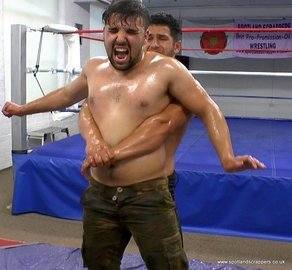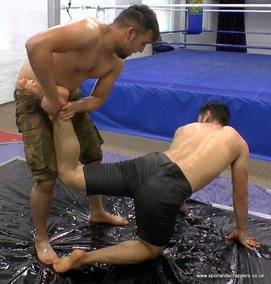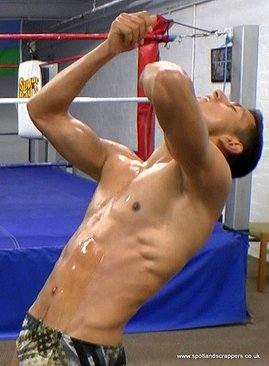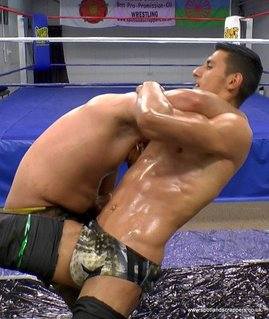 Return to Kirkpinar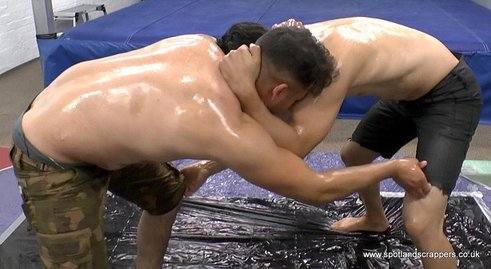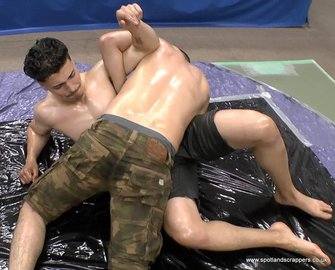 David Cuplu v LJ Silva
& LJ Silva v Ray Junior
in Turkish Delight 2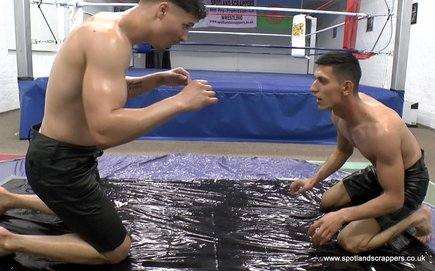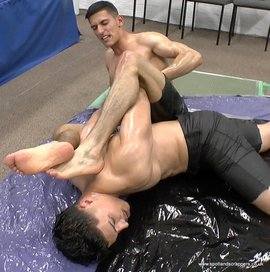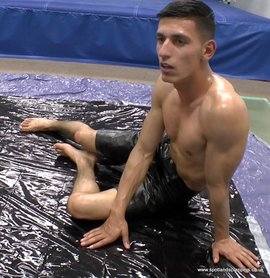 Turkish Delight 1&2 DVD
Preview on our YouTube Channel at: https://youtu.be/BlIEDdpA2_w
++++++++++++
More Slippery Scrappers!
Fun candlelit oil wrestling on the Olio Zone
in Slide Rules 1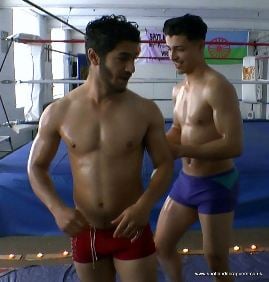 Sam Smiler v LJ Silva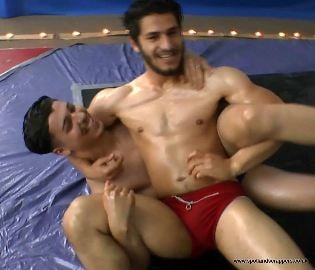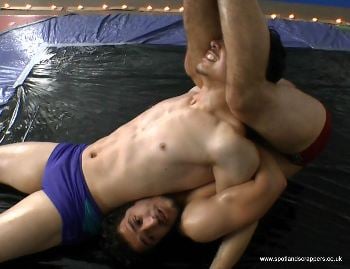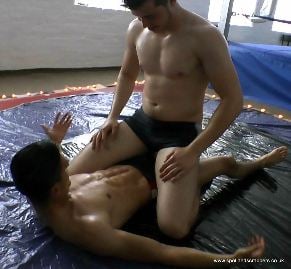 Ray Junior v Lofty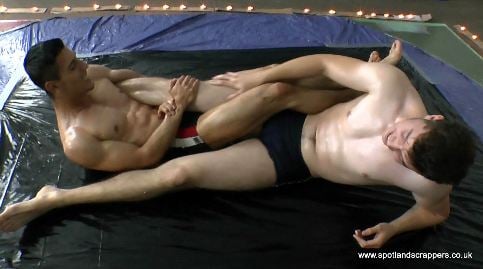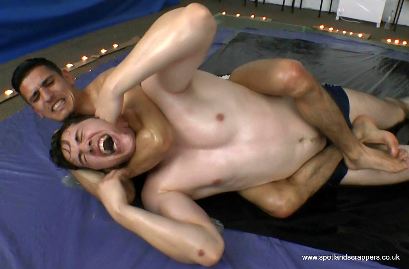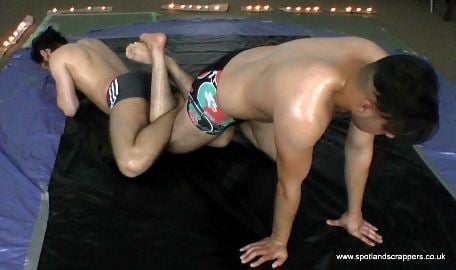 David Cuplu v Gypsy Joe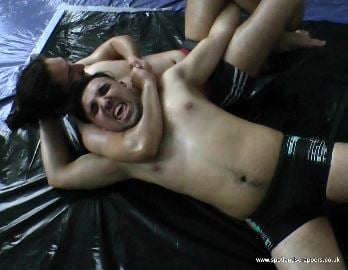 Ray Junior v Joey Eden
in Slide Rules 2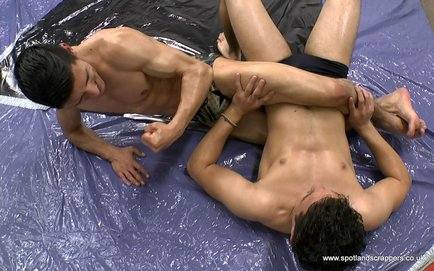 Slide Rules 1 & 2

Slide Rules 3 & 4
our latest recruits are under the spotlight in two more fun oil matches
Manni v David Cuplu in Slide Rules 3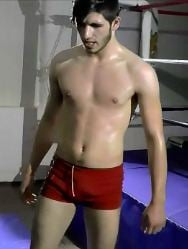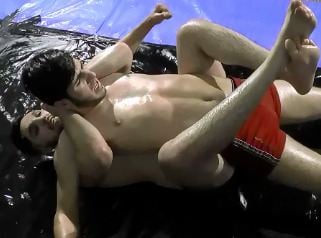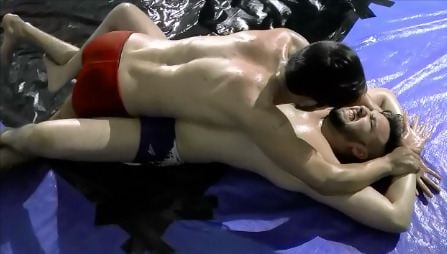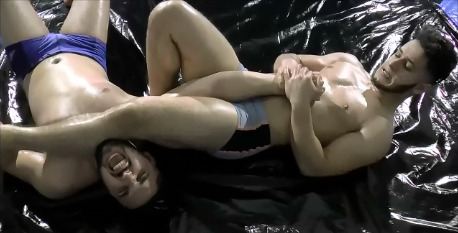 David Cuplu v Sam Smiler in Slide Rules 3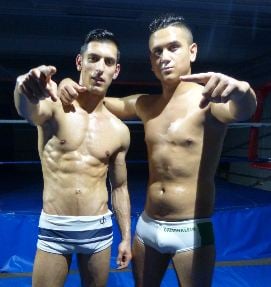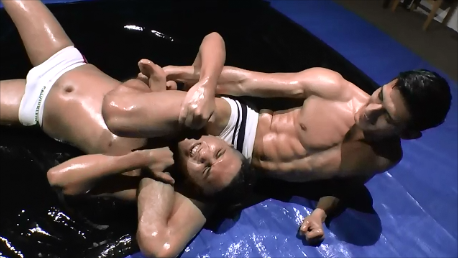 Ray Junior v Adri in Slide Rules 4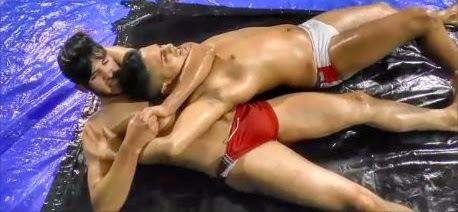 Manni v Adri in Slide Rules 5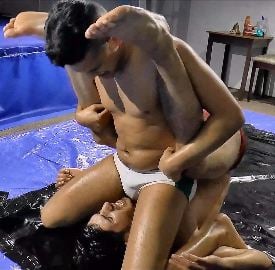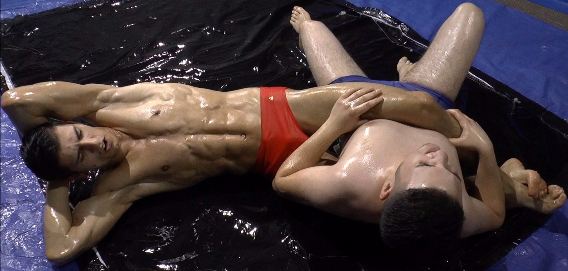 Ray Junior v Fernando in Slide Rules 6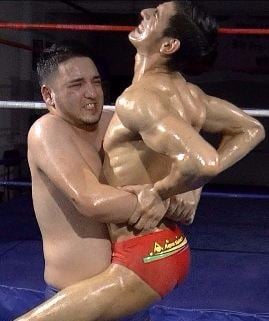 Slide Rules 7

introducing Calos Luchador

from Sunny Spain!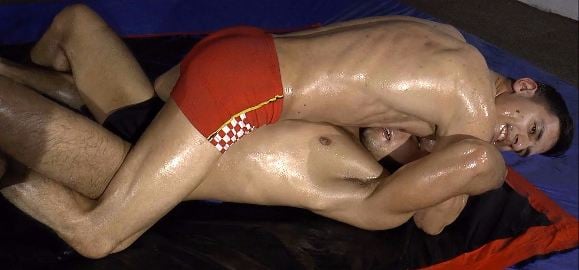 Ray Junior
v
Carlos Luchador
in
Slide Rules 7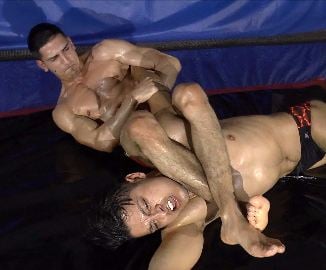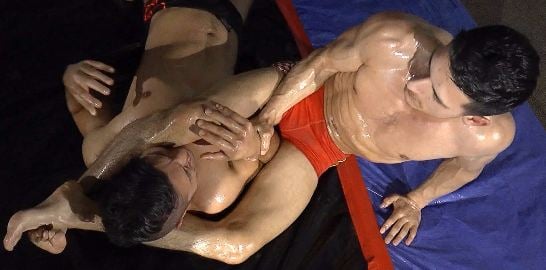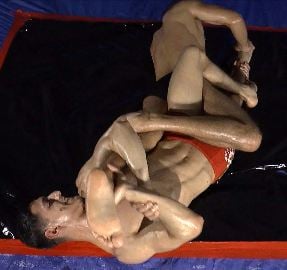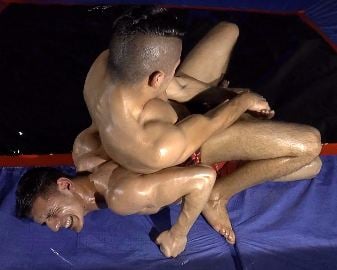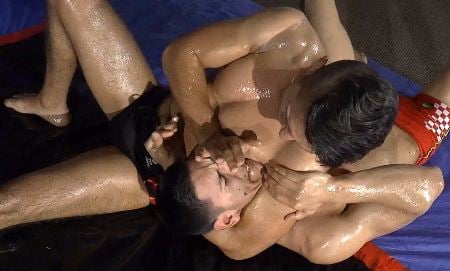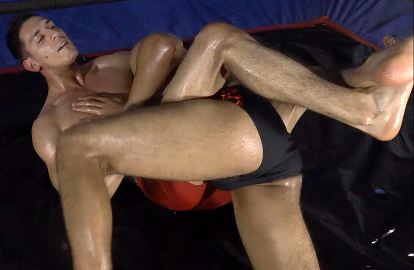 Slide Rules 3 to 6 DVD Compilation

++++++++++++


Bisto Boyz
party-time in The Loft Annexe!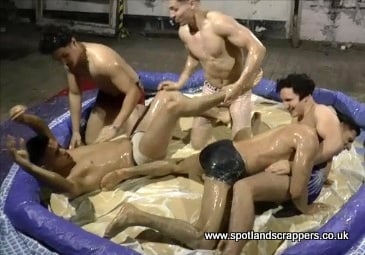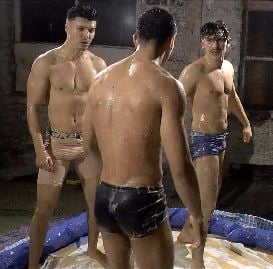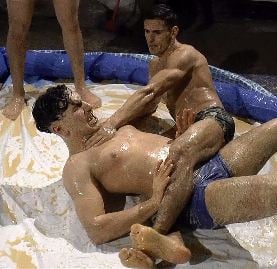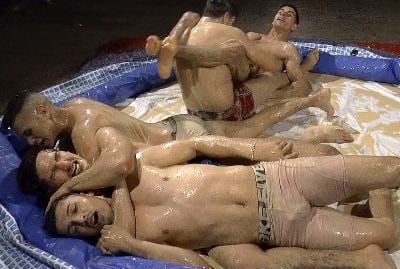 Ray Junior - Joey Eden - Adri - Gypsy Joe - LJ Silva
are the Bisto Boyz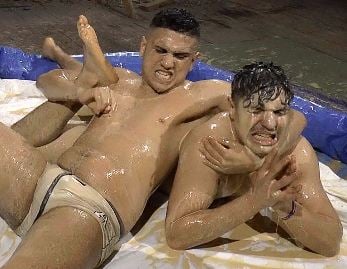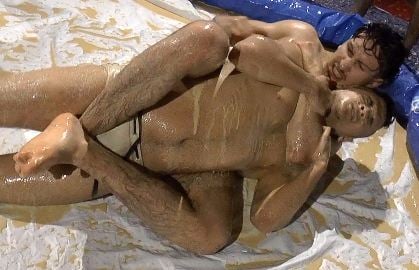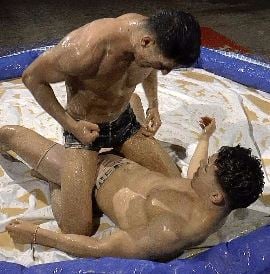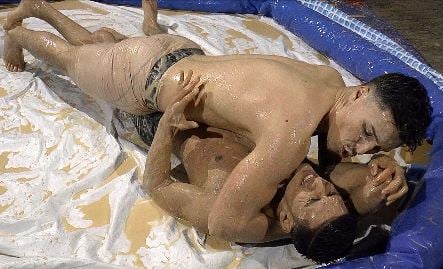 Double Slided
a 2v1 oil wrestling match
with two big guys dominating a small guy who doesn't like oil!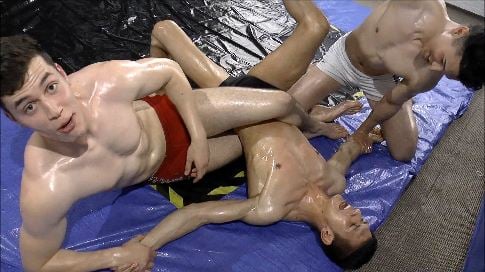 Lofty Valentino & LJ Silva v Ray Junior in Double Slided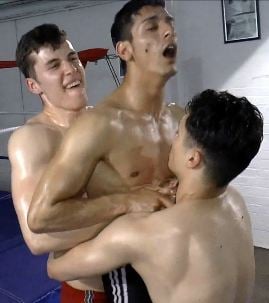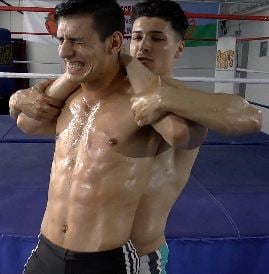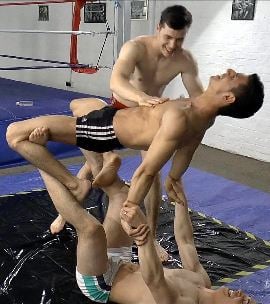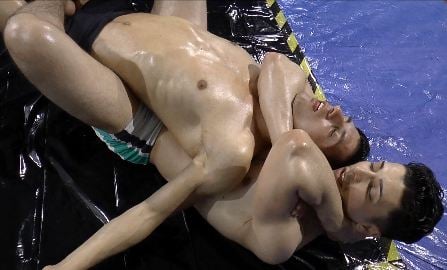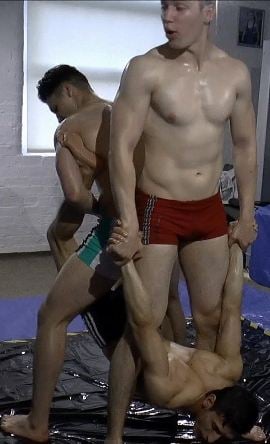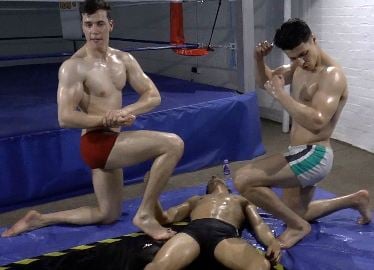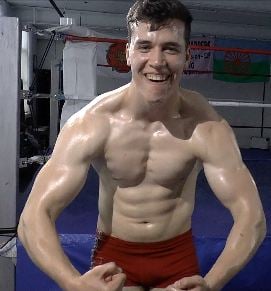 our most popular match from the Oil Zone
Custom Match Sponsored By Olringen Fan
"I want to thank you so much. The team really did a great job.
The guys look perfect and are in a great shape. And they really did everything I proposed.
But what I liked most was Lofty's talking during the match. He is not only an extremely handsome wrestler, but a great actor, too.
It really was as if he was the stage director of the whole match. So thanks again to the whole team."
++++++++++++
Easy Peasy
Olio Zone 2v1 Challenge
Ady thinks it's going to be easy but has to work hard against two lively lightweights
until he gets some help from an unlikely source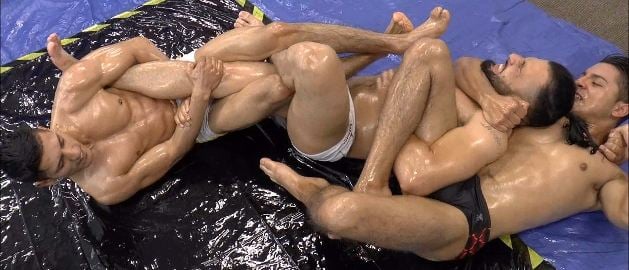 Young Ady v Ray Junior & Carlos Luchador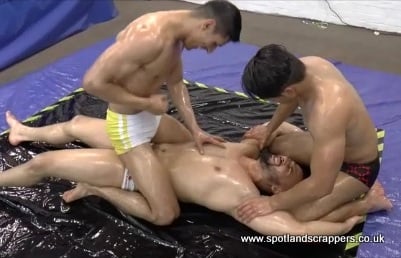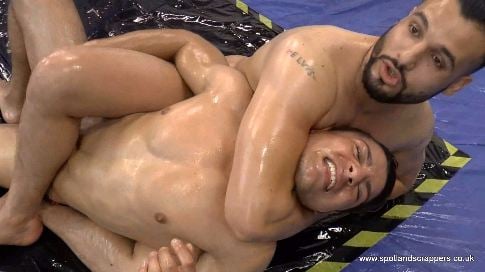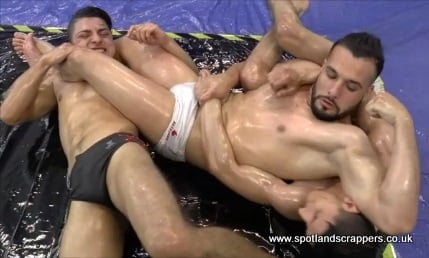 Slide Rules 8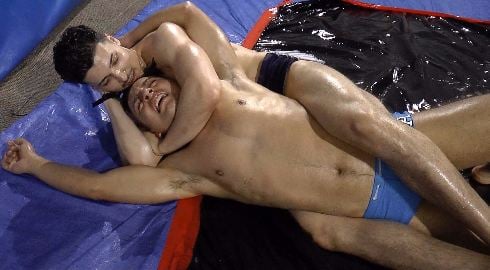 LJ Silva v Carlos Luchador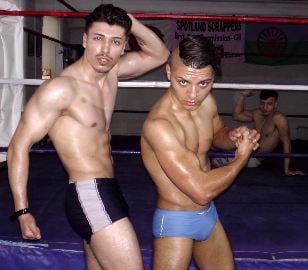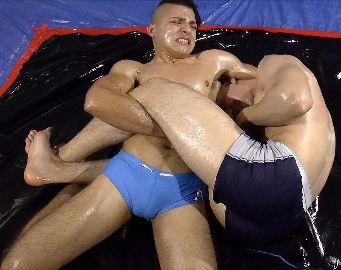 Slide Rules Double
DVD Compilation
Slide Rules 7 & 8
Double Slided
Easy Peasy
five guys in four fun oil wrestling matches
Preview at: https://youtu.be/yI79-gFsjcw
Slide Rules 9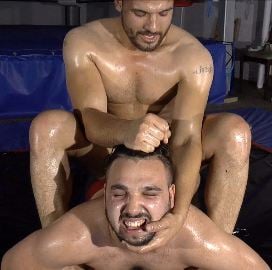 Young Ady v David Cuplu
++++++++++++
Barmouth Rocks
the guys play & practice on sunny Barmouth Beach
to the sound of the waves and background music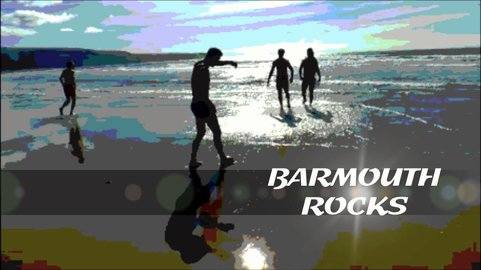 with Ray Junior, Joey Eden, Adri Gold, Gypsy Joe & Gorilla Demascat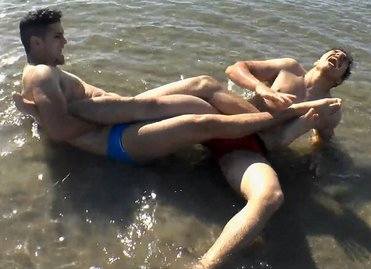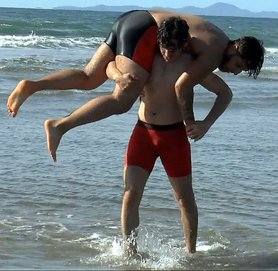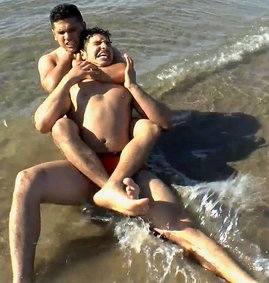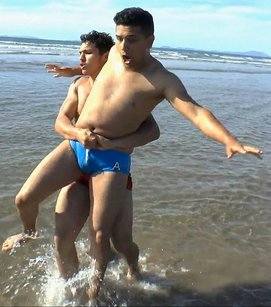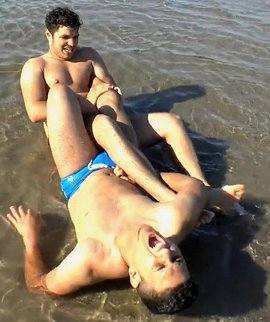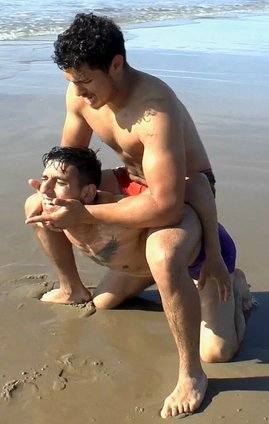 available on DVD
++++++++++++
Comic Relief
Red Nose Day 2017
What is Red Nose Day?
Since its launch in 1988, Red Nose Day has become something of a British institution.
It's the day, every two years, when people across the land can get together
and do something funny for money at home, school and work.
There's a night of TV on the BBC, with comedy and entertainment to inspire the nation to give generously.
Plus there's a Funraiser from Spotland Scrappers!
Comic Relief spends the money raised by Red Nose Day to help people living tough lives across the UK and Africa.

This year Team Spotland take to the paddling pool once more in Slimeballs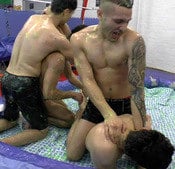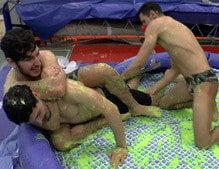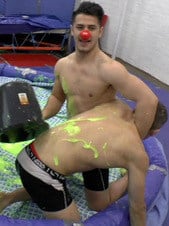 Ray Junior, Sammy Scrapper, Gypsy Joe, Sam Smiler & LJ Silva making a right mess ... again!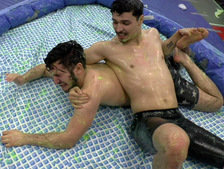 available on DVD
++++++++++++
Jello Babies
a messy custom match with Ray Junior & LJ Silva in their Navy & Army trunks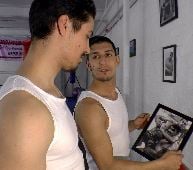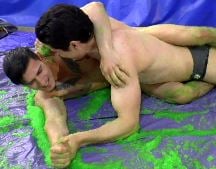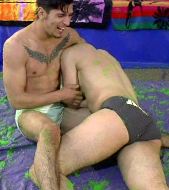 Ray Junior
v
LJ Silva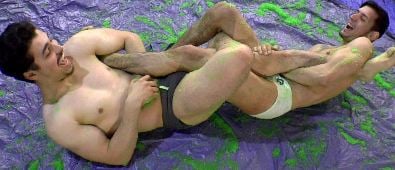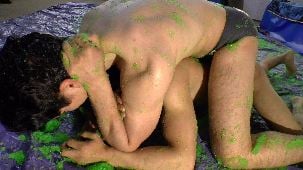 on
DVD

Many thanks for the bout - overall I think it worked well.
Ray Junior was great as ever and LJS has clearly been working out.
I'd definitely be up for sponsoring another messy match."
and here it is ...
Turkish Delight 3
custom oil wrestling with both guys really going for it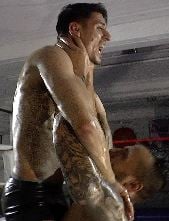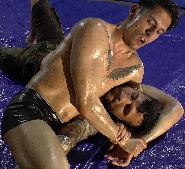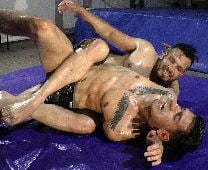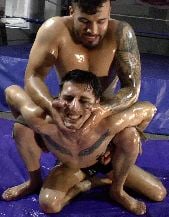 Young Ady
v
Ray Junior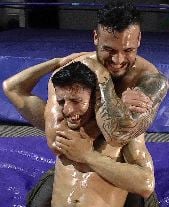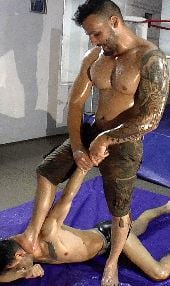 Sponsored by Lionel Messy
Many thanks for this - a great match up between two leaders of the Spotland crew
- one of the best oil matches you've filmed (and I reckon I've got them all!)
As you say - the two guys really go for it, and are both looking in great shape
- the lighting and the oil really show off their muscles,
although I'm not sure many of the moves would be legal in Kirkpinar.
Here's hoping it'll sell well and you do more oil bouts
(happy to sponsor other oil/messy bouts in a few months,
but would be good if others did too !!)


"... it's really well filmed and the two guys are in peak shape ... I love the 'wardrobe malfunction' at the end!"


++++++++++++
The big Frenchman gets a surprise from our two chipper small fries on the Oil Zone in
French Fries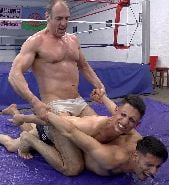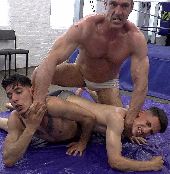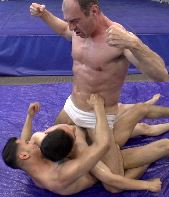 Eti Eiffel
v
Ray Junior
&
La'al Pete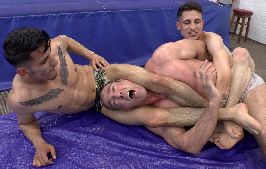 I just purchased French Fries and I'd like to say how great the match and filming is ... I enjoyed it from start to finish ..."
++++++++++++
Mud Lark
Ady & Flavi are training in the woods but they're short of a weight to lift when along comes some help ...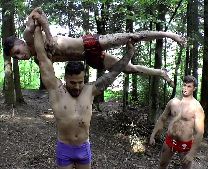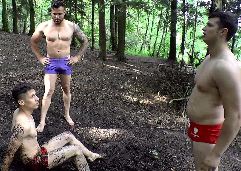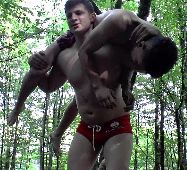 Young Ady
&
Flavi Forza
with
La'al Pete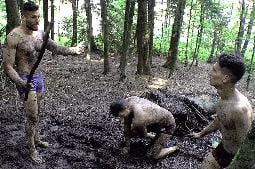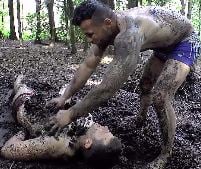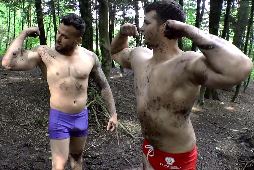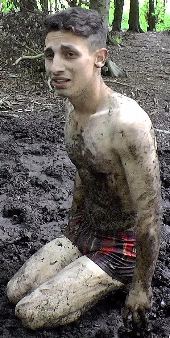 "
A real treat, not just for muddy/messy bout fans but also those into lift/carry scenarios.
The outdoor setting is fantastic (the perfect plot and muddy woodland glade !)
and loved the way their bodies (and trunks) got more and more dirty as the bout went on.
A 'must have' addition to the Spotland wrestling library!"


" If you go down to the woods today you're sure of a big surprise ...
an unusual messy outdoor setting ... the muddy trio enjoyed themselves."
++++++++++++


Bees Whacks

three guys fun wrestling in a mixture of honey and oil
specially formulated by Sammy Scrapper!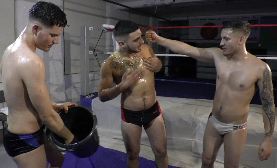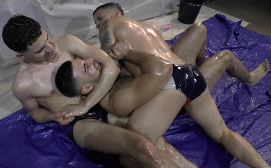 Sammy Scrapper
with
Franky Dare
&
Joseph Barbera
Match Sponsor: Lionel Messy
"Really enjoyed the bout - good to see some new wrestlers (although I'll always have a thing for Ray Junior and Ady!)
It looked like the three guys really enjoyed making the shoot and I thought the build up to the fights was really well done.
Loved the way the lighting showed off the gunge ..."


++++++++++++
Hawaii Three-0
water match fun in our new larger pool!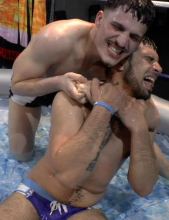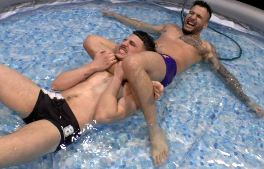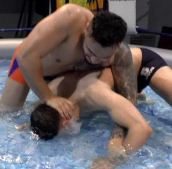 with Young Ady - Franky Dare - Joseph Barbera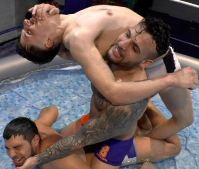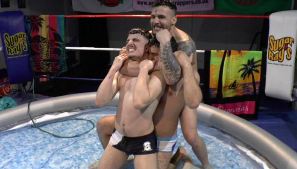 and our surf machine ...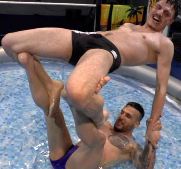 on DVD

Sponsored by Lionel Messy
"Really enjoyed watching the bouts -
the lads definitely went the extra mile given the temperature in the gym, but looked like they were enjoying it!
The new wrestlers are growing in confidence and look less self conscious in front of the camera.
Especially enjoyed the square cut trunks and the more aggressive action when they were throwing each other around
rather than the long holds (although Young Ady's scissor holds were a joy to watch!).
I thought the big pool really worked well, allowing for a lot more action than smaller ones,
and hope it can be the start of a series of pool bouts (although I won't be able to sponsor them all!)"
"... And what better place to apply a suspended surfboard hold than in the water?"

++++++++++++

Shiny Sprinters
the team have fun on the oil zone
in their sprinter shorts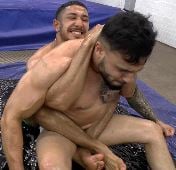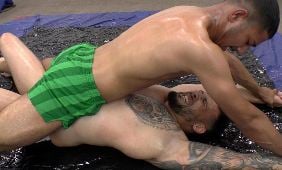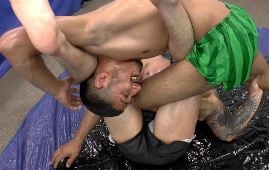 Young Ady & Danny Mettle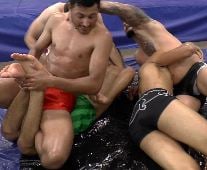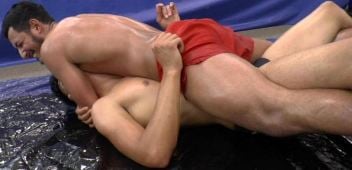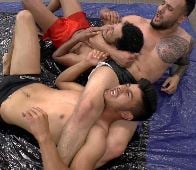 Franky Dare - Max Morrison - Robyn Hudd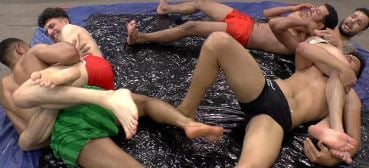 Download: Buy Now
Sponsored by Lionel Messy
++++++++++++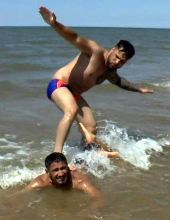 Seaside Surfin' (Part One)
the team have fun on Ainsdale Beach, Merseyside
in this year's summer special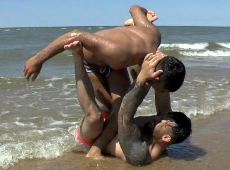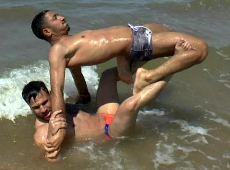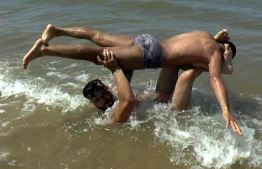 Young Ady & Danny Mettle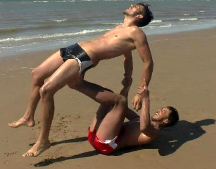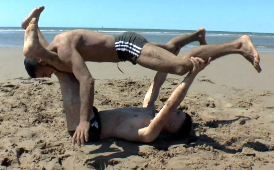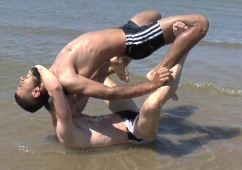 Max Morrison & Robyn Hudd / Franky Dare & Daz Taser
Download: Buy Now

"Brilliant Surfboard in the water, nobody executes this hold better than Young Ady, a budding Steve Grey."

Seaside Surfin' 2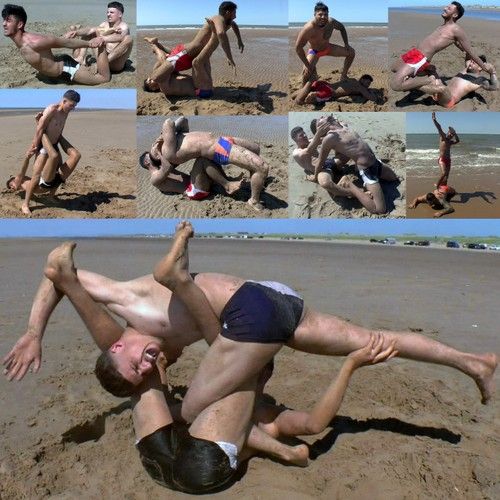 Young Ady v Max Morrison & Franky Dare v Robyn Hudd
Download: Buy Now
"Loved Seaside Surfin' 2 production.
Congratulations on some brilliant filming."
++++++++++++
Sunny Side Up with Team Spotland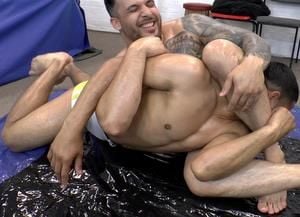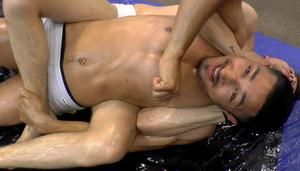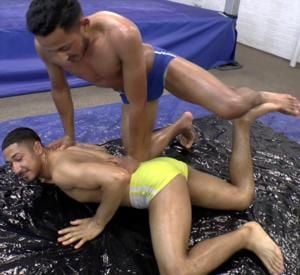 Young Ady - Franky Dare - Danny Mettle - Max Morrison
have a cracking time on the Oil Zone
Download: Buy Now
++++++++++++
Bubbles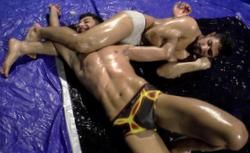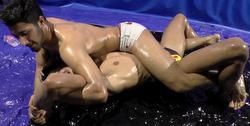 Danny Mettle & Max Morrison are under the spotlight on the Oil Zone
Download at: Buy Now

Danny is Sponsored by The Welsh Wanderer
"Really enjoyed Bubbles, always happy to sponsor the Spotland Scrappers.
Please give my thanks to Danny & Max."
++++++++++++
Oil Shakes
a bumper compilation of three matches for fans of rip 'n strip, oil & messy scenarios!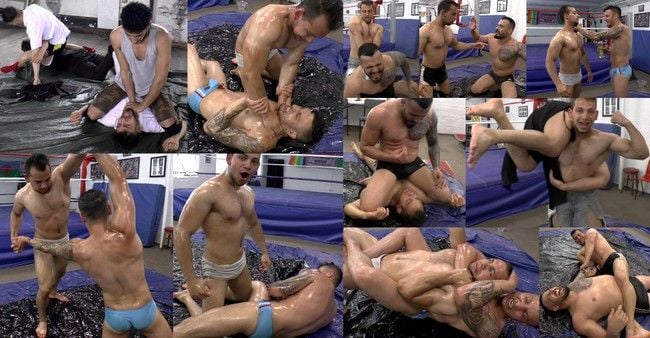 Young Ady v Ronnie Laurenti in a messy "rip 'n strip"
Ronnie Laurenti v Sammy Scrapper on the oil zone
plus Danny Mettle, Brasov Tiger, Max Morrison & Frankie Dare in the attic

Download: Buy Now
"I think Ronnie is a real find - a worthy opponent for Ady"
++++++++++++