Spotland Experience
*** Spotland Experience ***
Brit Pro - Submission - Promission - Fun
Wrestling
Training & Matches
in your chosen style/s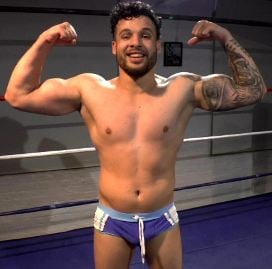 Young Ady

led by Young Ady or Ray Junior
Let us organise your own 1:1 or small group session at our Loft Studio

*** for regular training or a special Birthday treat! ***

We can also film a match and produce a personalised DVD for you.

Customer Feedback:
"a huge thank you to all the gang for our training yesterday...
we would love to do it again..."
"I admit I was a tad nervous but the ... approach certainly worked"
"It was great - much exceeded my expectations"
"Ady was a real star."
"I'd wholeheartedly recommend Ady.
I visited Spotland Scrappers for a pro-style session in the ring.
I met a friendly, knowledgeable, very fit and strong young guy who was great fun to be with.
He is a patient and considerate coach too, who was at great pains to make sure we used the holds I wanted to in our match and was happy to show me the correct way to use holds I was unfamiliar with.I had a great afternoon with him.I'm looking forward to a return visit!"
(Derek, Newcastle).
"Thanks for a great time... if only going to the gym was that much fun..."
(Chris, Brighton)
"I think the Spotland Scrappers are awesomefor helping to keep Brit Pro alive.
I wholeheartedly recommend, it was a fantastic experience."
(Andy, Manchester)
"I had a great afternoon with Ady & Sammy - both professional, skilled, courteous and enormous fun.
I'd recommend them to any wrestler who is seeking to learn the sport from scratch or improve..."
(Simon, York)
"...it was awesome to meet and do some real tag team wrestling with them..."
(Mark, London)
"I did some submission wrestling with David which I enjoyed immensely...
Ady showed me some more submission moves...
I cannot recommend these guys enough..."
(Mike, Sheffield)
"I enjoyed the experience tremendously ...
far exceeded my expectations ...
session was superb, special thanks to Ady and Sammy
for their patience and showing me their skills."
"The DVD's are excellent ... I can't believe that it's me actually in the ring ...
(Nigel, Cardiff)
"I got some great submission matches
and saw some of their ring craft and filming.
The Spotland Experience is highly recommended
for anyone who loves wrestling.
The whole meet was good humoured, safe, friendly
and I felt privileged to spend quality time with these guys."
(John, Bristol)
"...keen to do again...
mix of sub and pro is good."
(Ade, Netherlands)
"...started out with some training and Ady teaching me some new holds
...Ady is a very technical wrestler...also very charming and patient.
Sammy was also lots of fun, strong and good technique,
with a cheeky, cocky attitude..."
(Alan, Texas)
"Sammy gave me a good accommodating wrestle around my ability
with some tips for the future."
(Kevin, Birmingham)
"... had the spotland experience yesterday and it was awesome!
the venue is bright, clean and convenient. the atmosphere was relaxed.
I asked for competitive submission with a bit of coaching and thats exactly what I got.
Young Ady was ideal, strong and talented but with zero attitude. excellent value."
"Another great session, this time with both Ady and Sammy.
Helped me to see holds applied and both guys gave me a great workout.
I can't rate them too highly"
(Mike, Bristol)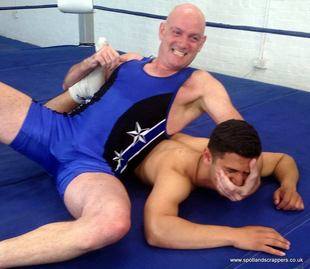 "Spotland Scrappers is the best reason to travel to Manchester!
I sent a mail to Spotland Scrappers asking about the possibilities for an 'experience':
getting private training from real, well-trained, skilled wrestlers.
The communication was quick and clear.
For the weekend I was going to Manchester they organised two training sessions for me.
Saturday and Sunday I was trained by the best: Young Ady, Sammy Scrapper and Sam Smiler.
In real they are even better than in their dvd's. They gave me a time of my life!
I learned holds/moves for two complete rounds of pro-wrestling and many submission techniques.
In a professional ring and on good wrestling mats.
I can recommend Spotland Scrappers for beginners and advanced wrestlers who are eager to learn.
Ady, Sammy and Sam: for you I will return!"
(Dirk, The Hague)
the training was varied and Sammy had me doing quite a few holds which he built up into a sequence
which for that brief moment gave me the feeling of being a proper pro wrestler.......(no im not deluded to think it is that easy) GREAT !
He made it fun... which goes along way to helping the experience.
At the end of the session he invited me to do a submission match ........all be it definitely not all out ......
(I was not so sure that it would be a good idea but was very pleased he talked me into it)]
so there was an element of a proper competition which was again GREAT.
He s definitely got talent.....a good lad...with my very limited experience all I can say is that
if your other guys are this good.. you got one hell of a training team......

I watched the dvd....... again good Brit Pro....... I so much prefer that style of exchanging holds and counter moves
really well done DOING SOME WRESTLING instead of guys just slugging it out......good show........
AND I saw Sammy in his ring persona........not at all like he is really face to face .........made that even better.........
(Mike, Darlington)

I had a give-and-take wrestle with Sammy Scrapper from the Spotland team on 5th July 2014
during the Group Meet at Pippa's Wrestling Factory in Manchester.
Sammy and I are old friends, since we have had many times on a mat together
and there is a strong understanding between us of the sort of practice session I need.
Those of you who have watched Sammy wrestle Young Ady or Sam Smiler of the Scrappers
will realise he is a powerful and highly-skilled fighter.
He has a maturity far beyond his years fortunately and easily matches the strength
he delivers to your needs
and yet doesn't show any kind of superiority to make you feel like a beginner!
I often liken a wrestle with Sammy or any others of the team like having a wrestle
with another lad in your class at school
(although I have to say I didnt know anyone at school with Sammy's defined physique!).
Needless to say Sammy always gets the best out of me,
always challeging yet I have the greatest confidence in him it will be a great wrestle
and I won't get hurt.
I always look forward to meeting Sammy and plan to again very soon.
I can thoroughly recommend him and have never heard anyone have anything other than
a great time with him whatever your level.
If you are good enough though to meet Sammy Scrapper as an equal on the mats, watch out!
At all times though he is friendly and fun, a great example of all a young wrestler can be.
Thanks Sammy!
(Simon, York)

The Spotland Scrappers experience is easily the best way I've ever spent a vacation.
Hearing about SS from a UK friend, it was hard to believe that you could get access to a pro ring AND wrestlers and have tailor-made matches of whatever floats your boat.
I organized my matches from the US with owner Phil, who was extremely helpful in mapping out the details.
While SS offers submission wrestling, my matches were pro. Young Ady, my first opponent, is a handsome, well built man with great pro technique.
He helped shake the cobwebs off my game (I don't get a lot of ring access these days) and soon we were smoothly running matches.
I wrestled Ady twice and both times were incredible - tons of fun and great matches.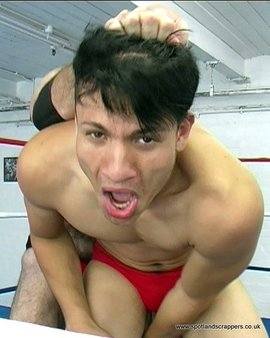 Sammy Scrapper with Jim
My next opponent Samson, aka Sammy Scrapper, is a fun, funny, dynamo with boundless energy (and also quite a well built handsome man).
I had an amazing time with Sammy – and some of the gems he spewed out in his trash talk had me laughing out loud (when I was supposed to be horribly offended).
I can't express how much I enjoyed wrestling Sammy.
When I was at SS, the thought occurred to me what a great opportunity SS provides for people who have never stepped into a ring before.
A lifetime wish–wrestling a real pro in a real ring–is easily accomplished through the services of SS.
I could tell that both Ady and Sam would have no problem adjusting their skillsets to make a novice feel comfortable and yet learn enough to keep the match going.
And both are genuinely friendly, easy going, and, off the mats, very hospitable
(hard to say that they are hospitable in the ring when they are driving a boot in your gut).
As an experienced pro, I had the greatest time at SS and intend on returning for rematches with Ady and Sam, and hopefully a tag team match as well.
I look forward to seeing Phil again, who really went way above the call of duty to make my Spotland experience singularly wonderful.
I fully recommend the SS experience.
(Jim, Washington DC USA)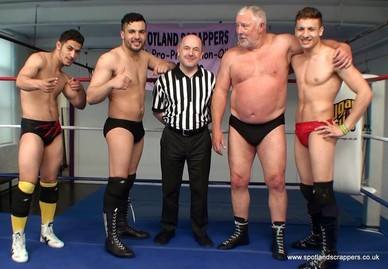 Bill with Nigel, Ady, Samuel & Sammy
after a training session at The Loft
"Thank you very much for putting on a Show for me today.
I really enjoyed it.
Thank you for my Birthday Cake."
(Andy, Manchester)

"Ady was sensational ... I had an awesome time."
(Steve, NZ)

Thank Junior & Sammy for me ...
very enjoyable."
(Keith, Lincolnshire)
"I had a great time yesterday, the body feels fine this morning, but the mind is taking time to wake up! big thanks again to Ady."
(Mike, Somerset)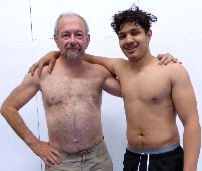 Mike & Joey
"Thank you so much for yesterday; the time flew, and it was just what I wanted, an awesome afternoon.
See you again as soon as I have an available slot!"
"Hey, just wanted to extend my thanks to you and both the Joey's for the day.
It was a lot of fun and good to get some training and practice in.
Think I'll definitely be more of a threat when I take on
some rematches with people haha."
(Neil, Birmingham)

"Just to say thank you very much for yesterday. I had a really good training session
and enjoyed it very much. I'm sore all over today but in a good way!
It's a friendly atmosphere and I would definitely like to come back for more training sessions.
I'll get myself back in shape first."
(Tony, Glasgow)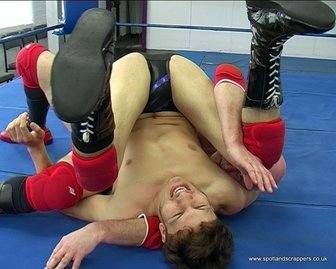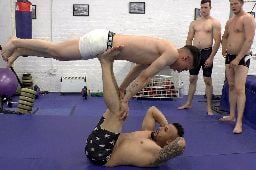 "I was very fortunate to meet with two very strong lifters from Spotland Scrappers recently on a trip to Manchester.
After visiting their website and seeing lots of strong wrestlers on their site,
I contacted them to see if any of them would be willing to meet with me for a lift and carry session.
Within an hour the site owner made contact with me and said that there were two guys in particular
who may be up for it and I exchanged more emails to set up the visit.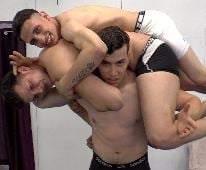 I arrived on a Saturday afternoon a little nervous I must admit, but as soon as I got there I received a most friendly and warm welcome.
The two guys, Young Ady and Lofty Valentino were extremely muscular and well built,
very friendly and even better for me were willing to give me a few lifts.
As I am quite a heavy guy, I was a little concerned that perhaps it might not have been possible,
I certainly need not have worried as both of them were more than capable to lift and carry me.
We went through my entire list of 38 lifts and I am happy to say that they managed every one of them.
The majority of them they were able to perform individually,
only a very few of the more complicated ones required both of them to perform them on me.
It was great to get each individual lift done on me twice by each individual guy
and certainly they took their time over it and it was not like a short lift.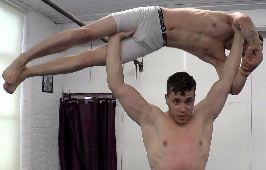 I would say that every lift they did on me was a favourite, however, the most memorable for me were the shoulder rides.
The entire session lasted just over two hours and it was certainly the best way I have spent a Saturday afternoon in a long time!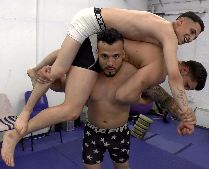 Afterwards, we made a lift and carry video with two other wrestlers from the team,
it was great and I have watched it many times now to remind me of the great time I had on that Saturday afternoon.
As well as being serious wrestlers and extremely strong guys, they are really friendly and did not mind at all in giving me a lift and carry session;
it was like spending an afternoon with good mates rather than having a round or two with fighters!
I cannot recommend them highly enough, if like me, you are really into being lifted and carried,
do make contact with them to arrange it,
also if you are looking to have a fun wrestle then they are for you too.
I certainly will be going back again when I'm next in Manchester."
(Steve, Sheffield)
"Great space to wrestle and the team are a credit to the wrestling world ...
first class guys that know their stuff .."
(Andy, West Sussex)
"a quick note to say thanks to you and Ady for a great session yesterday - really enjoyed it . I'll be back in the new year."
(Tony, Glasgow)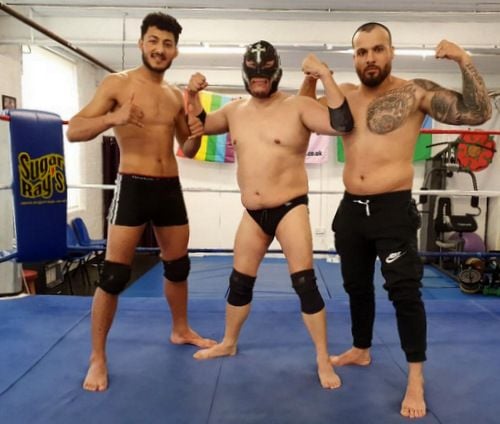 Joey with Max (left) & Ady
"Thanks for the session, I enjoyed it, even though my body is aching right now. :)
Tell Ady that his Indian deathlock slightly twisted my foot, although it's not anything serious!"
(Joey, Manila)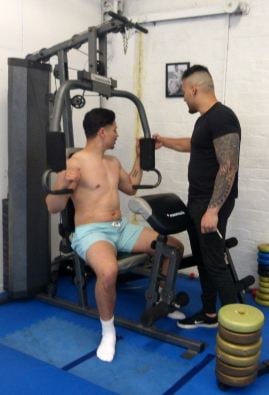 Multi gym now available during Ady's sessions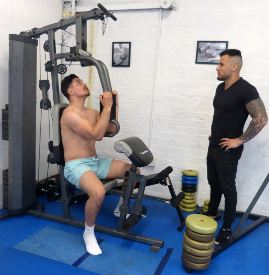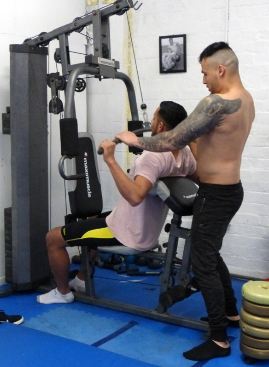 ++++++++++++
Each guy asks for a fee per hour
plus there's a hire charge for
The Loft Studio.
We try to cater for all abilities but it is your responsibility to ensure
that your level of fitness enables you to take part.
Please note that wrestling is a physical contact sport and you take part entirely at your own risk.
The organiser should be made aware of any special needs, medical condition etc.
Unfortunately due to the layout of this old industrial building our unit is not accessible for wheelchair users.
Our safety policy is to have a third person present in the gym during "1v1" sessions.

Sessions are available any time between 11am - 9pm midweek or weekends.
A deposit of £30 is requested on booking
payable via our Shop - Spotland Experience category.
In the event of you having to cancel we will honour a second date.
PJ Pics charges
per 20 minute DVD production
where this is requested.
Please use the Contact Us page
to email us with your requirements
or for more details.
Thank You!
*** UK Chief Medical Officers recommend 150 minutes of moderate physical exercise every week***
Why not make a wrestling session with one of our guys part of your regular exercise routine?
Our guys are also available for other assignments such as photoshoots
at The Loft Studio

Please
Contact Us
to arrange

++++++++++++